General History

Sources
Thomas Paine

Some topics are given good coverage by scholarly websites. This is an example of one:
Local History


The Ancient World

General

Africa
Egypt

Greek Studies

Alexander the Great

Roman Studies

Map of the Roman Empire. Find good, scholarly online resources for 54 Roman provinces by clicking within the borders of a specific province on the map, or by clicking on the name of the province below the map. Some of my favorite areas to study are highlighted below.
Mesoamerica and South America
Foundation for the Advancement of Mesoamerican Studies (FAMSI). ""Mesoamerica" refers to a geographical area occupied by a variety of ancient cultures that shared religious beliefs, art, architecture, and technology that made them unique in the Americas for three thousand years – from about 1500 B.C. to A.D. 1519 – the time of European contact."--Home page.
Mayas. Page devoted sepcifically to Maya culture, history, and other aspects, including modern Maya descendants.
Internet Medieval Sourcebook. (Fordham University Center for Medieval Studies). Transcripts of original sources and many resources. The best place to look for many key books and texts from the medieval period. They also have "Sourcebooks" for other periods. View my outline page for listing.

General
Offa's Dyke
The Silk Road
Language & Literature

Arthurian Facts and Legends

Arthuriana (Thomas Green). Legends, historical, and other resources.
Welsh Texts relating to Arthurian legend (Mary Jones). See also: Links.


Glastonbury & the Tor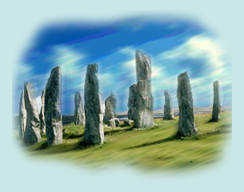 Stone Circles and Megalithic Monuments
The Web sites listed below are mostly general ones since there are more circles and Megalithic monuments than space permits. Several more popular or unique monuments are listed here.

General

British Isles

Megalith Map. "A resource for finding any stone circle or stone row in England, Ireland, Scotland or Wales." Click on map to go to larger scale map.
Megalithic Page. Arranged by country. Covers all of Europe and the British Isles.

Megalithic Pages. Very good Web site with wide coverage; history, images, links, glossary (with photo samples), book list.
Orkney Archaeological Trust. Covers both standing stones and archaeology on the islands.
Rollright Stones Official Web site.
Scottish Megaliths. Photographs and information.

Stonehenge timeline. Earth Mysteries, Britannia site. Illustrates various building periods.
Stonehenge (Timescape). Facts, legends, relations to Arthurian cycles.
Aerial View of Stonehenge. Impressive photograph, with text.

Europe and Russia

Brittany (France) Stone Circles. Links specifically to megalithic sites in Bretagne.
Icelandic Resources. Island (EEs-LANd) figures much in the medieval world.
Russian Megaliths. Web site called "The Dolmen Path."
Runes
Related or Not: More Script and Writing Systems

Language
More to be added here. I started with some fun stuff:
General
Specific Languages & Translation Help
Transliteration. Type in English (Latin) and select the language to trans- to, OR type in that language and select "Latin" to see it in abc characters. Has 16 languages and can display in 5 different computer standards (e.g., ISO-9 or ALA). You can then paste the characters into a text document.
Translation Dictionary. Select "to" and "from" languages; type in a word; get the translation.
isiZulu.net. Zulu-English online dictionary. Enter a word and get translation to English. Also, if your entry is not correct, the dictionary will provide variants to find the correct spelling. NOTE: You can also type in an English word, with the reply being the isiZulu term(s).
Numbers
Numbering Systems. (Of Languages and Numbers). Counting in 174 Languages. Includes a numeral-to-word calculator for each. Type in numeral and get the word(s) for the number in that language. The language tree can be displayed by several different types (e.g., list, radial list, etc.). From this, you can see where the language fits on the entire family tree.
Everyday Language & Fun Stuff
I Love You in different languages. How to express your love and affection in many different languages. There are many pages that provide lists; the two selected below provide a good sample, with some variety between them.
Greetings in More than 1600 Languages (from Jennifer's Language page). The main page has a large list of languages and uses, including:


Odd and Unusual Places to Visit
Animations Page

. Online animations of everything from moon phases to maps of the Campaigns of Alexander the Great.

Cool Quiz

. Quizes, games, quotes, "today in history," facts & trivia, and all sorts of fun ways to learn.

Doctor Who

page (BBC). Official page for the show. New episodes listings and much more.

Celestial Seasonings

Relax and drink some tea... All sorts of tea-related stuff, gift ideas. Also has a postcard (sending) section, and coloring book for kids (download line images of your favorite tea box). Each page has a quote--many are worth reading.

Geomancy. All sorts of psychic, spiritual-related items. A nice section covers Labyrinths.

Whoosh

! The Journal of the International Association of

Xena

Studies. For anything on the television show, the characters, and related materials. Includes links to Greek and Roman

mythology

(a good reason to visit). OK, so the show is dead, but the universe still goes on.

The Boy Mechanic Vol. 2 1000 Things for Boys to Do. Chicago: Popular Mechanics Press, 1948. by H.H.Windsor. Interesting ideas and "How To" articles for all sorts of activities, including: science and technology, constructing apparatus, etc. "How to construct devices for winter sports, motion-picture camera, indoor games, reed furniture, electrical novelties, boats, fishing rods, camps and camp appliances, kites and gliders, pushmobiles, roller coaster, ferris wheel and hundreds of other things which delight every boy. With 995 illustrations."

See also: More unusual places
Names (Etymology, Taxonomy, Naming conventions, etc.)
Language-Related
Typography
Vexillology (Study of Flags)
Flags of the World (FOTW). Flags of the World (FOTW) is the Internet's largest site devoted to vexillology (the study of flags), with more than 39,000 pages about flags and view more than 74,000 images of flags. This site is the ultimate for flags and coats-of-arms, with histories. Well-designed, beautiful graphics.
Flag of the United States. Site contains history, descriptions, Federal Code, rules on flying, folding, etc. Very good site. See: Table of Contents.
Flags and Guidons (U.S. Army). Has official documents and details on the U.S. flag and how to display it. Most links pertain to military use, but the official U.S. Flag Manual is here too. How to Display the U.S. Flag (illustrated page); Display Ettiquette (text).
Historical Flags of Our Ancestors (North American Vexillological Association). Flags relating to North America, but this includes flags from around the World. Index offers variety of subject points (by people /country of origin, historical period, topics, etc.) and has great links to excellent websites on flags.. Sampling list includes:
Flag Wizard. Identify flags by searching visual elements (e.g., diagonal line).
Flag Detective. Similar approach. Good images of flags may be downloaded.
Flags of the Empire. Great Britain and its empire. See original flags, reproduced designs, and more.


Animals, Pets, and Nature

Finding a pet to adopt can be trying at times. Here is a site that can make your life better while giving a worthy animal a new and loving home).

PetFinder. Find the pet of your dreams, or just make an animal's dreams come true! Search for a prospective pet by type (e.g., cat, dog, horse, pig, etc.), breed (Siamese, Samoyed, etc.), Age, Sex, Size, and location in the country. Also read articles in the resource library on caring for pets and other topics, find local rescue shelters, volunteer to help animals in need, and many more things. You can even leave a message about the exact animal that you want, and then when someone else has an animal, they can contact you.

Local Pet Shelters/Foster Homes

Nature

Nature Guides. Predominantly birds and bird identification guides; animals starting to migrate in.

Wildlife Preservation

American Zoo and Aquarium Association (AZA). A nonprofit organization dedicated to the advancement of zoos and aquariums in the areas of conservation, education, science, and recreation.
Hawk Creek Wildlife Center (East Aurora, NY). A non-profit, volunteer-led & staffed organization in the Western New York region providing: Treatment, rehabilitation, and release of injured wildlife, Environmental education programs, Breeding and release of species suffering from negative environmental influences, and Training classes/Internships for college credit and presentation of research papers.


Geography and Travel

General