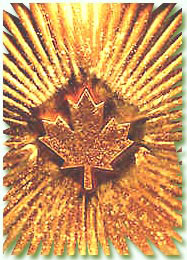 It's Maple syrup time! It's been really cold and maple producers are gearing up and will do their best to provide wonderful maple sugar production. Latest conditions will be given for many of the sites below and conditions vary from area to area.
Spring fever warms the air and also brings another kind of March madness. Before sugar maple buds open, the tree needs nutrients found in sap. Below-freezing nights and sunny, warm (40 degrees F) days provide optimal conditions for sap to start moving up the tree, possibly draining into a bucket or through a network of tubes to a sugarhouse, where it is evaporated over roaring fires and transformed into a regional delicacy sought round the world--Maple Sugar.
Begin your maple excursion with the annual Maple Weekend in New York, (March 21-22 & 28-29, 2015 10 a.m.-4 p.m.) sponsored by the New York State Maple Producers Association (a consortium of 550+ maple producers throughout the state) in an area nearby. Maple sugar producers host special open houses to demonstrate the art of making maple syrup. This site provides nice starting points for learning more about the production of maple syrup: its history, the collecting, the processing, and a list of FAQs about maple sugaring and syrup production. Another great site to visit is from the University of Vermont. It offers a comprehensive collection of resources on the entire maple syrup industry and includes history, science, agriculture, and economic materials.
Sugar maple (Acer saccharum) is the most common maple species in New York. Maples provide the brilliant red autumn leaves, and in spring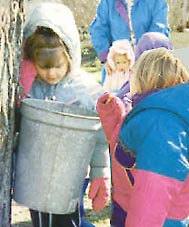 further stimulate our senses with maple syrup derived from their sap. This leaves little wonder why the sugar maple is New York's official state tree and appears in the center of the Canadian flag.


If you clicked on the "Maple syrup time" link above, and want to hear the song, click here to here the composer Pete Seeger singing it live.
What's News...
Book: The Sugarmaker's Companion: an Integrated Approach to Producing Syrup, from Maple, Birch, and Walnut Trees (9781603583978). Published in 2013, this work is a textbook for maple producers, from backyard, through large operation. It contains chapters covering all aspects of the process and includes science and technology. There is a good bibliography of the primary works on tree-sugar production, as well as a list of web resources. See a description at Amazon.
Maple-inspired music: View fiddler Ward Allen playing Maple Sugar, and then listen to the Maple Sugar Polka.
Maple Sugaring Tour for UB Students. The University at Buffalo International Student and Scholar Services schedules trips throughout the year. The maple sugaring adventure is on March 28, 2015; 8:30 am to 2:00 pm. The trip is to a local sugarbush, to watch maple syrup being made, followed by pancakes with fresh syrup.
Maple Sugar Festival. Saturdays & Sundays, March 21-22 & 28-29.

Genesee Country Village & Museum

. Sugaring program 9:30 a.m.-4 p.m. / Breakfast 9 a.m.- 1 p.m. "Celebrate this special time at the museum in March with a Pancake Breakfast, self-guided walks to the sugar bush, 19th-century and modern syrup-making demos and tastings. The entire museum will be alive with activities—including hands-on crafts, games, food tastings, dancing, open-hearth cooking in our historic village, a maple cooking contest, a maple sugar history trail and even brewing up some maple beer. Maple-sugaring activities including log hewing, spile carving, tree tapping, sap collection and boiling down the sap to syrup and sugar. Visit the cooper and tinsmith as they make buckets for collecting sap.
The Other Syrup: Why Birch is the Hot New Flavor (Adirondack Life Magazine Mar./Apr. 2014). Alternative competition for maple sugar.
Recipes! Brand-new ideas in the Recipes section.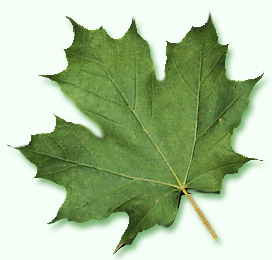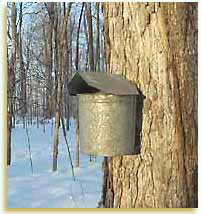 Obtaining the raw material for maple syrup results of physiological processes that turn each tree into an osmotic pump. Steve Vogel ("Nature's Pumps" American Scientist 82, September-October 1994) describes the movement of ions across cell membranes allowing a concentration gradient to be maintained where, "a mere one-molar concentration difference generates over one million pascals, so an osmotic pump can easily work against quite a high resistance."
As the daytime temperature begins to rise, starch accumulated during the previous summer and stored over the winter in the tree's zylem parenchyma is hydrolyzed by special "contact cells." Hydrolyzed starch products include the sugar, sucrose, which can reach concentrations of 3-5%. The osmotic pump is "primed" with the high concentration of sugars dissolved in the maple tree's large plumbing network of phloem. Water drawn into the trees by its root system provides the sugary sap that can travel at the rate of 1m/hr. The maple tree is "tapped" to capture the flow and provide the sap for maple syrup.
The sap obtained from the maple tree is a clear, colorless, sterile liquid providing the water and nutrients for the tree's buds. The North American Maple Syrup Producers Manual "Appendix 2: Chemistry and Quality" provides a chemical analysis of sap: 98+% sucrose, < 2.0% glucose, phenolic compounds, amines, peptides, amino acids, proteins, and organic acids. It takes about 40 gallons of sap to produce one gallon of maple syrup, which weighs about 11 pounds and has a 66.5% sugar content.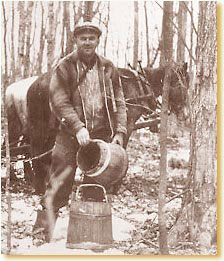 Maple sugaring (producing syrup from sap) was shown to the first European settlers to the Americas by native Indian tribes and involves a variety of scientific and technical concepts: levers (splitting firewood), heat transfer, viscosity, boiling point, and depression of freezing points are among the concepts of physics involved in transforming the watery sap to a thick, rich, amber syrup. Larry R. Yoder's The Physics of Maple Syrup Making is a good starting point for learning the science behind the process.
For events and activities in the Western New York/Southern Ontario region go directly to:

Background and History of Maple Sugaring
Sugar Maple (Acer saccharum) Tree identification sheet.
Acer saccharum: Sugar Maple is a U.S. Forest Service fact sheet on the life history of the sugar maple tree. Fact Sheet 51, 1993 (University of Florida, Environmental Horticulture).
Acer saccharum Fact Sheet. Photo identification and description.
Introduction to the History of Maple Syrup Production & the Maple Production Narrative from Cornell University's Sugar Maple Research and Extension Program, linking to publications, other websites, and educational resources and activities. Also see: Life of a Sugar Maple Tree.
Maple Syrup (University of Vermont). Comprehensive subject guide on all aspects of maple syrup making. Includes: history, collection and production, marketing, nutrition and recipes, sugar maple cultivation, environmental issues and pests and diseases.
Maple History. Resources from the Massachusetts Maple Growers Association. General information, regional tours and educational resources are included.
Maple Sugar Glossary. All the terms you will need to speak "maple sugar" (e.g., doodlebug).
Maple Syrup Production Report (Ontario Ministry of Agriculture and Food). Ontario maple sugar production. Informative updates on current production, with great photos of activities.
Ontario Maple Syrup Regulations (Ontario Maple Syrup Producers Association). Production requirements, grading system, and quality control data.
Ohio Maple History (Ohio Maple Producers Association). Includes a short table of production facts.
Pure Canadian Maple Syrup (Federation of Quebec Maple Syrup Producers). Everything on maple syrup and sugar production, including benefits of maple sugar, How Maple Syrup is Made , recipes and uses, and more.
More Than Maple Syrup (Educated Chemist (Royal Society of Chemistry)). On Canadian maple products (history, economics, science)
Michigan Maple Syrup Association. Comprehensive resources for the commercial sugarbush manager and the hobbyist, as well as history, kids' activities, and other materials. Includes the Algonquian Indian Legend on discovering maple syrup.
New York's Maple Industry Has Untapped Resources. (Feb. 27, 2013 Democrat & Chronicle (Roch. N.Y.)). Article and video on the potential volume of maple sugar production by New Yorkers (food for thought).
For a list of State Trees and Flowers of the United States, visit the United States National Arboretum page.

Recipes with Maple Syrup
There are so many things to do with maple syrup! Here are a few sites telling you what can be done with them! Though you know that it is good for you, read the official document: Maple Sugar's Nutritional Value (USDA Nutrient Database for Standard Reference, Release 13). Read also the Nutritional Value of Maple Syrup. Brief description of the benefits of eating this wonderful food.
The

products listed here are not endorsed by the authors. We add them to show a variety of unusual items that you may find interesting. Most of the state associations listed above have links to where to buy. See also the recipe section for additional sources.
Maple Liqueur
Bee Vodka (scroll down product list for NY items)