World of the Mayas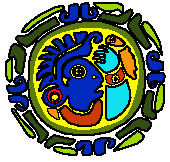 Visit the World of the ancient and modern Mayas. This includes Belize, El Salvador, Guatemala, Honduras, and part of Mexico (mainly the Yucatán and Chiapas). My main interest is in Guatemala and its history and culture, with emphasis on scholarly and reliable resources.
I have also listed cross links to other topics, including: Archaeology, Ancient Mysteries, Guatemala and the Mayas, Calendars, and other fields. Links to sources for language translation, maps, and geographic names are also found below. These will assist the reader in identifying place names, dates, and foreign words (mostly Spanish).
Please visit often, and enjoy the trip. If you have any data or links that you wish to share, please feel free to contact me. I am always searching for more to add. Thank you!

2012: The End?
Sources
The Internet History Sourcebooks Project (created by Fordham University) provides a series of primary sources in a number of fields of history. It is intended to serve the needs of teachers and students in college survey courses in modern European history and American history, as well as in modern Western Civilization and World Cultures. I have prepared an outline page that will speed up the process of selecting the right page for your needs.

Archaeology, Ancient Mysteries, and Other Fields

Time and Calendars in Mesoamerica
Maya Calendars and Dates

Maya Calendar (Maya World Studies Center in Yucatan Mexico). A great place to start, and a great set of data and knowledge on the Maya time-keeping system. Also offers books and materials so that you can learn to tell time the Mayan way. Includes the Today's Date Stela.
Mayan Calendar (Calendars Through the Ages). Also has pages on other calendar systems (e.g., Islamic, Jewish)
Mayan Calendar Tools (Mayan Calendar site). Convert various calendars to Mayan dates. Colorful and interesting. Good source for locating many glyphs.
Mayan and Aztec Sacred Calendar Conversion. Enter a date for alternative date.
Classic Maya Calendar and Day Numbering System. Has a variety of resources and text explaining the system and its relation to other calendars.
Maya Calendar. Documents explaining how the calendars work, links to software, other resources.
Other Links. This will conduct a Google search for maya calendars. Some sites are useful and accurate, some may be less scholarly. A good place to go if the above links change (they do quite frequently).

Other Central/North American Cultures

Geography and Travel

General

Maps and Cartography

Guatemala 1:50,000 scale map series. Index map from Omni Resources. Can be used to order maps of specific areas.
Maps of the Americas. (Perry-Castañeda Library Map Collection, UT at Austin). A variety of maps. Subcategories include various countries, including (among others):

Spanish-English Dictionaries and Translation

Return to David J. Bertuca Page

URL: http://www.acsu.buffalo.edu/~dbertuca/indexmaya.html
Created October 2000; Updated:25 April 2013

This site is updated regularly - suggestions are welcome.
This page is dedicated to the Central American people known as the Mayas.--DJB

Animated snake above from God Locomotive Works