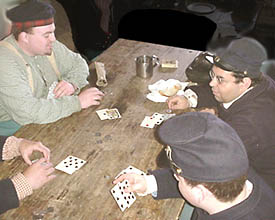 In 1997, the Association formed an educational, not-for-profit corporation in New York State called The 155th New York Volunteer Infantry Reenactment Regiment, Inc. The primary objectives of the incorporation was to raise tax-deductable funds for the erection of a monument to Western New York's Irish soldiers who served in the Corcoran Legion, and to produce educational presentations for local schools.
Not-for-profit status allows us to accept tax-deductible donations for our school programs, living histories, and other activities designed to teach the history of the men and women of the Civil War period. Funds are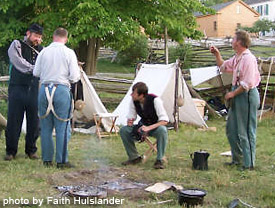 used almost entirely on providing these services.
The 155th enjoys what it does, shares a comraderie among its members, and among other reenacting organizations. We welcome visits and are always looking for recruits to share this great pastime and to provide a living demonstration and dedication to the men, women, and children who came before us.
We set-up camp and live, eat, and sleep as they did 145 years ago. Our activities strive to be as historically accurate in look and character, and we encourage members and the public to come and learn with us.