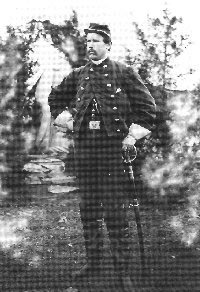 James P. McMahon
Captain, 69th NY Co. K (Irish Brigade)
Lt. Col., 155th NYSV
Colonel, 164th NYSV (in this picture)
Killed June 3, 1864, Cold Harbor VA

The Death of Colonel James McMahon
Would you like to have me tell you,
Of how the young Colonel died?
God grant my memory may not fail,
Nor that my tongue be tied.
You can write it down and print it
In your biggest type of gold,
For sure no braver heart
A mortal breast could hold.

Twas the second weary night
Of that hot and bloody June;
We marched along the pickets,
We camped beneath the moon.

Behind us, sixty miles of death,
Virginia thickets lay;
Before us lay Cold Harbor,
The hell to come next day.

Sitting in the tent-door,
In the silvery dew,
We talked of old Buffalo,
And of the girls we knew.

Spread o'er the silent fields below
The mist lay like a pond;
We seemed to see the long dark streets,
And the white lake beyond.

The Colonel mused, then turned and said:
"I'm glad a moon so bright
Will hold her face to mine
As I lie dead tomorrow night!"

We charged at noon. The Colonel led
Green Erin's old Brigade,
While Longstreet's blazing cannon,
From behind their breastworks played.

We charged 'til full in front
They felt our fiery breakers swell,
Through a sea of rattling muskets
And a storm of grape and shell.
The Colonel led through fire and smoke,
His sword did wave and shine;
And still the brave sound of his voice
Drew on our struggling line.
As o'er the surf at Wicklow
I've heard the seagull cry,
His voice it rose above the storm
And sounded clear and high.

Then all at once our colors sank -
I saw them reel and nod;
And the Colonel sprang and caught them
Before they touched the sod.

Another leap, and with a shout -
The Rebs they mind it well -
He stood alone upon their works,
Waved the old flag . . . and fell.

I stayed to help the Colonel
And I crept to where he lay.
A smile came gently o'er his face,
And he motioned me away.

"I'm torn to pieces, George," said he,
"Go save yourself, Goodnight!"
I bent to wet his parched lips
and to shield him from the light.

Then as gently as my mother
That smile came up and shone,
Once more upon his marble lips
And the gallant soul was gone.

We left him at Cold Harbor,
The spot was bleak and bare;
I hate to think that I'm at home
And he's still lying there.

I know his sleep will not be sweet
Nor his gallant spirit still,
Til we lay him alone in the friendly dust
Of yonder slanting hill.

Where from the town he loved so well
Will come the daily hum,
And the lake's loud roar upon the beach
When quiet nights shall come.

Well might his city rear his tomb
In marble words to tell,
How the bravest of her blood was shed
When young McMahon fell!