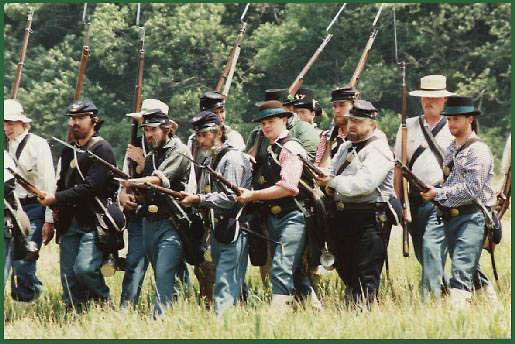 by Benedict Maryniak

"We are the Fenian Brotherhood, skilled in the arts of war,
And we're going to fight for Ireland, the land we adore,
Many battles we have won, along with the boys in blue,
And we'll go and capture Canada, for we've nothing else to do."
-Fenian soldier's song

Depending on your point of view, it was part of a raid or an invasion. Whatever its nomenclature, the June 2, 1866, encounter at Ridgeway between Canadian militia and the Fenian Brotherhood's force of Civil War veterans left enduring marks upon the history of Canada, the United States, and Ireland. Regiments of a self-styled "army of liberation" crossed an international border and fought British subjects in behalf of the Irish Republic.

It wasn't the first time that Canada (properly called "British North America" back then) had been affected by the Civil War. In an ironic reversal of roles during 1861, the Trent Crisis found the US Navy forcibly removing men from a British vessel even though a War of 1812 controversy had entailed English sailors boarding US ships in similar activity. In 1864, Confederate agents used Canada as a base for the Philo Parsons affair on Lake Erie and the Saint Albans Raid into Vermont. When the shooting stopped, America demanded compensation from Great Britain for unneutral acts during the war -- it took seven years to settle these "Alabama Claims." These wartime incidents had served to fuel British suspicion of Yankee bravado and imperialism, but also strengthened the cause of Canadian confederation. Any one of these events would be inflated into a fearful international confrontation by a TV news crew today.

Though Ridgeway involved barely 1500 combatants, the battle and its context deserve a closer look than is usually given them.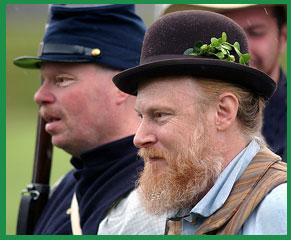 Fenians

Organized for the purpose of winning Ireland's independence by physical force, the Fenians revealed Irish-American nationalism in its finest flowering and full ambiguity. Rooted more in the hard life of the immigrant than in his Irish origin or his religion, the Fenian Brotherhood created its own sustaining myths and founded its own government within the United States. A member of Commons rightly called the Brotherhood, "a new Irish nation on the other side of the Atlantic, recast in the mould of Democracy, watching for an opportunity to strike a blow at the heart of the British Empire." It is the only organization in US history which armed and drilled publicly, and invaded Canada for the purpose of using seized land as a stepping-stone for the invasion and liberation of Ireland.

The Young Ireland insurrection of 1848 was quickly suppressed by the British and the movement's leaders were scattered over the globe. Some were transported to Australia while others eventually found their way to America. These exiled Irish nationals had nothing to keep them warm but their burning hatred of Great Britain. So many Sons of the Sod emigrated to the US that Britain's Irish Question quickly became an Irish-American Question. Moreover, these immigrants who abandoned Ireland -- as well as their sons who never saw it -- became "more Irish" than Ireland's inhabitants. It was the immigrant's experience that transformed him from an indifferent peasant into an aggressive Irish nationalist.

During October of 1858, a ceremony in New York City's Tammany Hall marked the birth of a revolutionary body conceived by Young Ireland exiles John O'Mahony and "Captain" James Stephens. O'Mahony would head the American group, which was to be a supportive auxiliary of Stephens' Irish Republican Brotherhood in Ireland.

O'Mahony is supposed to have received inspiration for the Brotherhood's name while translating Keating's History of Ireland. According to this work, Fiona MacCumhail ( also known as Finn McCool) was the commander of the FIANNA -- a militia-like band of noble men-at-arms that sprung up from the earth of Ireland to defend her in time of peril. As the FIANNA assured Ireland's independence in pre-Christian times, O'Mahony saw the Fenian Brotherhood as instituted to reestablish it. O'Mahony's Fenians were to be an organized body of men devoted to a system of political, financial, and military action on the part of the Irishmen in America, aiding and cooperating with an allied body of revolutionaries in the British Isles, for the purpose of gaining the independence of Ireland. FENIAN expressed O'Mahony's romantic nationalism and his militant Irish-American conviction that Ireland could be liberated through the sacrifices of a new generation of warriors.

As the Brotherhood's director, or Head Centre, O'Mahony had extensive powers and was accountable only to "Captain" Stephens in Ireland. Branches, called Circles, were established in all major cities. Over each Circle, which might be composed of any number of men, there presided a Centre. Local Centres were elected by members of local Circles, but the senior officer in the state, the State Centre, was appointed by O'Mahony. Members of a Circle were often given military ranks of captain, sergeant, or private. Each member was required to pay an initiation fee of one dollar and weekly dues of ten cents, as well as take the following oath:

"I, ___ , solemnly pledge my sacred word of honor, as a truthful and honest man that I will labor with my earnest zeal for the liberation of Ireland from the yoke of England, and for the establishment of a free and independent government on the Irish soil; that I will implicitly obey the commands of my superior officers in the Fenian Brotherhood, that I will faithfully discharge the duties of my membership as laid down in the constitution and bylaws thereof; that I will do my utmost to promote feelings of love, harmony, and kindly forbearance among all Irishmen; and that I will foster, defend, and propagate the afore-said Fenian Brotherhood to the utmost of my power."

Irish-Americans were slow to support O'Mahony in 1858 because they had been humbugged so often in the past, and he worked hard to raise military organizations during 1859. O'Mahony was effective in this field of endeavor, since he had already raised the 99th New York State Militia (sometimes called the Phoenix Regiment) and held its Colonelcy. By November, forty Fenian military units were connected with the Brotherhood in the different states. Among these were Corcoran's Irish Legion & the Phoenix Brigade of New York City, the O'Mahony Guards of San Francisco, and Emmett Guards from Richmond, Boston, & Philadelphia. Thousands of eager young Irishmen joined these units in order to prepare for the day of reckoning with their ancient foe.

During the latter part of 1860, O'Mahony and Stephens met in Dublin to finalize plans for an insurrection in which the Fenians would provide five thousand disciplined men & officers as well as fifty thousand muskets. But before O'Mahony returned to New York, the Civil War had broken out. Fenian leaders regarded the Rebellion as a disastrous blow to their plans because they envisioned the best of the young Irish-American warriors swept into war. The Boston Pilot saw the conflict as a disaster in which Irishmen would be killed who might well be fighting for a better cause. "The first enemies the 69th (NY State Militia) will encounter will, in all probability, be Irishmen, some of them their own relatives, all of them their friends, all of them owning the same country, the same aspirations, the same dear, fond hope. What a spectacle this is. There they stand in the death grip of one another, thousands of miles from the land which it would be their common pride to defend, and their common honor to die for . . . Again, many of the promoters of the war, many of those who now 'feel good' towards the Irish are the very men with whom 'no Irish need apply' was a canon of faith."

Although James Stephens proclaimed that Irish independence was more important than the forced restoration of the American Union and should take precedence among Irish-born Americans, the Fenians were enthusiastic about Irish participation in the war. They suppressed their desire to come to grips with Britain because they believed that participation in the Civil War would season them for the great test to come with England.

The numbers of Fenian Circles increased rapidly during the Civil War, with paid organizers establishing organizations in major eastern cities and in the Federal armies. Brotherhood agents usually moved through the Union armies with permission and escorts provided by commanders (most organizers reported their greatest successes to have been in the Army of the Cumberland). In their dealings with soldiers, the Fenian agents made no effort to disguise Fenian aims. "In return for a contribution of $507 from the 90th Illinois Regiment," pitched one Brotherhood organizer, "I hope that when the terrible day of reckoning with England comes, God in His infinite goodness may vouchsafe that these noble veterans may have the full measure of their desire granted -- to be in at the settlement. The men of another regiment are only waiting the termination of the American war to flesh their bayonets in corpulent Mister Bull."

Fenian Factionalism

As soon as Brotherhood leaders could foresee thousands of seasoned Fenian warriors being released from the Civil War armies, there was a growing eagerness to do more than simply wait for "Captain" Stephens to rise up in Ireland. When O'Mahony talked against such suggestions, the Council of Ten moved to revise the Brotherhood's constitution in order to curb his powers. For this purpose, a third national Fenian convention was summoned to meet in Philadelphia during October of '65.

The six hundred delegates sent to the third national Fenian convention attested to the Brotherhood's growth during the war. The assembly forced a reorganization upon O'Mahony, replacing the office of Head Center with a President who was elected by the Brotherhood's General Congress. With the US Constitution as a model and the procedure of its Congress as an ideal, the Fenians formed "a distinct Republic within the American Republic." From their capitol in New York City's "Moffat mansion" on Broadway at Union Square -- which flew the Fenian flag of the harp and sunburst -- they raised an army, issued letters of marque, negotiated with the United States, and otherwise conducted themselves as a national power.

But the Fenian Brotherhood was now hopelessly split between founder John O'Mahony's support of military action in Ireland and President William Randall Roberts' plans for Canadian invasion. O'Mahony refused to retire as Head Center per the Philadelphia convention, and formed his own governing body. During December 1865, an emergency session of the Fenian Senate impeached O'Mahony and deposed him. Then began a bitter competition between the Brotherhood's "O'Mahony Wing" and "Roberts Wing." President Roberts chaired the fourth national Fenian convention in Pittsburgh during February, 1866, declaring that his wing's "Men of Action" intended to seize Canadian land for use in the fight for Ireland's freedom. Refusing to be upstaged in America's Irish eyes, O'Mahony staged a simultaneous session of his "Military Congress" in Manhattan, also considering an invasion of British North America.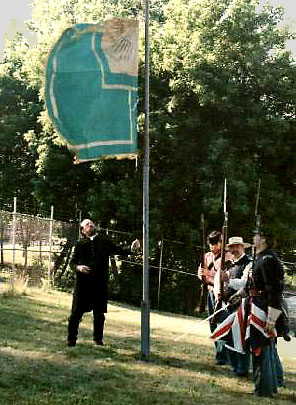 On to Canada

A Fenian invasion of Canada was not a ludicrous proposition in 1866. There were large numbers of unemployed ex-soldiers available for Fenian recruitment. Toleration of Fenian activities during the Civil War when the Brotherhood had been permitted to construct its own military framework within that of the US, their purchase of war surplus arms, and the federal government's silence toward their filibustering plans were all interpreted as governmental approval. The Fenians also took comfort in America's case of Anglophobia, generated by Britain's recognition of the Confederacy's belligerent rights during the Rebellion. Even under stable political conditions, this widespread negativity toward England and the weight of Irish ballots would have encouraged Congress and the Executive to handle Fenians with care, but with these two branches of government at loggerheads over Reconstruction, the political importance of the Irish vote was greatly exaggerated. Finally, a majority of Americans were then "continentalists" who anticipated Canada's future annexation.

O'Mahony fielded the first Fenian force during April of 1866, hoping to beat Roberts to the punch. His group attempted to seize Campo Bello Island, situated at the mouth of the St Croix in the entrance to Passamaquoddy Bay. Whether or not his raid succeeded, O'Mahony reasoned that the island's unresolved ownership (claimed by New Brunswick and Maine) would bring about a clash between Britain and America. Gunboats appeared from both countries to successfully interdict the Fenians, but nothing more. The Fenian commanders withdrew, having to "beg their way home" because no provisions had been made for such a contingency. "The Campo Bello fizzle" embarrassed all Fenians.

Roberts' raid, planned by Civil War general "Fightin' Tom" Sweeny, was set on its way during May of '66. In a nutshell, Sweeny planned to seize some Canadian land along the St Lawrence River which would then be used as a base for privateers to prey upon British shipping. It was hoped that the harassment of shipping would bring concessions to part/all of Ireland from British control. Sweeny planned to divert opposition from the St Lawrence River with movements upon other parts of Canada.

340 Men on a Train

The force was now only a few miles west of Buffalo, having left drab mercantile Cleveland before dawn. The rain, light but insistent, had continued all morning. The dawn-lit countryside here was unexciting and there was little conversation in the passenger coach. Captain Shields seemed lost in thought, a group of men at one end of the car were engaged in some sort of card game, an orderly dozed, a young lieutenant made entries in a journal he carried, and a sergeant snored like a beached walrus, awakening now and then to gulp down some of the cheap whiskey he had bought in Cleveland. John O'Neill was starting his fourth day of train-riding. He and 150 men, comprising the Irish Republican Army's 13th Regiment, had left Nashville early on May 27. At a stop in Louisville, Colonel George Owen Starr and 150 members of his 17th IRA Regiment came aboard to join Colonel O'Neill's party. Another stop brought Captain James B Haggerty and a hundred more Fenian troops. This trainload of "railroad laborers" -- they had been instructed to wear work clothes -- pulled into Cleveland late in the evening on May 28. O'Neill and Starr expected to find Fenian General Wm Francis Lynch with boats to carry them to Canada. Lynch was a brevet brigadier general of US Volunteers from the Civil War, having led the 58th Illinois in fighting at Shiloh's Hornet's Nest as part of Tom Sweeny's brigade. Many of the Fenian officers had held commissions during the war -- O'Neill had been a lieutenant in the 5th Indiana Cavalry and captain with the 17th USCT, Starr had attained lieutenant colonelcy of the 2nd Kentucky Cavalry (US) thanks to the high casualty of that regiment's officers.

But there were no Fenian boats in Cleveland, according to Captain Wm J Hynes, a staff officer sent by the absent General Lynch. O'Neill and the others were billeted in warehouses on the Cleveland waterfront while Fenian Senators Michael Scanlan, JW Fitzgerald, and Patrick Bannon attempted to communicate with overall commander Tom Sweeny or his subordinates -- General Lynch in Cleveland, General Charles C Tevis in Chicago, General Samuel P Spear in St Albans VT, or General Michael C Murphy in Malone NY. Bannon finally received word from Sweeny during the evening of May 29, ordering the force, along with Colonel John Grace's 18th Regiment of Ohio Fenians, to Buffalo. They were on eastbound trains by 10 PM.

Rolling through the outskirts of Buffalo, O'Neill's train slowed so men could jump off along the tracks. An earlier wire had warned the Fenians that city police were awaiting their arrival at the Exchange Street station. As Buffalo Circle members led these Irish soldiers to halls, warehouses, and barns throughout South Buffalo, the gunboat USS Michigan steamed into Buffalo harbor with her Marine guard on deck. Later that day, ammunition was surreptitiously loaded into furniture wagons from a train in the Buffalo freight yard. Fenians were said to be on the move all over New England and along the Great Lakes, and US officials were attempting to confirm such reports. Fenian commander Sweeny later explained that he had sent his forces on several contradictory paths, hoping to confuse US and British spies. Groups of Fenian soldiers left Cleveland by train in all directions, wearing conspicuously-uniform green caps other emerald-tinted accessories. A Syracuse newspaper reported Fenians "moving both ways" through the city railroad station.

Buffalo

During Thursday, May 31, it became apparent that Fenian forces were massing in the area of Malone and St Albans for a push across the Canadian border. There was also overwhelming information pointing to a crossing of the Niagara River from Buffalo. British army units in Canada were alerted and the Volunteer Militia of Upper Canada had also been called out. Militia at Toronto and on the Niagara peninsula were ordered to Port Colborne.

As the sun went down, Captain Hynes brought Sweeny's written order that John O'Neill was to lead the Buffalo expedition across the Niagara River into Canada. Although he received no maps or additional information, O'Neill was to have Buffalo's 7th IRA Regiment as part of his force. Barges had been positioned at the Pratt Blast Furnace dock in Black Rock NY, just north of Buffalo, and steam tugs were to take these across the river on the morning of June 1.

They had told O'Neill he was in command now; now that Canadian forces had begun moving to meet him; now that the Michigan was intent to stop unusual traffic on the river; now that city authorities would move to interdict Fenian movement.

If O'Neill had come to command this raiding party, it was more by natural gift and by his superior's default than out of any overt desire on his part. And yet he was in command, however tentatively. So it would be as he moved onward into Canada. He would take one step at a time. The future would unroll in its own true course, as it had done since he came to America.

He stood on a small dock peacefully for some minutes, staring out across Buffalo's harbor toward the lake, a green expanse, squinting as though if he tried hard enough he could see around the bend of the globe to Ireland. But of course there was no seeing the isle from here. Ireland seemed unreal for a moment. What seemed real was the Buffalo waterfront, the hotel where he had slept, the breakfast food, his men, the other units and their leaders. All else was mere mirage.

Before dawn on Friday, June 1, O'Neill had his force of a thousand men poised for a quick march from Buffalo to the Black Rock dock. A wagon train bearing his arms and ammunition was also ready to go. Other Fenian groups were also moving around Buffalo, confusing the observations made by police and US soldiers from Fort Porter. Just as the US District Attorney ordered the Michigan's captain to stop all movement across the Niagara River, the Fenian force was crowding into the barges at Pratt's dock. The canal boats had been rented to take a foundry's employees to a picnic on a river island. O'Neill's men were given traps and ammunition as they moved from dock to barge, rifles would be waiting for them on the Canadian shore.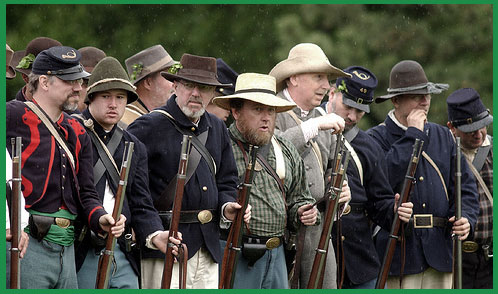 While awaiting their river crossing, a portion of the Fenian men had donned uniforms of sorts though the majority were in civilian togs. O'Neill wore a gray set of clothing with a green-decorated military cap. One veteran commented that O'Neill appeared to wear the light blue uniform of the Veteran Reserve Corps, but most accounts specify a gray outfit. There were a number of black slouch hats. Many of Starr's Louisville men wore blue army jackets with green facings and a good number of Grace's Ohio regiment green shirts and green caps. Officers had swords and pistols. There were five banners, as well, all of six-foot-square regimental size: two US national and three green. Two of these green banners sported the golden sunburst and one reportedly bore a harp.

O'Neill had given command of his Tennessee regiment to Captain Shields. Starr would command his Kentuckians and the Indiana detachment. He was to make quickly for the ruins of the old military emplacement called Fort Erie, south of the same-named village. Starr would seize any railroad rolling stock he might find, cut telegraph wires, and destroy track leading to Port Colborne so there would be no troop trains rushing in from that direction. O'Neill would use the New Yorkers, Ohioans, and Tennesseans to secure Fort Erie village and establish a defensive perimeter. Everybody was told to take possession of horses they might encounter.

Steam tugs took the Fenian canal boats across the swift Niagara at about 3:15 AM.

The Canadian Shore

As members of the Queen's Own Rifles marched through Toronto on their way to the lake steamer City of Toronto, John O'Neill's Fenians were receiving their rifles on the Canadian side of the Niagara River. These rifled muskets had been purchased that April in Pennsylvania at Barton H Jenks' Bridesburg Arsenal. Once the Civil War had ended, weapons and ammunition were being sold by weight rather than count or quality. O'Neill noted that the men looked very cheerful for the most part, the long column of laughing and talking Fenians winding endlessly along, following the riverbank southerly toward the Village of Fort Erie. In addition to a mount, scouts had also brought O'Neill news of troops on their way to meet his force. The opposition could amount to as many as three thousand, including British regular troops and a battery of artillery.

Good to his word, Starr had a Fenian banner flying over the crumbling walls of Fort Erie by 5 AM and Kentucky Captain Geary was on his way along the rail line to Port Colborne searching for a bridge to destroy. Other parties had been put to work tearing up track and cutting telegraph lines. O'Neill's column soon arrived in Fort Erie and village reeve Dr Kempson was ordered to provide food enough for a thousand-man breakfast. Scouts ranged over a five-mile radius on the horses that could be found, bringing their observations back to O'Neill. A group of men cleared ground and erected defensive works at the Newbigging farm on Frenchman's Creek just north of the village. By noon, the US District Attorney and Buffalo's British Consul stood the USS Michigan's deck with her commander, trying to make sense of the Fenian activity they observed on the opposite riverbank. At noon, the Michigan's six 24-pounders roared a salute in honor of General Winfield Scott, recently deceased. Other sailors were moving boat howitzers onto steam tugs which would patrol the river as picket boats.

Frenchman's Creek, flowing south along Newbigging farm and then east into the Niagara River, combined with that river to form a U-shaped patch of ground protected on its west, south, and east by water. The Fenians transformed the farm into an armed camp with a row of "bullet screens" along the top of the "U." These bullet screens had been used often by Starr's men during Billy Sherman's March to the Sea. A sort of lean-to was built by laying fence rails or other lengths of wood along a stretch of fence, from ground to top rail. Clods of dirt were thrown atop the slanted rails for added screen. The slanted rails of the Newbigging screens were laid northerly, toward the railhead of Chippawa, where O'Neill imagined some of his adversaries would detrain and come at him.

In an unhurried way John O'Neill led his men through the routines of entrenching and establishing a defended camp. It would have been easy enough to move them faster, but beyond doubt the enemy was watching and he wanted to give them plenty of time to observe his actions and take the necessary countermeasures. Later in the day he stepped-up the pace, for now the scouts returned with word that reserves were indeed in position along the river to the north, beyond Black Creek. Trains were busily moving more men and equipment into Chippawa, as well.

"We are likely outnumbered twenty to one," O'Neill said. "I find that encouraging. A force that size ought to be unwieldy enough to make life easy for us." He tapped the crude map before him. "The redcoats are camped here, near Chippawa, and surely they will know it the instant that we begin marching toward them. They'll expect us to go north along the river bank and that area will have the heaviest guard. We will indeed go toward Chippawa along the Niagara." The Colonel heard a gasp of dismay and looked up to see some expressions of sudden pained surprise. Untroubled, he went on, "and as we do, the redcoat reinforcements will be sent in that direction. Once they've begun to move toward our force along the river it should be difficult for them to redirect themselves. As they start in motion, we will swing back inland, march straight for Port Colborne, cutting through anyone we might find. We will block the Welland Canal unhindered and still have our escape over the lake at hand. Questions?"

"What if another army is waiting for us besides the forces we know of?"

"Ask me that again when we get to the canal. Other questions?" O'Neill glanced around. No one spoke. "Good. Let's get to it, then!" O'Neill smiled and added, "They're falling into our hands." Word suddenly circulated through camp that they were to pull up and take to the road again after dark, leaving all fires burning. The Fenian colonel sensed the news flashing among his men and grinned. "Let them think their colonel's a genius, and they may make him into one."

The Michigan steamed into the middle of the Niagara River around 3 PM, acting as a base for her armed sentry boats which began stopping cross-river traffic. In another hour or so, men on watch reported activity at the Fenian camp on Frenchman's Creek. Regimental banners had been unfurled -- three green flags with gold sunbursts -- and men were forming up as if for an inspection.

As darkness fell, word reached O'Neill that enemy troops had indeed arrived at Chippawa and a force of militia were massing at Port Colborne, to the west. No further orders, however, had come across the river to the Fenian commander from his superiors. O'Neill was on his own as leader of the Brotherhood expedition. When he was only O'Neill the colonel, significance had been insignificant to him; each day had a path of its own, and he had no worries about larger patterns, only to increase the skill of a soldier from one day to the next. But when these new responsibilities had been visited upon him, he had been forced to consider dreary long-range matters of purpose and destiny and the route on which he was bound. He had no liking for that. Already he tasted a keen nostalgic sorrow for the good old times of a few days past, when he had wandered busy Buffalo in happy aimlessness.

At 9 PM, a member of the Michigan deck watch shouted that the Frenchman's Creek bridge was ablaze. Indeed, it was. O'Neill had piled three hundred rifles atop the tiny span and set fire to the lot -- he didn't have that many men with him, and, thanks to the USS Michigan, no more would be crossing the Niagara. Besides, the roaring fire would attract more attention to his column as it left the Newbigging camp, moving north along the river in the direction of Chippawa. The feint was on.

Reports did indeed reach the British commander at Chippawa, alerting him to the approaching Fenian attack. Black Creek, south of Chippawa, would be the obstacle where the Fenians would be met. British regulars and militia were deployed to support the Black Creek defensive line. At Port Colborne, militia leaders from Hamilton and Toronto were imagining how they might catch the invaders between their bayonets and those of the boys at Chippawa. Aboard the Michigan, Captain Bryson ordered his guns loaded with shrapnel-producing shell. He expected the US revenue cutters Commodore Perry and Fessenden at any moment, but wanted to be prepared if he was to handle a crisis alone.

During the night, O'Neill reached a point just short of Black Creek and then turned his column west, inland. After resting his men, the Fenian commander again set them in motion, this time for the only visible high ground -- an elevation called Lime Ridge about a mile north of the sleepy hamlet of Ridgeway.

The British-Canadian Pincer
Tom Kilvington, Company #2, 13th Battalion of Canadian Volunteers, from Hamilton, remembered his ride to the famous fight at Ridgeway as several hungry hours spent sweating in the black unlit interior of a boxcar. They were on the train for hours -- first from Hamilton to the Welland Canal and then south along that waterway to Port Colborne -- jammed together on the wooden floor, stale sweat in armpits, groin, and feet, a smoky smell of urine where some idiot had pissed into the wind. Although an officer had been careful to verify that each man had received twenty rounds of ammunition, no one had mentioned food or water. A man was nearly murdered when a fight broke out over some herring.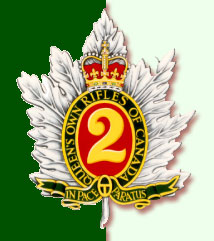 By nightfall June 1, a force of nearly a thousand militia had gathered at Port Colborne, on Lake Erie, at the south end of the Welland Canal. Queen's Own Rifles Lt Colonel J Stoughton Dennis was commander of the military district and consequently of the Port Colborne force, which was comprised of his unit, the 13th Battalion, and a few other companies. A force of British and Canadian troops (1450 infantry, 6-gun battery, 55 cavalry) was also massing at Chippawa under Colonel George John Peacocke, Commander of Niagara Forces. Peacocke had planned that the Chippawa and Port Colborne forces would move toward Stevensville on June, thereby creating a kind of pincer movement which would encounter the Fenians and then envelop them. Dennis, however, decided to hold the majority of his force at Port Colborne while, on the steam tug WT Robb, he took about eighty men to Fort Erie with the aim of blocking any Fenian retreat. He assumed Peacocke's Chippawa force would engage the Fenians and drive them toward Fort Erie. He wired this idea to Peacocke and set out aboard the Robb at 3:30 AM on June 2 without waiting for his superior's reply. Peacocke's unqualified disapproval of Dennis' plan reached Port Colborne long after the Robb steamed off, and 13th Btn Lt Colonel Albert Booker, a professional auctioneer from Hamilton who had been left in command of the volunteer column, was told to proceed with the planned move toward Stevensville.

June 2 saw Peacocke get off to a late start because he initially expected to make a stand along Black Creek. When the Fenians were not to be seen at Black Creek, the Chippawa force began to prepare for the move toward Stevensville. Aboard the Robb in the Niagara River, Lt Colonel Dennis found nothing but "Fenian stragglers" at Fort Erie and the Frenchman's Creek camp. Booker's volunteers took a train to Ridgeway, from where they planned to march for Stevensville and link up with Peacocke's units. With earliest light of June 2, however, Fenian Colonel John O'Neill had brought his men to Lime Ridge's heights north of Ridgeway and there he awaited the volunteer column, hoping to defeat the militia before dealing with the force he knew to contain British regulars and field artillery.
Ridgeway

The station thermometer read 62 degrees when Lt Colonel Booker and his volunteers stepped onto the Ridgeway platform. Anticipating a hot day, sergeants told their companies to leave greatcoats and other winter gear at the depot.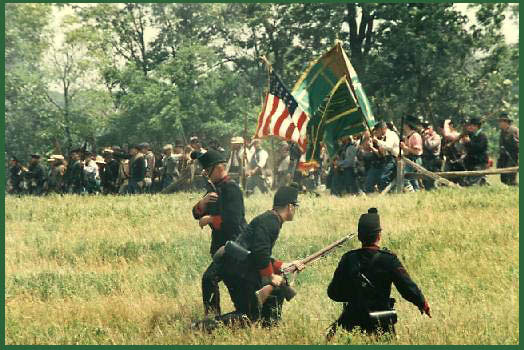 The "light" uniforms still to be worn would prove tool heavy as the temperature rose into the 70s that day. The 13th Hamilton wore traditional scarlet tunics and deep blue trousers; the Queen's Own had stylish outfits just as impractical for the summer, crafted of quilted green wool. Major James A Skinner, now in command of the 13th Battalion because Booker led the entire column, had arranged to bring his horse along on the train -- the only mount that came with the men from Port Colborne. With no horses available at Ridgeway, the men were ordered to take an adequate number of rounds before the ammunition wagons were sent back with the train. Men later recalled that some companies took a total of 60 rounds, using cartridge boxes and pockets, while some only had forty rounds. One company took none and had to be supplied with donations from other companies in the column.

Company Number Five of the Queen's Own had received a surprise the day before. As they crossed Lake Ontario to Port Dalhousie, the north end of the Welland Canal, all the men in QOR #5 were presented with breech-loading Spencer (repeating) rifles and forty rounds of ammunition. Though they had never used these weapons individually or as a group, Company #5 was designated as the advance guard for Booker's column on June 2. All the other volunteers had three-band Enfield rifles. More than half of the soldiers in Booker's column were under age twenty. Although the 13th Volunteers had performed evolutions for admiring crowds on many weekends past, none of the volunteers had had much practice in firing.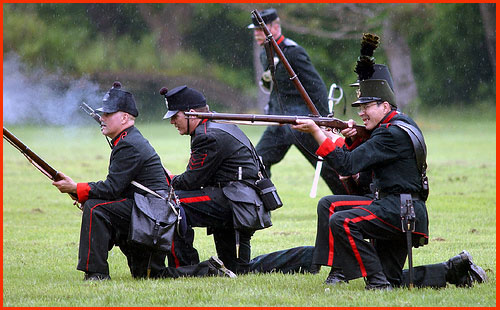 Few from the Queen's Own Rifles had ever fired a shot in training or practiced in loading their weapons.

The Queen's Own Rifles would follow in column of companies, Major Charles T Gilmore in command of their battalion. Next came the 13th Volunteers under Major Skinner. Individual companies from York and Caledonia followed the Hamilton redcoats. Lt Colonel Booker was the only one mounted, riding Skinner's horse in the center of the column. All were ordered to load before they stepped off toward Stevensville.

The Canadians covered a mile on the Ridge Road before reaching Garrison Road, which ran west out of Fort Erie toward the Welland Canal. Fenian skirmishers opened fire on QOR Company #5 just after they crossed Garrison Road. The Spencer rifles returned a furious fusilade which depleted #5's supply of ammunition. Queen's Own companies #1 and #2 were immediately thrown out to left and right of #5 deployed as skirmishers along with company #5. The first shot was said to have been heard at 7:30 AM. Company #3 of the Queen's own supported company #5 in center while companies #4 and #6 supported companies #1 and #3. with companies #1 and #4 guided on the Ridge Road, the Queen's Own skirmishers and their supports advanced until striking a line of Fenian bullet-screens along the Bertie Road, which ran parallel with Garrison about 800 yards north of it. Private Kilvington described this Fenian defensive line as works made of "sloping fence rails banked with sods."



The time of the engagement is impossible to determine. Some men swore it was thirty minutes, others insisted three hours. The 13th Hamilton companies joined the fray before the Canadian line managed to drive the Fenians back from their bullet-screens on the Bertie Road. Companies #9 and #10 of the Queen's Own were then fighting on the extreme Canadian right, atop Lime Ridge. Queen's Own companies #7 and #8 were fighting on the extreme Canadian left, supported later by the York and Caledonia rifle companies. Hamilton companies #1, #2, and #3, along with QOR #6 were generally described as having followed the Fenian retreat from the Bertie Road. Whether O'Neill was purposely falling back in order to draw the Canadians into a trap is impossible to say, but, at one point, the bulk of the Canadian force held the Bertie Road and elements and moved a few hundred yards further up the Ridge Road.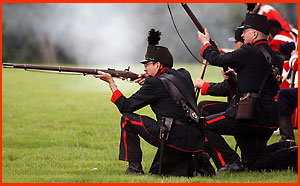 Lieutenant Colonel Booker had been relaying commands by way of a bugler during the fighting, and many men later asserted these bugle calls became confused, giving conflicting messages. Then the bugle ordered countermeasures to resist cavalry. Indeed, some mounted men had been dashing along the Fenian lines, and the warning about enemy cavalry brought unthinking reaction from groups of the Canadian soldiers. They stopped pressing the Fenians and some started to withdraw. Still other men began forming a square -- four lines backing into each other to meet a swirling cavalry attack -- on the Ridge Road between the Bertie and Garrison Roads. At least one square was broken up by officers before it was fully formed, but these units could not be put back into line before routing Canadians and charging Fenians struck them. Some men were trampled in attempting to stop the rout. There was consensus at a later military inquiry that a group of 100-200 Canadian soldiers covered the rout but the composition of this group was never clearly determined. With this turn of events, tables turned and the entire Canadian force began moving back to Ridgeway, closely followed by Fenians. Although subsequent attempts were made to rally the Canadians, the group remained largely disorganized and began following the tracks west toward Port Colborne until they were eventually met by a train.

Canadian Volunteers driven into Ridgeway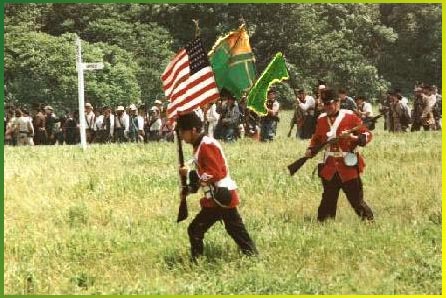 A Ridgeway physician named Brewster left a good account of what happened as the Fenians chased the Canadian force into Ridgeway village, calling it "Personal Experiences in the Fenian Raid." Brewster refers to his service in the American Civil War, and he may have been First Lieutenant Norman Brewster, Third Ohio Cavalry. Dr Brewster's account was published during 1911.

As the general history of the invasion is well known, I will confine myself to what came under my own observation.
On the well-remembered morning, the inhabitants of the village were attracted by the sound of whistling from a train from the west - the first in two days - and we soon learned the troops were here. We had earlier learned by courier of the approach of the Fenians from the north.

Profiting by my three years' experience in the great civil war in the USA, when I was often in battle, I soon learned our soldiers had nothing to eat since the day before and I went along their line of march and asked our people to bring out for them all the cooked food on hand. They responded liberally, so many of the soldiers got at least a lunch. I never learned who was in fault, but surely someone blundered so that men were sent into battle without food in this part of the country.

About an hour after the troops marched away, the sounds of battle so familiar to my ears were heard. I again went among the people and told them there was fighting going on down there and that there would soon be wounded to care for. I advised them how to prepare for their reception.

I then gathered-up such of my surgeon's outfit as I had left, namely instruments, bandages, adhesive plaster, chloroform, a canteen full of whiskey, another of water, and started for the front. Just at the head of the road to the north of the village, I met such a mixed and confused mass as I have never seen elsewhere, before or since. Soldiers and citizens, men, women, and children - on foot and in all varieties of vehicles - with horses, cattle, sheep and pigs - all mingled together and all hurrying along the road, south. It brought to my mind Russel's description of Bull Run.

I saw two soldiers without guns running, and close behind them an officer with revolver in hand crying "halt" and firing in the air occasionally. But running close behind this officer, who was running as fast as he could, came more soldiers.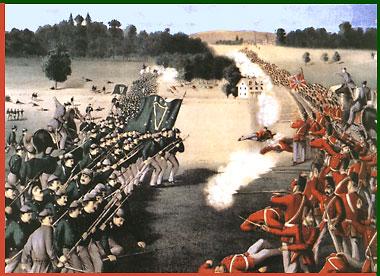 Famous painting (gloriously innaccurate) of the Battle of Ridgeway, 1866.
Soon after, I saw that some of our men had taken possession of the buildings on the corners at the first cross road north of the village, then owned by old Joseph Danner, and were gallantly trying to hold the enemy in check. How I wished there were even a few veterans, tested in battle, among them to hold them steady. But it was not long until I saw wavering among them, and soon they broke and continued their retreat.

Being now in the line of fire, I hastened to the left and made a circuit around the contending forces to the rear, and while in the fields I heard shouting and firing but paid no attention to these ordinary noises of battle until I heard bullets whistling over my head. I observed the Fenians were hailing and trying to halt me and call me in. I was soon among them and a prisoner. I was surprised to see that the only ones among them in any kind of uniform wore that of the US Army. A captain among them wore the full fatigue dress of his rank. When I asked why he had that on over here, he said he had not taken it off since the war. I told him it was time he did, as this was no place for it, and that I thought too highly of that uniform to see it worn in such a cause, as I had worn it myself for three years.

The Canadian soldiers retired through the village and on to Port Colborne, and we saw them no more.

The Fenians took possession of the village and anything else they wanted. Advanced pickets were posted at the cross roads on the hill west. They then settled down for rest and food, in some cases cooking and eating their dinners in private houses - some even set the table in my own house. They took very little loot beside the food and did practically no damage to private property. After waiting about three hours for orders or news, they retreated toward Fort Erie and we saw them no more.

The captain I have mentioned, on hearing my profession and object, sent me on to the field and said I was needed there, adding that I should call on any Fenians I met for assistance. I scoured the fields, road, and buildings, gathering the wounded. I cared for all of them, taking their names, rank, company and regiment. Recording friend and foe alike on my list, I concluded with twenty-six names. Of these, two Canadians were dead and there were four Fenians dead, whose names I could not learn. One of the Canadians died from heat and exhaustion in my presence - he was not wounded. He was a student of the University of Toronto and a member of the University Rifles, brought in from the battlefield while still living.

One of our wounded officers, thinking he would die, gave me his sword and belt, gold watch, rings, etc, and exacted a promise from me that I would visit his wife and be the bearer of certain farewell messages, giving her all but the sword and belt, which I was to keep. I afterwards had the pleasure of returning all to him in his wife's presence, except the messages. A passing Fenian saw the sword and tried to take it from me, but I secured the assistance of a guard left on duty by their commander, who drove off the marauder. I then concealed the sword.

Our troops marched down the Ridge Road to the Smugglers' Home on the corner formed by the Ridge crossing the Garrison Road, where they deployed into line, reaching to and into the bush on the east and a few rods below the hill on the west, advancing northerly across the fields and along the road. They soon faced fire from the advanced Fenian picket, shielded in a clump of bushes in mid-field which has only lately been cut down. I was told by our men that they were driving the Fenians back to their main line and doing well, cheering as they went and sanguine with success until the fatal blunder that ordered them into squares to resist cavalry, which they obeyed. But instead of cavalry they found a line of veteran infantry facing them, veterans who were trained to service in many hard-fought battles during the American War, who were quick to see their false move and profit from it. They tried to get again into line but, being pressed, fell into disorder, they broke and began their retreat. The extreme right continued to advance and occupied a part of the enemy's breastworks. In their retreat, a number were cut off from the main body and continued easterly until they reached the Lake near Windmill Point.

I was assured by men living along the line of the Fenian march from Black Creek that there were but two mounted men in the Fenian ranks, and I could not but reflect upon the fitness for command of a man whose excited imagination could multiply two mounted men into a troop of cavalry. I was assured by many of our men - officers as well as privates - that all was going well until that stupid order to meet cavalry, which they say did not exist, threw a pall on their spirits. I have not spoke with one of the participants since who did not believe that order was the cause of the disaster.

As to the numbers engaged, I estimated the Fenian force as a little more numerous than the Canadians, and a very large percentage of them were seasoned veterans used to war and battle. Ours to a man were raw recruits - not one of them had ever before heard the whistle of hostile bullets or, as the phrase is, "smelled powder."

The phrase "shot in the back" has a tinge of disgrace in it, but not always justly so, for Ensign McEachren of the Queen's Own. Observing that his men were in disorder while crossing the fences and fields, he stepped boldly out in front and turned to face them in order to re-align them but fell with a ball in his back which came out in front. He recovered and was living a few years ago and I have seen no report of his death. I have often thought it had been better had the bullet found a victim in the commander and that the history of the "Fenian invasion" would have had a very different ending.

I have never seen the Fenian loss reported, but I found four of their dead and learned from others that at least six wagons carrying dead and wounded were seen going toward Fort Erie.

The Fenian line was formed along the cross road by Athoe's (Bertie and Ridge Roads), and they took the rails from the north fence and placed them one end on the ground and the other resting on the south fence - so constructing a fair breastwork and defence.

Very few of the inhabitants of the village remained in their homes, but went with the crowd, giving the Fenians full liberty -- but they took very little. They chiefly took handkerchiefs, stockings, and little items to keep as souvenirs. From mine, what I most highly prized was the gold lace and insignia of rank from my uniform which I kept as a souvenir. Probably some one has it for the same purpose now.
Back to the Niagara River

Unsure about the location of other Canadian forces in relation to his, O'Neill split the Fenian force and led half back east toward Fort Erie while Starr did the same on a parallel road south of Garrison. The USS Michigan deck log notes that a large Fenian force entered the village of Fort Erie at 4 PM on June 2, thereby triggering a skirmish in the streets of that settlement. O'Neill's men had accidentally encountered Lt Colonel Dennis and his band of militiamen aboard the tug Robb!

During the fight at Ridgeway and through the afternoon of June 2, the WT Robb had been cruising the banks of the Niagara between Black Creek and Fort Erie, acting as a floating holding pen for suspected Fenians overtaken by parties of the Dunnville Naval Company and cannon-less Welland Canal Garrison Battery who had come off the Robb to patrol the Canadian shore. Having tied up at the Fort Erie dock around 2 PM, the militiamen from Dunnville and Welland disembarked, leaving 58 captives in the hold of the Robb.

When Fenians began to appear, it is likely that the Canadian soldiers thought that their fellows were closely behind these Irishmen. An exchange of volleys began in Fort Erie, to the enthusiastic cheers of hundreds lining the US shore in Buffalo. The Robb pulled into the river with seven men on board in addition to their captives, while the 76 militiamen ashore began to fall back before the waves of attacking Fenians. It was in one of these Fenian rushes that Lt Colonel Michael Bailey of Buffalo's 7th IRA Regiment was shot from his horse, speared by a forgotten Enfield ramrod. When half the Canadians piled into the Lewis house, which sat across the street from the dock where the Robb had been stopped, the other group of Canadians continued to retreat northerly under the command of Dunnville Captain Lachlan McCallum. The Lewis house group were soon forced to surrender, but McCallum's group was picked up by the Robb, which then returned to Port Colborne.

Witnesses later claimed that the Fort Erie fight had gone on for no more than thirty minutes, but casualties on both sides were high.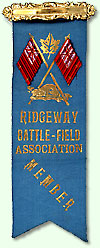 End of the Niagara Expedition

Though victorious in all tests of arms, John O'Neill soon began to realize his situation was hopeless. The Niagara River was achurn with the USS Michigan, her sentry tugs Harrison and Farrar, and the US revenue cutter Fessenden. There would be no reinforcements even if Buffalo was teeming with them. Colonel Peacocke's force was nearby, though scouts reported it camped for the night on the Bowen farm, near the point where O'Neill had first landed. It was just a matter of time before a new column moved toward him from Port Colborne.

O'Neill released his prisoners and moved his force to rocky hill of ruins at old Fort Erie, saying he would make a final stand there if such a sacrifice would do some good for the Fenian cause. Somehow, Wm J Hynes managed to communicate with O'Neill about a group of 350 Fenians waiting at the foot of Genesee Street to cross the river in a canal boat, hoping to reinforce the Irish expedition. Colonel Henry Rutgers Stagg led these men, and Hynes quoted his remark about seeing "the dawn of Ireland's freedom" and "rushing to see the sunrise." But no amount of eloquence could change O'Neill's mind about the futility of further fighting on the Niagara peninsula. The enemy was building in numbers and the Fenians had no ammunition. The British field guns would be able to kill them all from a mile away and there would be no glory in that. There was to be another Fenian push across the St Lawrence from northern New York, and O'Neill figured he had bought them enough time.

Stagg's canal boat was towed over, empty, for the evacuation of O'Neill's men. Aboard the scow AP Waite, O'Neill left the Canadian shore at approximately 2 AM on June 3. Within minutes, a twelve-pound boat howitzer sent a shell across the path of the tug Doyle, as it hauled its Fenian cargo toward Buffalo. It was the tug Harrison, crewed with men from the Michigan. O'Neill felt it was as safe a haven as he good expect under the circumstances -- not Brits, anyway.

By noon of June 3, Fort Erie village was filled with British soldiers, Canadian militia, and hundreds of souvenir-seekers. While O'Neill and the Fenian officers were arraigned by federal officials, about five hundred Irish soldiers were crammed aboard the AP Waite, tied behind the Michigan as she stood in the Niagara River below Buffalo's Fort Porter. Company C of the Fourth US Infantry arrived to reinforce Fort Porter and guard the Fenian captives.

On June 4, the captured Fenians began to arrive in Toronto. Cuffed in pairs to a length of chain, they were led from their train to the city jail through city streets. Huge crowds of citizens pelted them with all manner of garbage.

By June 6, the Fenian officers had all been released on their promises to appear later before the Federal circuit court at Canandaigua. Their soldiers were paroled and given free railroad transportation back to their homes, on their promises not to again illegally cross international borders.

Disgust

The following letter is one of several written by Fenian senators immediately after the June 1866 raid, when they were asked to begin again with matters of Brotherhood business. This one went from Louisville merchant Patrick Bannon to Phildelphian John Gibbons.

Louisville, June 25 1866

I received your dispatch this morning to attend Senate meeting on Wednesday. Circumstances prevent my attending. I have dispatched to that effect and, laying my resignation of Senator and State Centre before you, you will of course accept it, as I will not serve longer in that position. I will work at home for the Brotherhood, if anything can be done. My friends look to me for information every day, thinking, from my position, that some person should let me know what was going on and what the prospects now. I simply tell them that I get all the news I receive from the newspapers, which is not satisfactory.

Our career, in a military sense, has been nothing but a series of blunders since I left New York. Our Colonel had orders to leave on the 25th. I sent a man to Cincinnati to see about transportation, when he was told by Mr Fitzgerald that we should be in Cleveland on the night of the 28th after dark. I went to Indianapolis and made arrangements accordingly. Once got to Cleveland on Monday night, the 28th, no arrangements there to go further. By then I had spent 20 hours with 300 men. Got orders from headquarters to go to Buffalo. Got there Wednesday evening. Got orders there from Hynes to cross the river on Thursday night, which we did, and, as the sequel shows, made a beautiful fight of it. Our men were made into a forlorn hope - some in prison, some in strange locales wounded, and some killed. The balance got home again. We have no plan nor programme to follow. Done as best we could, thought we were doing right but probably done all wrong, for all we know. The people here blame me for not being better-posted and refuse to give another dollar. Left all on my shoulders. We ran short in furnishing transportation, as we did not expect to have to go to Buffalo and consequently got me for nearly $1000 in the trip.

As I have said, the people here have let down and are dispirited, and I decline to go in the dark. If anything turns up in the future, I may go again if it looks all right.

I have not sold any bonds. I would not offer them for sale until something would be done that looked like a victory. The consequence is I have $10,000 worth of them and will return them when called upon.

Your Senate should have met in Washington and hurled your anathemas against those who deceived and betrayed us, and demand of them to pursue the dismissal of every Cabinet officer that made a catspaw of us, and to lash him.

Hoping your councils may tend to good results. You have been faithful to your trust and I hope you will have the reward you deserve.

Kentucky will now have a chance to stay at home and leave the management of affairs to more able and wiser ones. Believe me ever your kind and affectionate friend, Bannon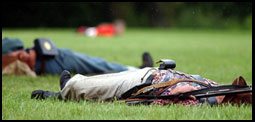 Aftermath
On June 6, 1866, a Fenian force led by US Army general Samuel Spear crossed into Quebec and held ground north of St Albans, Vermont, until surrendering to US forces on June 8. No more than fifteen lives had been extinguished on either side during the early June 1866 actions, including one woman who accidentally wandered into Canadian line of fire during the Quebec affair.

Formal inquiries into Ridgeway were quickly conducted in Canada. Albert Booker was found to have handled his volunteers poorly, and J Stoughton Dennis was run out of the service due to his apparent dereliction of duty. When the fighting in Fort Erie broke out late on June 2, Dennis disappeared, only to later turn up in Colonel Peacocke's camp clean-shaven and wearing civilian clothes.

The captive Fenian suspects were held in Toronto and about a third of these 117 individuals were put on trial during the Fall of 1866. Twenty-one were found guilty of participation in the illegal invasion of Canada, and seven were sentenced to be hanged on December 13, 1866. A Roman Catholic priest, Father John McMahon, was among the seven. None of the death sentences were carried out, however, though Father McMahon was the last prisoner to be released.

John O'Neill was appointed a general in the Fenian military organization and soon rose to its presidency. He led two more raids into Canada -- May 1870 and October 1871 -- neither of which were successful but did demonstrate that Canada had improved its ability to respond to such threats.

The federal government did not press any action against the Fenian officers at the Canandaigua circuit court. Seeking to manipulate the Irish vote, politicians and government officials assumed many odd positions. On December 4, 1866, for example, the crew of the USS Michigan returned weapons confiscated June 2 from O'Neill's men. The ghastly-looking Michael Bailey, slowly dying due to the hole made in his chest at Fort Erie, led a sort of Fenian victory parade away from the US gunboat. Bailey finally succumbed to his raid wound during January, 1868.

The Fenian Brotherhood attempted to achieve its objectives during the political and social turmoil following the Civil War. Though unsuccessful, they certainly cannot be faulted for not trying. General "Fightin' Tom" Sweeny often said, "If I had done this in some other country, I would be a hero. But here, here I am just one of the boys, prowling the night with the other highwaymen."
Fenian Order of Battle - Battle of Ridgeway

Fenians
Ranks are those attained in Fenian military organization
General Thomas W Sweeny, commanding the Armies of Ireland (not present at Ridgeway or Buffalo).
Colonel John O'Neill, in command of raiding force.
Colonel George Owen Starr, O'Neill's second in command -- Louisville resident; had been lieutenant colonel of 2nd Kentucky Cavalry (US) during the Civil War; commanded the Kentucky and Indiana units during the raid.
Captain Wm J Hynes, General Sweeny's representative at Buffalo
Fenian Senator JW Fitzgerald -- 30-year-old redheaded attorney who owned a large grocery business in Cincinnati; Fitzgerald and Senator Scanlan arrived in Buffalo carrying orders for the Fenian soldiers.
Fenian Senator Michael Scanlan -- Poet laureate of the Fenian Brotherhood and a wealthy candy manufacturer in Chicago.
Father John McMahon -- A Catholic priest who was "chaplain" of the raid. "Studied at the University of St Mary in Chicago . . . he was born during 1820 in County Monaghan." Emigrated to US 1840. Captured with Fenian wounded in Fort Erie. Taken by train to Toronto June 4 with 20 other prisoners, who are cuffed in pairs and then marched to Toronto jail in chains through a jeering mob. Appeared before the Toronto court October 26 1866. Witnesses said they saw him during the raid wearing a pistol and issuing orders to the Fenians, dressed in his clerical garb. He wore clerical garb during Toronto trial. Had been pastor in Anderson since 1860. McMahon claimed to have been on his way to Montreal to settle his dead brother's estate, but Fenians on the train suspected him of being a British spy. Once they believed that he wasn't a spy, they insisted he be their chaplain. Other sources indicate that McMahon indeed left Anderson with a company of Fenians. A Canadian official said that "an RC dignitary told him that McMahon was an illiterate person ordained in consequence of the dearth of missionaries in the western states, and that he had been suspended more than once for drunkenness." Fr McMahon was sentenced to hang on December 13th, and there were mob demonstrations in Indiana and Quebec over a death sentence having been given to an RC priest. On 3-4-1867, McMahon's death sentence was commuted to twenty years imprisonment with hard labor, along with six other Fenian prisoners who had also been condemned. By this date, 22 captives were convicted and facing 20-year sentences, 20 were acquitted, 49 discharged due to lack of evidence, 13 discharged on bail, and 3 held for trial. During 1867 and '68, US Secty Seward received 96 petitions that demanded US intervention in behalf of Father McMahon and the other Fenian prisoners. During March of 1867, the 40th US Congress ordered the US Committee on Foreign Affairs to investigate McMahon's imprisonment & secure his release. McMahon was released 8-12-1869 after the Archbishop of Halifax went to Ottawa to intercede for him; he was the last captive of the 1866 Fenian raid to be released. McMahon then went on a lecture tour describing his duties as chaplain for the Fenians and the rigors of his imprisonment. He was reportedly observed taking part in the 1870 Fenian Raid. He was reinstated as a priest in Indiana and died 4-27-1872 at Reynolds Station, Indiana.
13th Tennessee Regiment
- Colonel John O'Neill
- Captain Lawrence Shields - from Nashville; commanded 13th in O'Neill's absence.
- Captain Rudolphus Fitzpatrick - O'Neill's adjutant; from Nashville; reportedly served in the Papal Brigade and rec'd St Sylvanus Cross from the Pope; was a Union soldier in the Civil War; accused of being a British informer in 1867 but participated in 1870 Raid.

17th Kentucky Regiment (Louisville company had blue army jackets with green facings)
- Fenian Senator Patrick Bannon - a terra cotta manufacturer in Louisville who was a financial backer "worth $100,000"; Bannon accompanied the Kentucky Fenians but not as a soldier.
- Colonel George Owen Starr
- Lieutenant Colonel John Spaulding - Born 1836 in Ireland; from Louisville; had been captain in 15th Kentucky Infantry (US).
- Captain Michael Bolands - from Louisville; had been a sgt in 10th Kentucky Cavalry (US); wounded at Ridgeway and captured.
- Captain John A Geary - from Lexington.

18th Ohio Regiment (the "Fenian Cleveland Rangers" wore green caps and green shirts)
- Lt Colonel John Grace - Born in Ireland, age 28; had been captain of company K in 34th OVI during the Civil War; captured while covering O'Neill's retreat but was not pronounced guilty by Toronto court.

Indiana detachment
- Captain James B Haggerty - from Kokomo; had been captain, company E, 13th Indiana Volunteers during the Civil War.
- Color Sgt Michael Cochrane - age 34, cited by O'Neill for bravery at Ridgeway; wounded at Ridgeway; led counterattack that drove Canadians back to Ridgeway village.

7th New York Regiment, Buffalo NY
- Colonel John Hoy - age 34; had been a Sgt in 21st NYV and 1st Lt in 179th NYV during the war.
- Lt Colonel Michael Bailey - Buffalo ship-carpenter, age 44; had been captain in 74th NY National Guard and 100th NY Volunteers during the war.
- Colonel Henry Rutgers Stagg - age 32; did not cross with O'Neill but left to prepare reinforcements; had been Lt Colonel of 78th NYV during the war.
- Captain James McConvey - age 30; did not cross river with O'Neill but was to prepare reinforcements; had been captain in 155th NYV.
- Captain Michael T Lynch - age 28; had been 2nd Lt of Bailey's company in 100th NYV.
- Captain Hugh Mooney - age 27; Buffalo cooper, policeman, and tavern owner; was taken prisoner by USS Michigan as he operated tug pulling O'Neill's barge in retreat; had been captain in 155th NYV.
- Lt Edward K Lonergan - a ship's carpenter born in Buffalo, age 21; said to have been killed at Ridgeway but his body was found June 3 by Canadian troops in a farm near Ft Erie village; buried in Holy Cross Cemetery, Lackawanna NY, on June 6 1866; monument at his grave dedicated 1-3-1867.

Coming soon! Canadian/British Units
Additional Resources by David J. Bertuca