"We Strike for the Union and the Constitution"
--Inscription on the battle flag of the 155th NYSV

What Do We Do?
"Fight" in battle reenactments, averaging about one per month between late April and late September
Teach via hands-on educational presentations in elementary schools, high schools, and adult education classes

Sponsor drills, training sessions, and garrison weekends for new reenactors

March in parades

Honor our past as color guards at memorial services, dedications, and commemorative programs

Present living history programs to the public

Celebrate at period balls or socials throughout the year

Work for the preservation of Civil War battlefields and historic sites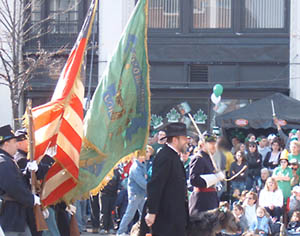 Why Be a Reenactor?
People enter the hobby of reenacting for many reasons but all enjoy reliving certain aspects of the Civil War era, as well as the company of many new friends.

The idea of Civil War reenacting is to preserve and perpetuate the memory of the common people who performed the great deeds that forged our "new nation" during 1861-1865. While working to achieve this goal, reenactors learn more about the period through "living" many of the experiences others usually only discover in books, movies, recordings, or television.

Who Becomes a Reenactor?
People of all ages and walks of life become reenactors. The 155th NY includes men, women, children, even entire families. Active members of the unit range in age from 8 to 65 years, but all have in common the spirit of adventure, a love for American history and a heartfelt appreciation for the extraordinary conflict into which ordinary people were thrust. Our ranks include soldiers, musicians, (drummers, fifers, and buglers), medical staff, civilian ladies and gentlemen of the Victorian era and other impressions. In general, reenactors are people with a special interest in the Civil War. There are no requirements on "Irishness", or knowledge level.

How Do I Get Started?
New civilian members can attend seminars on aspects of civilian life, hosted by the civilian portion of the regiment. Individuals who seek to portray a military impression are trained by experienced reenactors who teach practical aspects of reenacting, equipment procurement, and the organization's authenticity standards.

Monthly regimental meetings also help new members become familiar with the hobby. Both the military and civilian portions of the 155th NY have comprehensive handbooks authored by 155th NY members available to assist recruits in getting started.

If you want to wear the proud uniform of a Union soldier
or the beautiful hooped dress of a mid-19th century lady...

If you want to learn more about our nation's heritage...

If you want to learn more about the Irish-American experience
of the 1860's...

If you want to experience the sights, sounds, smells and tastes of the Civil War period...

Or if you simply wish to learn more about this captivating hobby...
*Not Irish? Not a problem.
If you are interested in the Civil War, we are interested in showing you what we have to offer.
Captain David Bertuca
S-4748 Hunters Creek Road
East Aurora, NY 14052-9510