Highlights of John Thelwall's Life

John Thelwall was born July 27, 1764 in Covent Garden, a section of London, England. His grandfather was a naval surgeon, and his father, Joseph Thelwall, was a silk merchant in Covent Garden, London, who died when John was nine years old. John was educated in various London schools. He especially remembers Highgate, where a clergyman named Harvey introduced him to literature. Thelwall's older brother abused him, instilling in him a lifelong commitment to fight against corporal punishment.
At age 13 John took a job in his family's shop to help support his mother, sister and brother. He worked there for 3 years. He then was apprenticed to a tailor. Later, his brother-in-law helped him to get an apprenticeship with an attorney, John Impley, which he did for 3-1/2 years. Following this period he became a painter, actor, playwright and poet.
In 1787 Thelwall published a set of poems, which was reviewed favorably (The Critical Review, vol 64, October 1787). He then became the editor for a magazine (Biographical and Imperial Magazine). Despite a slight lisp, he joined and became a valued contributor to public debating societies. By 1793 he had become known as a talented orator.
In 1791 John married 17 year old Susan Vellum, who financed his literary and political projects. He traveled in literary circles, counting among his friends William Blake, Samuel Taylor Coleridge, William Hazlitt, Charles Lamb, Robert Southey, and William Wordsworth.
To broaden his knowledge of the physical body, Thelwall attended anatomy and physiology lectures at Guy's and St Thomas's hospitals in London during the years 1791-1793. The classes were taught by medical luminaries such as Henry Cline, a surgeon, friend, and fellow radical. Thelwall was elected into the Physical Society of Guy's Hospital, a discussion group of medical specialists. He was asked by the society to give two lectures. Rockey (1979) describes their impact:
The first paper, An essay, towards a definition of animal vitality.in which several opinions of the celebrated John Hunter are examined and controverted (London, 1793) was debated for five or six evenings. The second, delivered on 14 December 1793, was entitled 'The origin of mental action explained on a system of materialism' and was discussed for three evenings, after which a motion was moved that as it appeared "to have no application to the practice or surgery", and was therefore of no interest to the society, the discussion be ended (Rockey, 1979, p. 165).
In the lecture on animal vitality which he gave on January 26, 1793, Thelwall argued against the commonly held notion that there was a "vital principle" that separated life of humans. In its stead, Thelwall proposed the "simple principles of materialism" to account for life, without a separate "soul".
In 1792 Thelwall became a member of a radical organization called the London Corresponding Society. He gave lectures sponsored by the group, arguing for democratic principles and against policies of William Pitt the Younger and the Tory government.
In 1794, Thelwall and 12 others were arrested and accused of treason. He was imprisoned for nine months, at which time he was acquitted.
After his release from prison, Thelwall continued his political lecturing. For example, on Monday, October 26, 1795 Thelwall spoke at the General Meeting of the London Corresponding Society to an estimated audience of 100,000 people. His speech was to be captured in perpetuity by political cartoonist James Gillray.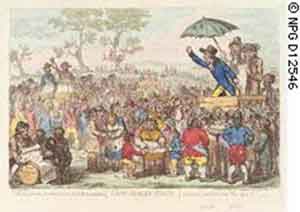 Following his political years and incarceration, and subsequent political harassment by Loyalists who were faithful to the crown and to Pitt, Thelwall retreated from public life and became a farmer in Wales in the community of Llyswen. But he eased back in to the public sphere in 1796 and 1797 giving lectures on classical history to sympathetic radical audiences in cities and towns in the north of England. During and following these lectures Thelwall was harassed by those loyal to the King who saw Thelwall as a continuing threat to the government. He took to carrying a gun and narrowly escaped with his life on several occasions (Thompson, 1994).
In 1799, Thelwall's six year old daughter, Maria, died of the croup. In that same year he suffered a harvest disaster due to heavy rains. These devastating factors lead him to reconsider living on a farm with farming his primary source of income.
In 1801, Thelwall shifted his vocation again, this time from farming to elocution. Thelwall began his new career by lecturing on various facets of elocution in the north of England. Besides his lectures on history and the classics, he gave lectures on the physiological and anatomical aspects of pronunciation, the nature of speech impediments, and on oratory as an art form.
Thelwall moved with his wife and children to a small town, Kendal, in the lake district of England, where he opened an institute in nearby Liverpool. There he provided individualized teachings, therapies, and commenced writing about his new-found area of expertise. The announcement of his Liverpool practice appeared in The Medical and Physical Journal in 1805:
Mr. Thelwall, whose intention of commencing a Course of public and private Instructions in Elocution, in the metropolis, during the ensuing winter, we have already noticed, has, in the mean time, opened a seminary at Brownlow Hill, Liverpool, for the Relief of persons afflicted with Impediments of Speech, and the instruction of foreigners desirous of being initiated in the idiom and pronunciation of the English Language (Thelwall, 1805, p.288.)
After six months, In 1806, Thelwall closed his Liverpool practice and moved his family to London, where he opened another institute on Bedford Place near the British Museum. In London he worked with residential students ("in house" pupils) as well as those who lived at home and attended classes or therapies ("private" pupils). He also continued to devote his time to lecturing, teaching oratory, carrying out speech therapy and educating his students in the liberal arts. Below is a description of his offerings and clientele.
Mr. Thelwall has opened a Seminary, No. 40, Bedford Place, Russell Square, for the cultivation of the Science and Practice of Elocution, and the Cure of Impediments of Speech; and is delivering a Course of Lectures on the Elementary Principles of his Art. The Lectures are illustrated by graphic and mechanical demonstrations of the essential Propositions; and are occasionally relieved by popular readings and recitations, and specimens of spontaneous oratory. Mr. T. also proposes to receive into his house a limited number of pupils who have impediments of utterance, of whatever description, the deaf alone excepted; and to give lessons at stated house, to individuals and to select classes, to whom domestication might not be convenient; and who may either labour under the like imperfections, or be desirous of improvement in the accomplishments of reading and recitation, conversational fluency, public oratory, and the principles of criticism and composition (Thelwall, 1806, p. 392).
In 1810 Thelwall published a treatise, written as a letter to his former teacher, surgeon Henry Cline, in which he discussed his life, his philosophies, and his work as an elocutionist and speech therapist (Thelwall, 1810). Included in that book are descriptions of his practices, his arguments for psychological (moral) bases of speech disorders, and a number of case studies.
In 1816 his wife, Susan Vellum Thelwall, died leaving John as sole parent to two sons and and a daughter. John remarried in 1817. His second wife, twenty-year old Cecil Boyle, had been his drama student. She worked with Thelwall in his London seminary, helping out with the "young ladies and children". They also had a child. Later, his oldest son Algernon also worked in the seminary. Algernon eventually became a minister and was appointed as a lecturer in public speaking at King's College.
John Thelwall resumed his activities in journalism and politics around 1818 by serving as editor of two literary and political magazines, The Monthly Magazine, and Panoramic Miscellany. He purchased a political journal, The Champion, in 1818, in which he wrote articles advocating parliamentary reform and universal suffrage. His editorship of The Champion lasted until 1821.
Thelwall died in February 1834 in Bath, England, while on a lecture tour.
| | |
| --- | --- |
| July 27, 1764 | Thelwall is born in Covent Garden, London |
| 1773 | Joseph Thelwall, John's father dies |
| 1777 | John takes his first job at age 14, working in his family's business as a shopkeeper |
| 1780 | He becomes apprenticed to a tailor |
| 1782 | Works as an apprentice to an attorney, John Impey (3 ½ years) |
| 1787 | Publishes a set of poems, positively reviewed in Critical Review, October 1787 (Poems on Various Subjects) |
| 1788 | Supports radical Horne-Tooke for his position in Parliament representing the borough of Westminster. This gives Thelwall's a start in local politics |
| 1789-1791 | Edits Biographical and Imperial Magazine |
| July 27, 1791 | Marries Susan Vellum (Stella) -on his 27th birthday |
| 1791 | Attends lectures at Guy's and St Thomas Hospital |
| 1793 | Delivers lecture for the Physical Society of Guy's Hospital: Toward the definition of animal vitality |
| April 1793 | Publishes The Peripatetic, a travel journal. In it he assumes several pseudonyms, including Sylvanus Theophrastus |
| October 1793 | Becomes a member of the London Corresponding Society |
| 1793 | First child, Maria is born |
| 1794 | Is jailed for treason, along with 12 others, and spends 9 months in Newgate prison and The Tower, in London |
| December 1794 | Treason trials are held for Hardy, Horne-Tooke, and Thelwall and all are acquitted |
| 1795 | Publishes his poems written in the Tower during his incarceration: Poems written in close confinement |
| 1795 | Son Algernon is born |
| 1795 | Gives a series of lectures for London Corresponding Society, one of which is captured in Gillray cartoon "Copenhagen Fields" (that lecture given on October 26, 1795). |
| 1796 | Publishes his best-known work-The rights of nature on his political philosophies and on the principles of the English Reform Movement |
| 1796 or 1797? | Second son, Hampden is born (This is assumed from Thelwall's poem To the Infant Hampden. Written during a sleepless night. Derby. October 1797. ) |
| July 17, 1797 | Thelwall walks from London to visit Coleridge at Nether Stowey in the southwest of England. He also visits Wordsworth who lived nearby at Alfoxden in Somerset. |
| 1796-7 | Gives lectures on classical history in northern England-to often hostile audiences |
| 1798 | Rents a small farm in Wales and retires to the country-Wye Valley in Wales (Llyswen) |
| 1799 | Six year old daughter Maria dies. Harvest crisis at his farm. |
| 1801 | Thelwall decides to become an elocutionist |
| 1801 | Publishes Daughter of adoption under pseudonym of John Beaufort and Poems chiefly written in retirement |
| 1806 | Moves to London and establishes a private practice as an elocutionist |
| 1810 | Publishes his thoughts on elocution in "A letter to Henry Cline" |
| 1816 | Susan Vellum, Thelwall's wife dies |
| 1818 | Thelwall marries Cecil Boyle, who had studied with him in order to be an actress (30 years younger than Thelwall) |
| 1825-1826 | Edits Monthly Magazine and Panoramic Miscellany, literary and political journals |
| 1818 | Purchases The Champion, a political serving as editor until 1821 |
| February 1834 | Thelwall dies in Bath, England, while on an elocution lecture circuit, at the age of 70. The cause was thought to be heart failure. |
References
Rockey, D. (1979). John Thelwall and the origins of British speech therapy. Medical History, 23, 156-175.
Thelwall, J. (1805). Letter to the editor of the Medical and Physical Journal, 13, 450-455. (Announcement of the opening of his "College for the Cure of all Impediments of Speech" and advertising for his Course of Lectures in London. Also includes some of Thelwall's classification of speech impediments.)
Thelwall, J. (1806). Announcement of Seminary opening at 40 Bedford Place in London. Medical and Physical Journal, 15, 392.
Thelwall, J. (1810). A letter to Henry Cline, Esq. on imperfect development of the faculties mental and moral as well as constitutional and organic and on the treatment of impediments of speech. London: Richard Taylor & Co.
Thompson, E. P. (1994). Hunting the Jacobin Fox. Past and Present, 142, 94-140.