Juan Pablo Bonet
1579-1633
Juan Pablo Bonet was a language scholar, a priest, and a soldier and secretary in the Spanish army. He became interested in ways to support people with hearing impairment because he was in the service of the Governor of Castile, whose younger brother was hearing impaired. It wasn't until 1885 that Bonet book "Simplification of the letters of the alphabet and method of teaching deaf-mutes to speak" was published.
The book consisted of four essays. One was a treatise on phonetics describing which aspects of the phonetic alphabet to select for teaching typical children to read. The second essay in Bonet's book was on teaching speech to children with hearing impairment. He recommends use of a one-handed finger signing, with the different finger positions representing different letters of the alphabet and of the printed word for teaching sounds and speech to deaf children. He used the letters of the alphabet to teach phonetic aspects of speech production.
Bonet's Finger Alphabet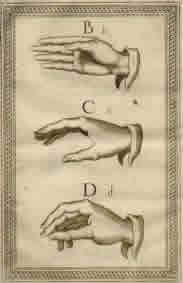 Bonet attached great importance to early intervention and the provision of a consistent language environment. For example, he insisted that everyone living in a house with a deaf person use the manual alphabet. Bonet's book ends with two essays, one on numbers and another the Greek language.
Bonet's educational approach to teaching deaf students was through sense training. Deland (1931) has described Bonet's method of teaching similarities and differences between objects based on properties such as length, width, color and weight:
In this lesson he ought to be well versed; and this can be accomplished, for it is the very threshold of reasoning; and he must learn that words and concepts by which he is to express what he thinks; and with this in view he will have to be asked many questions about different things, some of them are so similar as to demand feeling rather than sight to distinguish them, and these he must weigh I his head, so as to recognize differences in things that need some consideration (Deland 1931, p33).
Writings about Juan Pablo Bonet
De Land, Fred. (1920). Ponce de León (born 1520) and Juan Pablo Bonet (Author, 1620). Volta Review (July), 22, 7, 391-421.
De Land, Fred (1931). The story of lipreading. Washington, DC: Volta Bureau.
Peet, Harvey (1851). Analysis of Bonet's treatise on the art of teaching the dumb to speak. Annals of the Deaf and Dumb, 3, 4, 200-211.
Perello, J. (1987). Pablo Bonet, Juan (1579-1623). In John V. Van Cleve (Ed.). Gallaudet Encyclopedia of deaf people and deafness. NY: McGraw-Hill, 2, 263-264.
Sauvage, G. (1907). Juan Pablo Bonet. In The Catholic Encyclopedia. New York: Robert Appleton Company. Retrieved May 21, 2010 from New Advent: http://www.newadvent.org/cathen/02655a.htm.