Hygeia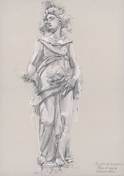 Hygeia is known in Greek mythology as a goddess of health, cleanliness and sanitation. She was associated with the prevention of sickness and the continuation of good health. Her name is the source of the word "hygiene".
Hygeia was the daughter of Asclepios, the god of healing, who was also skilled in surgery and the use of medicinal plants.
Hippocrates, a member of the Asclepiadae, those physicians who were followers of Asclepios, referred to Hygeia in his now famous Hippocratic oath "I swear by Apollo the physician and Asclepios, and Hygeia..."
Hygeia was represented by the ancient Greeks as a woman holding a serpent in her hands and sometimes in a two figure statue standing beside her father Asclepios.