Marcus Tullius Cicero
106—43 BC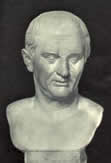 Marcus Tullius Cicero was a famous Roman orator, lawyer, linguist, politician and philosopher. He was a prolific writer and gave many speeches on a variety of subjects, especially on the rhetoric, law, and philosophy and their relationships. Six of Cicero's books on rhetoric have survived, as well as parts of eight on philosophy. Of his speeches, eighty-eight were recorded, but only fifty-eight have survived.
Cicero was born in a well-to-do family. He went to Rome as a young man, during a period of political and social turmoil. He became an orator and legal advocate of those who were relatively disadvantaged, receiving no pay for his services, since it was illegal for orators to be salaried.
Cicero became important politically when he rallied the Roman senate and the Roman people to unite against those he saw as conspirators.
Cicero wrote four essays on oratory with De Inventione being the first. In it he indicate five procedures that make up oratory: Invention, Arrangement, Style, Memory and Delivery. A second essay, De oratore, was a handbook of good oration; a third Brutus, contains his description and history of Roman oratory, and a in a fourth, Orator, is his discussion of what it takes to be an ideal orator.
"De Oratore" (on oratory) is, in turn, divided into three books. The first is about the qualities of the orator the second about judicial oratory, and the third about ceremonial and deliberative oratory. Orator is lengthy essay on the relationship between law, philosophy, and rhetoric. Cicero argues that the best orator is one who is able to stir the emotions of his audience. In order to be an accomplished orator one must also lead an exemplary life, take a leading role in politics, and instruct others in oratory.
Cicero was famously killed by Mark Anthony on December 7, 43 BC.