Our Beloved Aunt Sally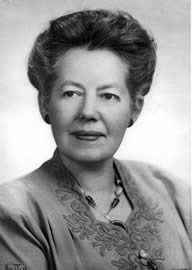 Sara Stinchfield Hawk has lots of living relatives. The following are fond recollections of "Aunt Sally", made by her niece, Patricia Ryba, and Pat's children.
Sally was tiny, chunky, and loved sweets. She and her husband were very vitamin conscious, even before it was fashionable.
Sally taught in a number of schools in California, including USC, UCLA, Scripps, and Berkeley. She consulted at the John Tracy Clinic in Los Angeles. She also studied with Freud, although she didn't buy into all of his ideas.
Pat, Sally's niece, remembers when she was about 12 or 13 going around with her Aunt Sally as she tested people. It made the children more comfortable when another child was there. The tests included a Rorschach and some written tests.
Sally had a melodious voice with low, perfect enunciation. She read and recited memorized stories to Pat and Jack when they were young. Sally had memorized Rudyard Kipling's "The Elephant's Child", as well as many other of Kipling's stories, inserting lots of drama in her voice when she told or read stories to the children.
Pat also remembers the activities that Sally and Lyle took them on--the wonderful picnics, going to the opera, and the many visits to the planetarium. Sally and Lyle were astronomy buffs, and taught Pat and Jack a lot about the stars.
Sally and Lyle had two brown Cadillacs, one with a rumble seat. In order to see over the steering wheel to drive, Sally sat on a pillow on top of telephone books. She also covered herself with a blanket. The pillow and blanket matched. Pat's daughter vividly describes her recollection of Sally's driving as follows: "They (the Cadillacs) were enormous and my Aunt Sally was a diminutive person.She couldn't see over the steering wheel so she would sit on books.Her car was a stick shift, of course, and in order to get it started, she would start the car rolling and jump in and pop the clutch. And she was over 70 years old at the time! I always thought this quite a feat for anyone over 25 but my aunt was a very strong-willed person who didn't believe in obstacles."
Sally was member in good standing of the DAR and attended their meetings.
One of Pat's daughters stuttered, and Sally spent a summer with her working on her stuttering. Here are the daughter's recollections of Sally's therapy:
When we would "work" on my stuttering, we would sit together, side by side, on chairs in her living room. She would have me read aloud from a book in which she had marked about every fourth word with a pencil. This was where I was supposed to take a breath. Reading aloud for a stutterer is a monumental task and I applaud her patience and tenacity to continue in spite of it. I used to hold my breath a lot when trying to get a word out, which of course is the wrong thing to do as your voice box doesn't work without air. Ah, the logic of a child!! She would try to get me to read with rhythm and breathe when I came to the pencil marks. It helped, why, I cannot say, but probably her patience and nonjudgmental attitude was encouraging to me.
Sally loved to travel. She went to China and brought some furniture back with her, and put it in her living room. It was very uncomfortable. Pat remembers her Aunt Sally describing her 1929 trip on a train in Canada from Toronto, Ontario, to Banff, Alberta, and seeing the beautiful Lake Louise. Sally felt that that was the most beautiful spot she had seen in all of her travels, including those abroad.
Lyle, Sally's husband, was a medical doctor. They had been going together for many years, but hadn't lived in the same city. Lyle was in Alaska on a medical internship and contacted Sally, saying "I came, I saw, I conquered." He then proposed to her and left Alaska and went to California to marry her and live. He set up a medical practice in their home in Hollywood.
Sally and Lyle had a love affair all their lives. He called her darling, and even called her "honey dear" when he was complaining about her cooking. (Sally was not a good cook.) They met when they both were young, when she was in Iowa. He was teaching there. Both had goals to attain, so they didn't get married until later.
Lyle was a school teacher before he became a physician. He taught shop in DesMoines, Iowa. His uncle was a physician and Lyle observed him doing an appendectomy. He was excited about it and decided to go to medical school in Iowa and become a doctor himself.
Lyle died ten years before Sally. A few weeks after he died "her mind stopped." Prior to his death, they were writing a book together on medical and mental problems. Lyle was doing the physical part and Sally the mental.
When Sally was still mentally ok, but living in a nursing home, she craved sweets (this was true throughout her life). Helms Bakery used to deliver pies and cakes to the nursing home. Sally sneaked out of the home, bought some sweets, and hid in the bushes to eat them because the staff at the nursing home didn't approve of her indulgences.
Sally and Lyle moved into an assisted living center when Lyle was in bad health. Sally was a worrier, especially when it came to Lyle. Shortly after he died, her mind closed down. She began wandering around and was picked up by the police a couple of times. Once, when asked where she was going, she said she was going to test some people.
Pat visited Sally often when she was in the nursing home, and after Sally's death went to pick up her belongings, but there weren't any. Sally is buried at the Forest Lawn Cemetery in Glendale/Burbank, California, along side Lyle.
Aunt Sally's other relatives:
Paul Stinchfield, Sally's brother, was born in 1898. He was younger than Sally. They had a third sibling, Nellie, who died in infancy. Paul married and then divorced his wife Florence, Pat's mother. Pat was 12 at the time. Paul was in the newspaper business first in Harrisburg, PA and then, after being separated from Pat's mother for five years, he moved to NYC.
Paul was a great artist. Pat remembers Paul sitting at their dining room table on Sundays between 1932 and 1938 drawing with Pat and Jack. Pat still has the drawings. The book is dedicated to Sally, his sister, and it has poems about the alphabet composed by Paul and written in calligraphy, a set of cut out flags of many different countries and of offices in the military, drawings by Pat and Jack of shapes and objects following the models done by Paul, and a letter written to her grandfather, Paul, from his grand daughter when she was nine years old and visiting her Great Aunt Sally and Uncle Lyle in La Canada, CA.
Paul remarried in NYC. He is buried in Maine. Paul and Sally were very close and kept in touch over the years.
Patricia Ryba is Sally's niece. Pat's father is Paul, Sally's brother. Pat has five children, two boys and three girls and lives in San Marcos, California. Sally was a favored aunt of all Pat's kids.
Pat's brother Jack Stinchfield (Sally's nephew) served in the Marine Corps for 22 years in the Vietnam and the Korean War. He reports that Sally wrote the Marine Corps on his behalf, requesting that he be sent interesting places during his tour of duty, so he would get to see the world. (It didn't do any good). Jack has five children and lives in Wadsworth, Nevada.
Lyle had a brother who was a minister, a sister, Winifred Hawk who was affiliated with the main library in Atlanta, Georgia, and a niece, Naomi Myers who took over her mother's job in Atlanta when her mother died. Naomi was coming back from attending a lecture by Jimmy Carter in Planes, Georgia, and died coming home on the bus.
Sara's family genealogy:
Eben Paul Stinchfield (Sally's father) married Alwilda Marston
They had three children:
Nellie (born June 14, 1890, died September 17, 1890),
Sara Mae, (born, 1885, died, 1977)
Paul, (born Oct 14, 1898, died Jan 10, 1962)
Sara Mae Stinchfield married Charles Lyle Hawk, when she was around 50. They had no children, but lots of nieces and nephews whom they took under their wings.
Paul married Florence Shepard Haenle and had two children, Patricia and Jack.