Internet Projects
Here are some of the internet projects that I have designed and maintain. I have written an article with more about the history of some of these websites. Feel free to contact me if you have any feedback or suggestions.
The Counseling Center Village
This is a web site I set up with Wendy Settle of the University of Notre Dame. Numerous colleagues, via ACPA's Commission VII (Counseling and Psychological Services), are now involved in developing and maintaining this site. It is designed to be a major resource for counseling center professionals, bringing together in one web site a wide range of resources and information. This includes on-line psychoeducational materials, job listings, technical assistance in designing a counseling center web site, an on-line document bank, research information, materials for predoctoral training, and more. The Counseling Center Home Page
The Counseling Center at the University at Buffalo has an on-line Home Page, containing a wide selection of mental health self-help material and an overview of the services provided by our office, as well as information for mental health professionals and a description of training opportunities for qualified graduate students. This was one of the very first university counseling center web pages, and it went on-line even before there was a world wide web. The design is now controlled by Student Affairs, but I'm still involved in maintaining it.
Counseling Centers On The Internet Directory
An ever-evolving directory of university and college counseling centers that have an internet presence. Counseling Centers of New York State
This site was created as a place where information about the annual Counseling Centers of New York conference could be found. There are links here to other NYS resources as well. Counseling Centers of New York Network
An email network for professionals working at counseling centers in New York.

Abnormal Psychology Lecture Notes
These lecture notes were written in the late 1980's for an honors-level undergraduate course in Abnormal Psychology. Although they are based on the now out-dated DSM-III-R, they still contain useful information about psychopathology, including an extensive reference list. I particularly like the lecture entitled "Mental Illness and Mouse Traps." Quotes file
Over the years, I have collected quotes that I have found meaningful. Since posting this to the web, other people have suggested quotes that I have included as well. Feel free to make your own suggestions.
Also check out
the March 7, 1996 and the March 27, 1997 issues of The Reporter, our school's newspaper.
the December 16, 1996 issue of Student Affairs Journal-Online, "Internet Resource Review: The Counseling Center Self-Help Home Page - State University of New York at Buffalo" by Andrew J. Hedges .
The Role of Student Affairs in the Virtual University, by Arnold Wade, Chair of ACPA's Technology Task Force, 1997.
the February 1999 issue of Interface, the University at Buffalo's Computing publication (no longer published).
Reviews at studentaffairs.com: Counseling Center Village and Counseling Center Directory
the March 6, 2003 issue of The Reporter
...other places on the web that link to the above websites.
And here's something about an award I won.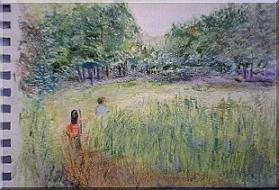 "The Clearing"
D. L. Gilles-Thomas, 2006 ©
Primary Objects: My music & photography.