Research


We use rational design and directed evolution to engineer novel protein molecules for use in biotechnology, research, and medicine. Homology modeling, yeast surface display, directed evolution are used in our studies.

The current projects include the engineering and application of:

1. Monomeric streptavidin
2. Therapeutic antibodies
3. Antibody binding proteins
4. Others

Streptavidin monomer is able to bind biotinylated ligands without crosslinking.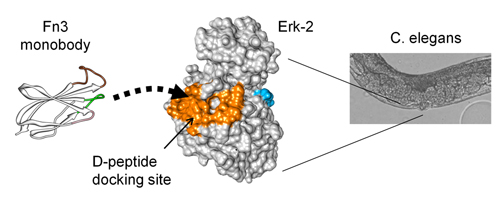 Engineered fibronectin derived monobodies (Fn3) bind the Erk-2 kinase at a protein-protein interaction site and inhibit its function. They are able to inhibit Erk-2 signaling in vitro, in mammalian cells, yeast, and C. elegans.