Minimum number:

A reasonable number but never less then one toilet room should be accessible.

An accessible unisex toilet room can be provided to serve both sexes and solve care giving problems.

In large buildings, at least one toilet room on each floor or building wing should be accessible.
Circulation Space:

Enough space to turn around - 60 in. diameter clear floor space or a T-shaped space: 36 in. deep on each leg.

The clear floor space used for turning may be part of the knee space required under lavatories.

Adequate clear widths at doorways and other circulation areas.

Adequate clear widths on an accessible path of travel from the entry doors.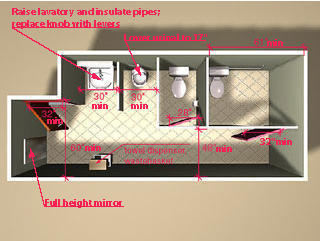 Water Closets and Toilet Stalls:

At least one accessible in each accessible toilet room.

Stall size: 60 in. wide by 56 in. min. deep (add 3 in. to depth for floor-mounted water closet)

Height: 17-19 in. high to the top of the seat.

Water closet location: 18 in. on center from one side wall or partition.

Grab bars: 33 in. high, on center; at near wall; at back; side bars starts at a maximum of 12 in. from back wall and should be at least 42 in. long.

Flush controls: hand operated and located on open side of water closet.

Doors: 32 in. min. clear; swing out; maneuvering clearances as with other doors; side location for door OK.

Location of toilet paper dispenser: on near wall, 36 in. max. from back wall, 19 in. high on center.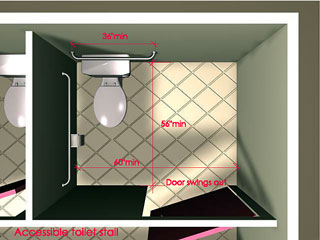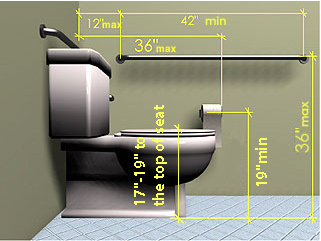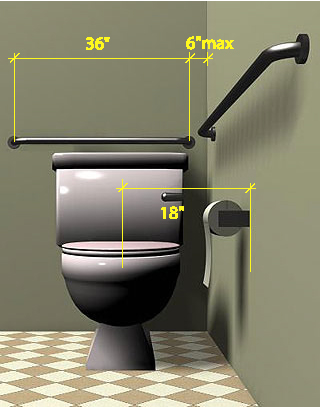 Lavatories and Mirrors

Height: 29 in. min. clearance under leading edge for depth of 8 in.; 32 in. height to top of sink preferred as well.

Toe clearance: 6 in. deep max. (measured from back wall or pedestal) by 9 in. high min.

Over-all length: 17 in. min.

Faucets: lever operated, push-type or electronically controlled; self-closing or timed flow units should remain open for 10 seconds.

Underside: exposed hot water and drain pipes insulated; no sharp or abrasive surfaces.

Mirror height: 40 in. max. from floor to bottom edge.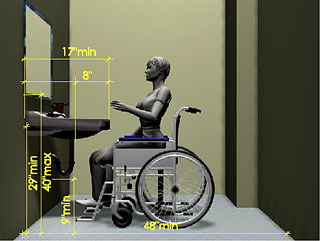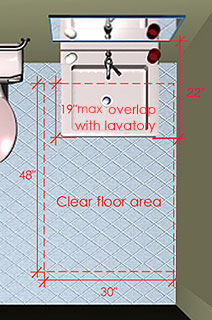 Urinals:
At least one accessible in every accessible men's room.
Type: stall type or wall hung with an elongated rim no higher than 17 in. above the floor.
Floor clearance: 30 in. wide by 48 in. deep in front.
Flush controls: hand- or electronically-operated; mounted at 44 in. max. height.
Dispensers and Receptacles:

All should be accessible.

Floor clearance: 30 in. by 48 in.

Height: 48 in. max. to highest operable part if floor clearance requires a forward approach; 54 in. max. if a side approach can be used; 44 in. max. if located over a counter or lavatory.

Control type: operable with one hand.
Grab bar design:

Width: 1-1/4" - 1-1/2" diameter for all grasping surfaces.

Materials: non-slip surface, free of sharp edges.

Strength: bar and connectors capable of supporting at least 250 lb. at point inducing greatest stress.