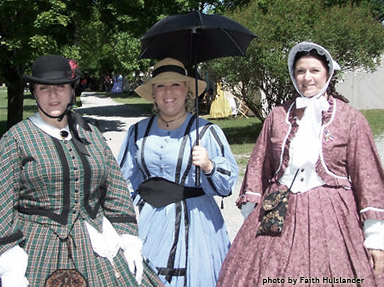 The present reenactment regiment was formed in 1989, and now numbers around 120 members, including: soldiers, musicians, surgeons and medical staff, nurses, "sanitary commission" members, and civilian women, men, and children. Our organization portrays Company I, one of the Buffalo infantry companies. There is a place in our association for any Civil War era impression, from common worker, to photographer; from Irish immigrant, to town mayor. We encourage members to develop period personalities and interests, in order to demonstrate their skills before the public, and for their own satisfaction.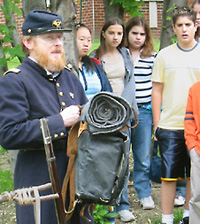 Although we are known for participation in large battle reenactments, our main activities focus on the local region. Members form color guards for veteran ceremonies and cemetery memorials. They also visit schools and local history societies making educational presentations, and are available for other similar activities as well.
We work to portray the lives of the men, women, and children who lived and experienced the Civil War era first-hand.
We are looking for a few good men and women to join us in our travels through time and history, and we invite you to come take a look. Read more about the 155th today. If you are interested in meeting us, seeing us in action, or in joining us, contact: