Some people golf, others watch sports, but two of my spend-up-time interests in life are to ride alone and become and expert in BS. Some might argue that I've succeed in the latter goal, but that might not be entirely true. It should be pointed out that I am an Associate Professor. That means that I am outranked by full Professors in Biological Sciences who, according to the academic hierarchy, are better recognized for being experts in BS than I am.
It gets cold in Western New York during the winter months, but I've been out when the temperature was 28 degrees and my ears were feeling numb from the wind. I only ride when the roads are dry and it's still daylight. Unfortunately, daylight hours during the first few months of the year are short and days in which the road is dry are few. I wasn't able to get out at all during the month of January this year. That's part of the reason that New York stinks in the winter. I could use a better word than "stinks", but I am trying to be nice.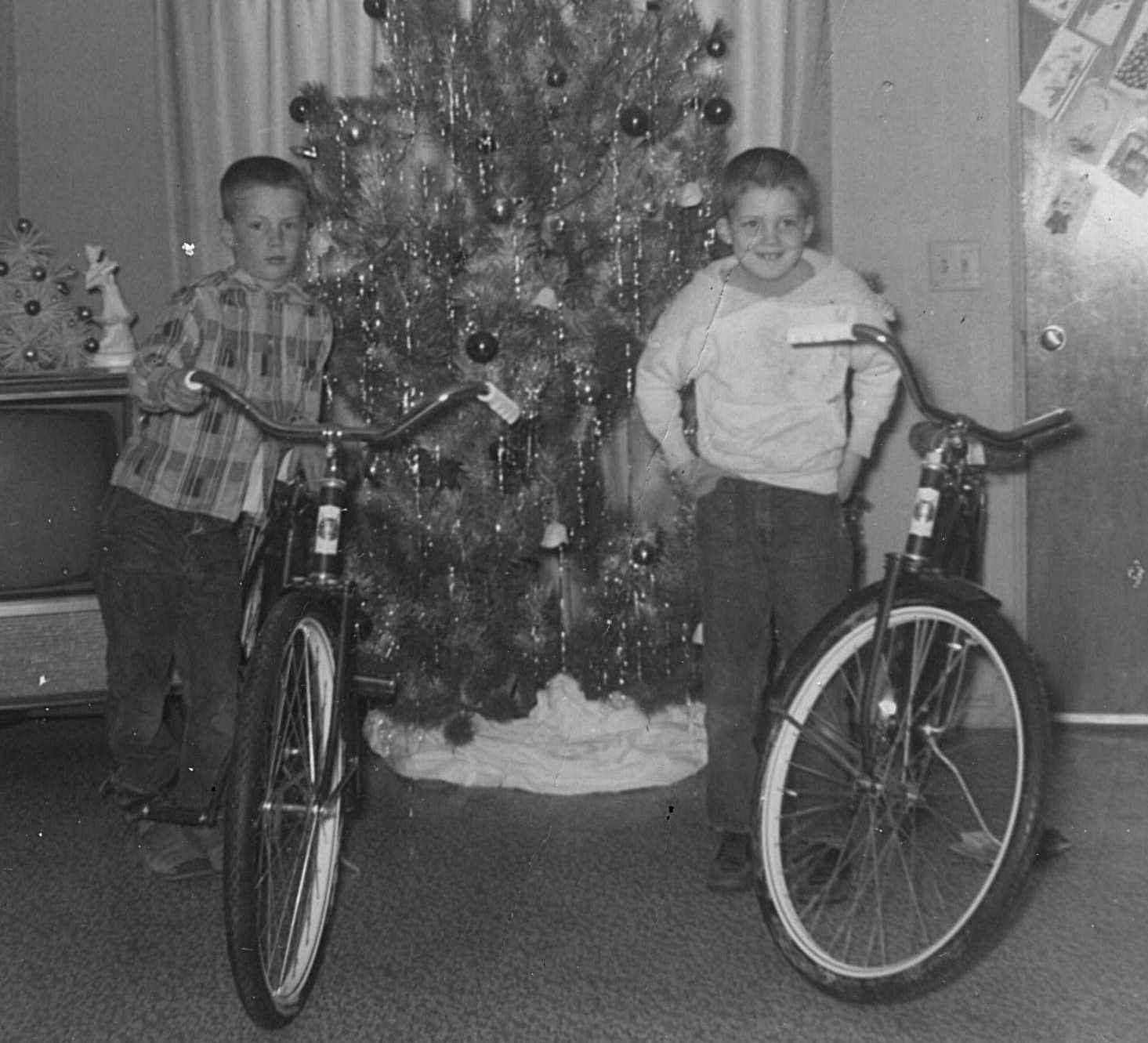 Photograph taken in Oregon during Christmas about 1960 where my brother and I (on right) were given new bicycles as gifts. These were Schwinn models that cost $40 each and probably put a financial dent on our parents budget. The feeling of eager anticipation seen on my face in this photograph was rediscovered later in life.

Riding bicycles is as much about mental health as it is about physical fitness. I take bicycles apart, down to spokes and bearings, and put them back together as a part of the experience. One could say that it's good therapy. At least it helps me to maintain a few of my most precious delusions in life: I am able to fix something and I am a free man.

One of the odd things that one encounters among fellow bikers is brand snobbishness. It's funny to watch, yet at the same time, disconcerting. According to some, one must have the newest and most expensive bike with the right brand name before one can be respected as a biker. To me, this is one of the major diseases affecting our artificial and materialistic culture. Moreover, it seems to infect other parts of our culture in addition to biking. To parrot a familiar aphorism:

Some people have a lot more dollars than sense.



In my own case, I tend to ride older bikes. However, I prefer to call these older bikes by a more respectable term: Vintage. Below are a few of them:


1970's Ross Gran Tour.

Not sure of the exact year, but probably late 70's. Ross was an American competitor of Schwinn and now out of business. A surpisingly good ride.


1980 Schwinn Continental.

This bike is heavy, but one of the smoothest I've ridden. It was built in Chicago in May of 1980, two years before Schwinn closed the plant. Bomb-proof bike.


1983 Trek 400.

I obtained this as original, but then converted it into a hybrid.

1985 Cannondale SR300

. Weighs about half of the Schwinn Conti shown above, but it doesn't ride as well.

1994 Trek 850.

I prefer road or hybrid bikes, but I ride this mountain bike when I travel the Erie Canal towpath.



1969 Schwinn Fairlady.

I found this rusting up in storage and rebuilt it for my daughter last Fall as a Christmas gift. It's a classic Schwinn from their (now closed) Chicago plant.
Currently, I also have three Raliegh's, a 1977 Grand Prix (made in England), a 1985 Record (Raleigh America), and a 1985 Wyoming (Raleigh America). This might bring up a question: How many bikes do you need? For real bikers, the answer is N+1, where N is the number of bikes that one already has.

My goal is to ride over 2,000 miles this year. This summer, I also plan to ride the Erie Canal towpath from Lockport to Palmyra, an unrespectable distance of a mere 70 miles. I plan to break it into two days and expect to be done riding before lunch on each day. Since my daily ride is about 20 miles, it shouldn't be much of a challenge
. I am thinking that the next year I might ride the entire 70 miles one day, stay overnight in Palmyra, then ride back the next day. When I pass Knowlesville, I may even leave the towpath and ride home. I might even be up to letting you know how it turns out
(
Click here for end of season report
)
. But, for the time being, I have to get back to BS.
---
Back to BS Professor index
---