Click Image for Homepage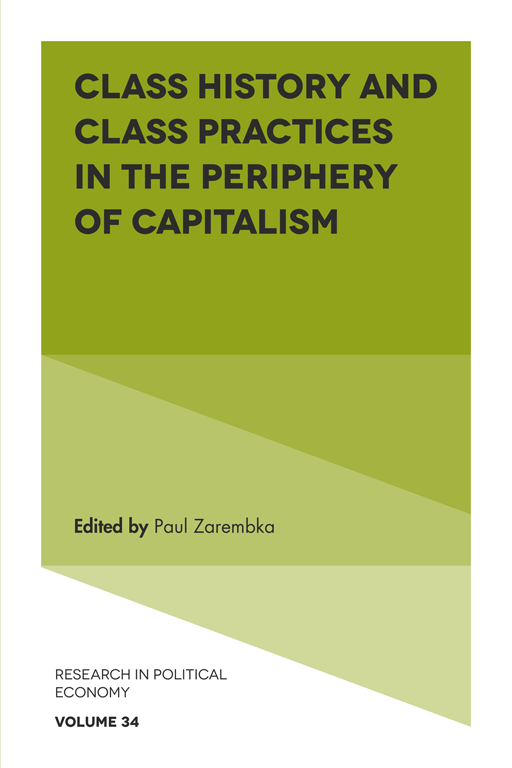 Research in Political Economy, Volume 34

CLASS HISTORY AND CLASS PRACTICES IN THE PERIPHERY OF CAPITALISM
Editor: Paul Zarembka, State University of New York at Buffalo
Only after World War II did scholars move to theorize the distinction between the core countries at the center of capitalism and peripheral countries, often with an added distinction to include the semi-peripheral. Immanuel Wallerstein's World Systems approach has been particularly important and led the term periphery into common scholarly parlance. Not surprisingly, much work remains to be done to untangle the extreme diversity and complexity of the political economies and resistances against the multidimensional cruelties perpetrated in the world's many, very different peripheral contexts.
Class History and Class Practices in the Periphery of Capitalism addresses this need head-on. A first chapter lays a theoretical groundwork by showing that Marx, in his later life, became aware that historical developments are much more complicated than he originally conceived them to be, and he was not as far away from calling for site-specific analyses. Contributions here carry out just such analyses: they describe specificities for Russia, Portugal, Argentina, and Mexico, offer broader perspectives on post-hegemonic Latin America and Asia, provide detailed analyses of resistances across Africa, and reflect on the deeper meaning of neozapatismo for promoting a shift in the entire terrain of discussion.
Rich in theoretical depth and empirical rigor, and supplemented by an out-of-the-archive translation of Karl Katusky's theory of crises, this book is essential reading for students and scholars of political economy and international political economy, and it is of keen interest to anyone working to resist specific capitalist exploitations in their own place and time.


Preface
Paul Zarembka
PART I: PERIPHERAL EUROPE AND POST-HEGEMONIC REGIONALISM
The Development of Capitalism in Russia in the Works of Marx, Danielson, Vorontsov, and Lenin
James D. White
The Historical Course of Ownership Structures and Rentier Capitalism in Portugal
Mariana Mortágua
Geopolitical Economy of Post-hegemonic Regionalism in Latin America and Eurasia
Efe Can Gürcan
PART II: AFRICA AND LATIN AMERICA
Neoliberal Liberalism → African Authoritarianism → Disorganized Dissent
Patrick Bond
Capitalist Development in Argentina and Working Class Practices (1870-2018)
Nicolás Iñigo Carrera
Unbroken Dependency: Mexico's Passive and Bounded Revolution
Lorenzo Fusaro
The Meaning of Mexican Neozapatismo within the Current Antisystemic Movements
Carlos Antonio Aguirre Rojas
PART III: ARCHIVE
Karl Kautsky on Mikhail Tugan-Baranovsky
Daniel Gaido and Darío Scattolini
Theories of Crises
Karl Kautsky, 1902, translated by Daniel Gaido and Darío Scattolini
ABOUT THE AUTHORS
INDEX
245 pages, 2019
Emerald Group Publishing Limited
Howard House, Wagon Lane, Bingley, BD16 1WA United Kingdom
Emerald's web page for Research in Political Economy