Click Image for Homepage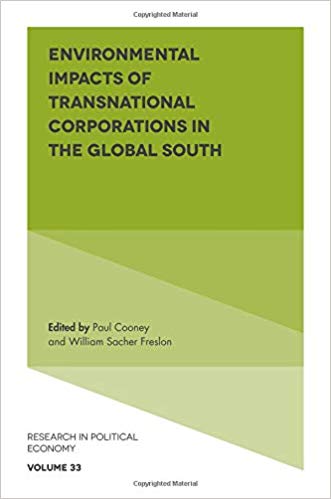 Research in Political Economy, Volume 33

ENVIRONMENTAL IMPACTS OF TRANSNATIONAL
CORPORATIONS IN THE GLOBAL SOUTH
Editors: Paul Cooney, Universidad Nacional de General Sarmiento, Argentina, and William Sacher Freslon, Universidad Andina Simón Bolívar, Ecuador
This volume explores the impact of Transnational Corporations (TNCs) on the environment of the Global South during this period of neoliberal globalization.
Since the end of the 1970s, the role of TNCs in the global economy has developed significantly, and the subsequent changes to international institutions and the establishment of free trade zones have limited the effectiveness of environmental protections. Drawing together contributions from several continents, this important book examines the environmental consequences and crises resulting from these changes. It highlights the negative impact on the environment, ecosystems and ways of living for many people across the globe and shows how this is reflected in the struggle between corporate interests, social movements and human rights.
Developing key themes around transnational extractive activity, especially mining and oil corporations; the impact of transnational capital on indigenous or traditional populations, and the role played by international institutions, Environmental Impacts of Transnational Corporations in the Global South is essential reading for researchers and practitioners within the field.

Introduction
Paul Cooney and William Sacher Freslon
PART I: EXTRACTIVE INDUSTRIES, SOCIAL CONFLICT, AND DISPOSITION IN THE GLOBAL SOUTH
Transnational Mining and Accumulation by Dispossession
William Sacher Freslon and Paul Cooney
Mining Giants, Indigenous Peoples and Art: Challenging Settler Colonialism in Northern Australia Through Story Painting
Seán Kerins and Kirrily Jordan
Ecological-Economic Narratives for Resisting Extractive Industries in Africa
Patrick Bond
Petroleum Accidents in the Global South
Franklin Obeng-Odoom
PART II: ENVIRONMENTAL CONFLICTS AND TRANSNATIONAL VALUE CHAINS IN THE GLOBAL SOUTH
Transnational Corporations, Violence and Suffering: The Environmental, Public Health and Social Impacts From Comparative Case Studies in Zimbabwe and Uganda
Fernanda Claudio and Kristen Lyons
Environmental Injustice in Northeast Brazil: The Pecém Industrial and Shipping Complex
Antônio Jeovah de Andrade Meireles, João Alfredo Telles Melo, and Magnólia Azevedo Said
Family Farming, the Environment and the Global Food Chain
Sérgio Pedro
ABOUT THE AUTHORS
INDEX
225 pages, 2018
Emerald Group Publishing Limited
Howard House, Wagon Lane, Bingley, BD16 1WA United Kingdom
Emerald's web page for Research in Political Economy