Click Image for Homepage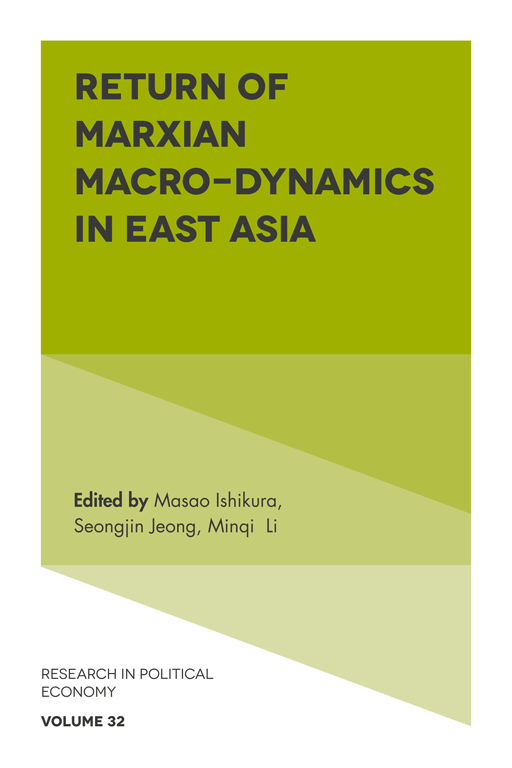 Research in Political Economy, Volume 32

RETURN OF MARXIAN MACRO-DYNAMICS IN EAST ASIA
Editors: Masao Ishikura, Hitotsubashi University, Japan, Seongjin Jeong, Gyeongsang
National University, South Korea, and Minqi Li, University of Utah, USA
The economic growth in East Asia has been believed to be the model case of the triumph of capitalism. Some progressive economists, for example, the developmental state theorists, also praised the East Asian model as the progressive alternative to neoliberal market fundamentalism, arguing that they are the outcomes of state-led development.
However, with the sudden advent of the 'Lost Decade of Japan' in the 1990s, and the ensuing 'IMF Crisis' of South Korea in 1997, and now the imminent 'hard landing' of the Chinese economy, the East Asian miracle story is quickly becoming a thing of the past. East Asia has now become an epicentre of the contradictions and crisis of global capitalism. Today, deepening economic crises, exacerbation of social polarization, rising popular discontents, and escalating geopolitical tensions are common to China, Japan and Korea. Moreover, East Asia has been at the centre of global ecological contradictions. Indeed, East Asia has now become the typical place of Marxian macro-dynamics.
This important and timely volume brings together experts in political economy from across the globe, to comment on the return of Marxian macro-dynamics in East Asia. The contributions explore macro-dynamics, the role of the state and hegemony in the context of transnational capitalism, and Marxian alternatives for East Asia.

Introduction: Return of Marxian Macro-Dynamics in East Asia
Masao Ishikura, Hitotsubashi University, Japan, Seongjin Jeong, Gyeongsang National University, South Korea, and Minqi Li, University of Utah, USA
PART I: MACRO-DYNAMICS IN EAST ASIA
Labor Value and Exploitation in the Global Economy
Taiji Hagiwara, Kobe University, Japan
Financial Instability in Japan: Debt, Confidence, and Financial Structure
Kenshiro Ninomiya, Shiga University, Japan, and Masaaki Tokuda, Shiga University, Japan
A Historical Perspective and Evaluation of Abenomics
Takeshi Nakatani, Onomichi City University, Japan, and Taro Abe, Nagoya Gakuin University, Japan
Biased Technical Change and Economic Growth: The Case of Korea, 1970–2013
Sangjun Jeong, Mokpo National University, South Korea
Dynamics of the Rate of Surplus Value and the "New Normal" of the Chinese Economy
Hao Qi, Renmin University, China
PART II: STATE AND HEGEMONY IN EAST ASIA
IN THE CONTEXT OF TRANSNATIONAL CAPITALISM
The Transnational Capitalist Class and Relations of Production in Asia and Oceania
Jeb Sprague-Silgado, University of California Santa Barbara, USA
A Critical Review of China's Reform
Gyu Cheol Lee, Kyungpook National University, South Korea
Why China is Different: Hegemony, Revolutions and the Rise of Contender States
Lorenzo Fusaro, Universidad Autónoma Metropolitana, Mexico
PART III: CONSIDERATION OF ASPECTS OF A MARXIAN ALTERNATIVE FOR EAST ASIA
The Chongqing Model – Socialist Alternative or Propaganda Cliché?
Anna Zakharzhevskaya, State Academic University for the Humanities, Russia
Subversive Migration, Citizenship from below and Democracy against Bordered Capitalism
Dae-oup Chang, Sogang University, South Korea
PART IV: COMMUNICATIONS ON CHAPTERS ON SRAFFA IN RPE
Addendum to Carter's "Response to Professor Solow"
Yoann Verger, National Institute for Agronomic Research (INRA), France
Comments on Verger's "Addendum"
Scott Carter, University of Tulsa, USA
Reply to Yoann Verger
Robert M. Solow, Massachusetts Institute of Technology, USA
INDEX
316 pages, 2017
Emerald Group Publishing Limited
Howard House, Wagon Lane, Bingley, BD16 1WA United Kingdom
Emerald's web page for Research in Political Economy