Click Image for Homepage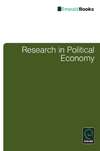 Research in Political Economy, Volume 29

SRAFFA AND ALTHUSSER RECONSIDERED;
NEOLIBERALISM ADVANCING IN SOUTH AFRICA, ENGLAND, AND GREECE
Editor: Paul Zarembka, State University of New York at Buffalo
Archival evidence is extensively elaborated from Piero Sraffa's papers establishing that his concept of surplus and deficit industries in Production of Commodities by Means of Commodities is quite indebted to Marx's theory of exploitation. A simple analytical model is also developed. This chapter is followed by utilization of conceptual work in the Sraffian tradition to present an empirical application for China.
The advance of neoliberalism in recent decades has many facets and three current instances are elaborated here, as disparate as they might otherwise seem. Suggesting uneven development as in Rosa Luxemburg, South African multi-billion dollar investments in two fossil-fuel industrial projects have recently cemented debtor relations to the World Bank and the Chinese Development Bank, while generating activist opposition in this century of climate crisis. Secondary school teachers in England face work that is increasingly commodified, and then judged similarly, a development that represents the penetration of abstract labor and alienation, as in Marx. Our third representation benefitting neoliberalism is the substantial expansion of the credit system in Greece after it adopted the euro, while the social relations of production there remained unchanged since the fall of the junta.
A critique of Louis Althusser's interpretation of the Marxist philosophy of science is carefully developed, pointing to the problem of circularity therein, yet arguing that Roy Bhaskar's work in critical realism is particularly important for recuperating Althusser's project. Finally, the volume continues the discussion of the relevance of the concept of a labor aristocracy by engaging the work of Zak Cope, a proponent of its importance that was published previously.
PART I: RECONSIDERING SRAFFA
From 'Pool of Profits' to Surplus and Deficit Industries: Archival Evidence on the Evolution of Piero Sraffa's Thought
Scott Carter, Department of Economics, The University of Tulsa, Tulsa, OK
Comments on Scott Carter
Robert M. Solow, Department of Economics, Massachussetts Institute of Technology (retired), Cambridge, MA
Response to Comments of Robert M. Solow
Scott Carter, Department of Economics, The University of Tulsa, Tulsa, OK
Fixed Capital and Wage-Profit Curves à la von Neumann-Leontief: China's Economy 1987-2000
Bangxi Li, Institute of Economics, School of Social Sciences, Tsinghua University, Beijing
PART II: NEOLIBERALISM IN ACTION
Theory and Practice in Challenging Extractive-Oriented Infrastructure in South Africa
Patrick Bond, Centre for Civil Society, University of KwaZulu-Natal, Durban
Marketisation, Commodification and the Implications for Teachers' Autonomy in England
Martin Upchurch, Phoebe Moore and Aylin Kunter, Middlesex University, The Burroughs, Hendon, London
Stranger than Fiction: Fictitious Capital and Credit Bubbles in Post-EMU Greece
Jesse Hembruff, Department of Political Studies, Queen's University, Kingston, Ontario
PART III: RETROSPECTIVE ON ALTHUSSER
Epistemological Problems and Ontological Solutions: A Critical Realist Retrospective on Althusser
Brian O'Boyle, St. Angela's College (Sligo), National University of Ireland Galway, and Terry McDonough, Department of Economics, National University of Ireland Galway
PART IV: FOLLOW-UP: DEBATING LABOR ARISTOCRACY
The Roots of Working Class Reformism and Conservatism: A Response to Zak Cope's Defense of the "Labor Aristocracy" Thesis
Charles Post, Department of Sociology, Borough of Manhattan Community College-CUNY, New York City, NY
A Comment on the Post–Cope Debate on Labour Aristocracy and Colonialism
Amiya Kumar Bagchi, Institute of Development Studies Kolkata, Kolkata
Final Comments on Charles Post's Critique of the Theory of the Labour Aristocracy
Zak Cope, Belfast, Northern Ireland

286 Pages, 2014
Emerald Group Publishing Limited
Howard House, Wagon Lane, Bingley, BD16 1WA United Kingdom
Emerald's web page for Research in Political Economy