Click Image for Homepage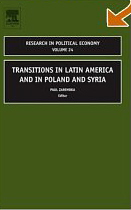 Research in Political Economy, Volume 24

TRANSITIONS IN LATIN AMERICA AND IN POLAND AND SYRIA
Editor: Paul Zarembka, State University of New York at Buffalo

With a world balance of forces in tension, this volume slices the political map in two dimensions, the geographical dimension and the imperialism?socialism dimension ("socialism", of course, having widely varying meanings). As a region, Latin America is in the forefront of resistance to imperial schemes, particularly those by the United States. Venezuela and Cuba represent leading edges of resistance, and Colombia, a leading edge of U.S. hegemony. Chapters addressing the political economies of these countries form the first part of the volume.
Poland has led the anti-Soviet transition into a pro-market realignment, a realignment of this country which is particularly oriented toward the United States. Syria, on the other hand and even as it moves into a pro-market orientation, is subject to particular U.S. hostility. Both cases are analyzed in Part II, with the chapter on Poland having considerably broader applicability. Also included here is the continued deeper penetration of capitalist relations within the United States, represented by analysis of the transition of its medical sector.
For almost a century, stages of capitalism has been an important theme within Marxism. The theme is analyzed at the beginning of Part III, and connects to the more empirical work represented by the prior six chapters. The volume concludes with translation from Japanese of an important critique of the classical political economy of Adam Smith and David Ricardo, who, in a certain sense, were the leading proponents, historically, of the market, of capitalism. Most poignantly, this chapter argues that Ricardian value theory opens the door to a vulgar system of economic thought.
Foreword, Paul Zarembka, Editor
PART I. LATIN AMERICA IN TRANSITION
Chavez's Venezuela and 21st Century Socialism Gregory Wilpert, Editor, Venezuelanalysis.com, Caracas
Against the Current: Economic Policy and Socialist Development in Cuba Curtis Skinner, Pelliparius Consulting, Brooklyn, New York
U.S. Narcocolonialism? Colombian Cocaine and Twenty-First Century Imperialism Oliver Villar, Department of Politics, University of Western Sydney
PART II. TRANSITIONS IN POLAND AND SYRIA, AND IN U.S. MEDICAL PRACTICE
The Transformation of Post-Communist Economies in a Globalised Economy: The Case of Poland Jane Hardy, Centre for Research in European Business and Economy, Business School, University of Hertfordshire
Syria's Transition, 1970?2005: from Centralization of the State to Market Economy Angela Joya, Department of Political Science, York University, Toronto
The Evolution of Capitalist Relations of Production in U.S. Medical Practice: An Outline Jerome Joffe, Division of Social Science, St. John's University, New York
PART III. STAGES OF CAPITALISM AND A CRITIQUE OF CLASSICAL POLITICAL ECONOMY
The Marxian Theory of Capitalist Stages Terrence McDonough, Department of Economics, National University of Ireland, Galway
Samezo Kuruma's Life as a Marxist Economist E. Michael Schauerte, Administration of the Japanese Section of the Marxist Internet Archive at marxists.org
A Critique of Classical Political Economy Samezo Kuruma, now deceased
Author Index
2007, 347 Pages
Emerald Group Publishing Limited
Howard House, Wagon Lane, Bingley, BD16 1WA United Kingdom
Emerald's web page for Research in Political Economy