Updated paperback 2nd edition published by
Seven Stories Press and also available at Amazon


Click Image for Homepage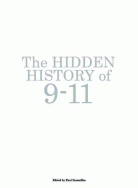 THE HIDDEN HISTORY OF 9-11
Paul Zarembka, Editor
Department of Economics
State University of New York at Buffalo
Video summary is available
on-line from Snowshoe Films

How much insider trading occurred in the days leading up to 9-11? How compromised is the evidence against alleged hijackers? Why were there no military interceptions? To what extent does the testimony of more than five hundred firefighters differ from official reports of what happened at the World Trade Center buildings that day? How inseparably connected are Western covert operations to al-Qaeda? How is Islamophobia used to sustain US imperialism? What was the 9-11 Commission?

Hidden History is a benchmark in 9/11 research; a serious reference volume
that ... offers up facts to be considered, and places 9/11 within a historical
and social context that differs radically from the Official Story" -- review

"a serious challenge to those who dismiss the possibility that a government-
based conspiracy was behind the events of 9-11" -- Canadian Dimension

"must listen" -- Information Clearing House, 7-22-2009, on KPFA book interview

___________________________


Preface, Paul Zarembka, Editor

Sixteen Reasons to Question the Official Story about 9-11, David Ray Griffin

PART I. HIJACKERS - WHO WERE THEY?

What We Now Know about the Alleged 9-11 Hijackers Jay Kolar

PART II. THE MORNING OF 9-11-2001

Initiation of the 9-11 Operation, with Evidence of Insider Trading Beforehand Paul Zarembka

The Destruction of the World Trade Center: Why the Official Account Cannot Be True David Ray Griffin

The Military Drills on 9-11: 'Bizarre Coincidence' or Something Else? Four Arrows, aka Don Jacobs

PART III. THE CONTEXT OF 9-11-2001 AND MEANING FOR THE FUTURE

Terrorism and Statecraft: Al-Qaeda and Western Covert Operations after the Cold War Nafeez Mosaddeq Ahmed

September 11 as 'Machiavellian State Terrorism' David MacGregor

Making History: The Compromised 9-11 Commission Bryan Sacks

Islamophobia and the 'War On Terror': The Continuing Pretext for U.S. Imperial Conquest Diana Ralph

PART IV. UPDATES

Updates, Jay Kolar, Paul Zarembka, David Ray Griffin, Four Arrows, and David MacGregor

A Government Scientist Sees Physics that Don't Exist, Kevin Ryan


APPENDIX: 16 Questions on the JFK Assassination, Bertrand Russell

Author and Subject Indices
2008, 375 Pages