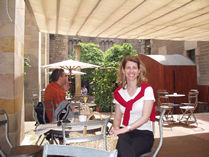 Language class in Barcelona, summer 2003

Welcome students and friends!
My name is Dr. Michelle A. Benson, and I am an Associate Professor of Political Science at University at Buffalo, SUNY located in Buffalo, NY. Use the navigation on the top to visit my other sections and to find out information.
CONTACT INFO
E-mail: mbenson2 [at] buffalo [dot] edu
Office Phone: (716) 645-8448.