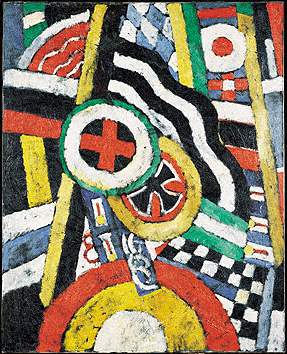 Marsden Hartley, Number 5, 1914-15
English 628: Studies in 20th C. American Literature:
The New York Avant-Garde, 1913-1929
Fall 2003
Prof. Joseph Conte


---
This seminar will address the formation of a New York Avant-Garde during the period between the Armory Show of 1913 and the Stock Market crash of 1929. The collocation of poets, composers, artists, and photographers in and around Manhattan creates an early nexus of American modernism that both borrowed from and sought to distinguish itself from European modernism. Although Ezra Pound, Gertrude Stein, and T. S. Eliot had already departed a "half-savage" country for London and Paris, French artists such as Francis Picabia and Marcel Duchamp sought refuge in New York from conscription during World War I. The advent of Post-Impressionist, Cubist and Dadaist art in America-introduced with scandalous success at the Armory Show and the Independents Exhibition of 1917-stirred the sedate arts community in New York. As William Carlos Williams recalls, "it was not until I clapped my eyes on Marcel Duchamp's Nude Descending A Staircase that I burst out laughing from the relief it brought me." The new European art movements collide with the raw commercial and industrial power of an American city, with its skyscrapers, mechanization, and violent pursuit of business. The New York Avant-Garde is born of this confrontation. One focus of attention will be the Others group, founded by the poet Alfred Kreymborg and photographer Man Ray, that brought the local American writers and artists into collaboration with European emigree artists in flight from the destruction of the first World War. Among the work by members of this collective centered in Grantwood, NJ, we will read William Carlos Williams's early poetry and his improvisatory compositions in Kora in Hell (1920). In her early poetry Marianne Moore describes New York as "the savage's romance / accreted where we need the space for commerce." In her bricolage of text and observation, she finds "it is not the atmosphere of ingenuity . . . but 'accessibility to experience'" that compels her lifelong residence in New York. A second overlapping circle formed around the wealthy patron Walter Conrad Arensberg, in whose West 67th St. apartment Marcel Duchamp worked on the Large Glass (1915-23). Arensberg introduces Wallace Stevens to Duchamp, and the flamboyance of Stevens's first book, Harmonium (1923), owes much to this connection. Mina Loy, a frequent contributor to Others and an associate of Arensberg, composes the poetry of the New Woman in Lunar Baedecker (1923), declaring open revolt against patriarchal prescriptions of the female artist and sexuality. Alfred Stieglitz's 291 gallery on Fifth Avenue and the journal Camera Work served as a principal meeting place for photographers, artists, and writers. We will examine the formulation of American precisionism in the work of Charles Demuth and Charles Sheeler, and in the prose and poetry of Williams's Sour Grapes (1921) and Spring and All (1923). Marsden Hartley's poetry and painting from this period offer a useful point of comparison for developments and cross-fertilizations in both arts. Finally, we'll listen to the articulation of an American voice in the collaboration of Virgil Thomson (in New York) and Gertrude Stein (in Paris) on the opera Four Saints in Three Acts (1928).

The requirements for the course are a twenty-page research paper relevant to the issues and authors described above, and a twenty-minute presentation on an issue of critical interest to the class, accompanied by a short synopsis for distribution to class members.
---
Last Revised on Monday, August 11, 2003
Course Materials are copyright © Joseph M. Conte 2003 All Rights Reserved