Carl Emil Seashore
1866-1949
Perhaps Carl Seashore's most important contributions to the field of speech-language pathology were administrative in nature. In his role as Dean of the Graduate School at the University of Iowa, he founded and shaped what was to become an outstanding speech and hearing department at the University of Iowa--one that was to establish a fledgling field of speech correction into a well respected scientifically-based profession of speech-language pathology.
Seashore was born in 1866 in Morlunda, Sweden. His family name was Sjostrand, which means "seashore" in Swedish. The family had a small farm and his father was a lay preacher as well as a carpenter. They were insulated, religious, and were able to live comfortably off their farm. Carl's family (his parents, his younger sister and Carl) immigrated to the US when Carl was three years old. They joined a Swedish farming community in Boone County, Iowa. Carl lived on an 80 acre farm and in a house that was built by his father.
Carl, his two sisters, and his two brothers were all educated at home in their early years. They spoke and read in Swedish, as did all of the members of his small Iowan community. At 8 years of age he began attending a district school, built and directed by his father. He graduated from this school at 16. During his adolescence he worked on the farm and he taught young children in a nearby country school, as well as attended his own school.
Following this period attended Gustavus Adolphus College, in St Peter, Minnesota, a Swedish, Lutheran institution. There he studied the classics, and received a liberal arts education. He especially enjoyed mathematics, and Greek and singing, which was, for him, like an intramural sport. He also took a job as an organist and choir director for a church in Mankato, which helped him support himself. He graduated with a BA in 1891.
Seashore went from his undergraduate studies to graduate work at Yale University. There he studied psychology with George Trumbull Ladd and Edward Wheeler Scripture at Yale University, graduating in 1895 with a Ph.D. His degree was the first Ph.D. in psychology issued at Yale. He continued on at Yale for two years of post doctoral work where he assisted Scripture in his experimental research.
Seashore became an assistant professor of philosophy at the University of Iowa in 1897 and later (1908) was appointed dean of the graduate school. In that capacity he established a number of new programs as shown in this table.
| | |
| --- | --- |
| Iowa Psychological Clinic | 1908 |
| Psychopathic Hospital at the University of Iowa | 1915 |
| Iowa Institute for Mental Hygiene | |
| Gifted Student Project | |
| Iowa Child Welfare Research Station | 1917 |
Seashore also helped to found the Iowa Child Welfare Research Station, a strong and influential research institute funded by the Rockefeller foundation. Seashore was the president of the American Psychology Association in 1911.
In 1900, Seashore married Mary Roberta Holmes and in the next 10 years or so, they had four sons.
Carl Seashore retired from Iowa in 1937 at the age of 70, but was called back in 1942 and served another 4 years as dean. He again retired, this time at 80 years of age. He died at 83.
Seashore's research centered on educational psychology and the psychology of music and art.
References
Seashore's publications covering the years 1893 to 1949 includes 237 books and articles.
Seashore, C. E. (1895). Measurements of illusions and hallucinations in normal life. Studies from the Yale Psychological Laboratory 3: 1-67.
Seashore, C. E. (1899). New psychological apparatus, II: An audiometer. Studies in Psychology from the University of Iowa 2: 158-163.
Seashore, Carl Emil. (1908). Elementary experiments in psychology. New York: H. Holt and Co.
Seashore, Carl Emil. (1918). Psychology in daily life. New York: Appleton.
Seashore, Carl Emil. (1919). The psychology of musical talent. Boston, New York: Silver, Burdett and Company.
Seashore, Carl Emil (1919). The Iowa pitch range audiometer, Lancet, October 15, 1919, pp. 3-8.
Seashore, Carl Emil (1919). The psychology of musical talent. NY: Silver Burdett & Co.
Seashore, Carl Emil. (1923). Introduction to psychology. New York: The Macmillan Company.
Seashore, Carl Emil (1924) [1866-1949] A Survey of Musical Talent in the Public Schools, Representing the Examination of Children of the Fifth and the Eighth Grades in the Public Schools of Des Moines, Iowa, with the Author's Measures of Musical Talent. Iowa City: University of Iowa.
Seashore's resume by his students (1928). Psychological Monographs, #178.
Seashore, Carl Emil [ed.] (1937) Objective Analysis of Musical Performance. Iowa City: University of Iowa.
Seashore, Carl Emil. (1938). Psychology of music. New York, London: McGraw-Hill book company, inc.
Seashore, Carl Emil (1938) A preview to college and life.
Seashore, Carl E. (1942). Pioneering in Psychology. Iowa City: University of Iowa Press.
Seashore, Carl E. (1945). Applied psychology in 1895. Journal of Speech Disorders, 10, 211-213.
Seashore, Carl Emil. (1947). In search of beauty in music: A scientific approach to musical esthetics. New York: Ronald Press.
Seashore, Carl Emil (1956) Measures of Musical Talents Manual. New York: Psychological Corporation. Revised edition.
Seashore, Carl Emil (1961). Carl Emil Seashore. In Carl Murchison (ed.) A history of psychology in autobiography. Vol 1. (225-297). NY: Russell and Russell.
Seashore, Carl Emil (1964). Seashore's psychology of life in autobiography.
Iowa Pitch Range Audiometer (1919)
Tonoscope
Chronoscope
Time-sense apparatus
Stimulus key
Tests
Seashore Rhythm Test: The rhythm subtest is a same-different discrimination that requires subjects to discriminate between 30 pairs of rhythmic beats. It is a subtest of an overall battery of Measures of Musical Talent.
Meier-Seashore Art Judgment Test (1929).
Articles about Seashore
Cary, H., (December, 1923) Are You a Musician? Professor Seashore's Specific Psychological Tests for Specific Musical Abilities. Scientific American, 326-327.
Lierle, Dean & Reger, Scott (1966). The origin and development of audiometric audiology at the University of Iowa. Transactions of the American Otological Society, 54, 19-23.
Miles, Walter R. (1956). Carl Emil Seashore. In Biographical Memoirs (256-316). NY: Columbia University Press.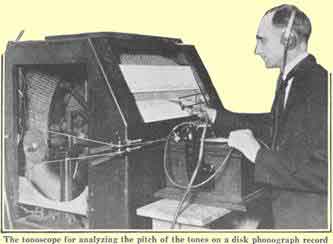 A photograph of Seashore using his invention, the tonoscope.