Leo Kofler
1837-1908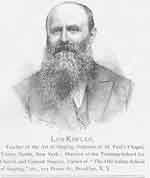 Leo Kofler was a voice specialist who worked primarily with singers to improve their voice. He was an organist of St. Paul's Church, Trinity Parish, NYC and ran a training school for Church and Concert Singers. Among his projects was a boarding school for "young ladies" who had voice and "speech defects."
Kofler came to America from Berlin , Germany. He wrote a book and a number of articles on "Old Italian singing." His methods promoting a form of abdominal breathing that would enhance singing quality. He also advocated vocal hygiene as a way to keep the voice healthy, and promoted a set of exercises and practical hints for people to follow.
Kofler wrote regularly for E. S. Werner's journal The Voice. He and John Howard, another voice specialist had a running interchange in Werner's journal about various issues associated with voice and voice "defects."
Writings of Leo Kofler, arranged chronologically
Kofler, L. (1880). The uvular R, an impediment of speech caused by the vibration of the uvula instead of the tip of the tongue, with directions for overcoming it. The Voice, 2, #1 p. 10.
Kofler, L. (1880). Dr. Klencke defended against Mr. Howard's attacks with a few introductory observations on vocal polemics in general. The Voice, 2, #2, p. 19-22.
"Who does not know that persons born in healthy, marshy, low regions are an inferior race in body and mind in comparison to those bred on higher plains, and woody, hilly regions."
Kofler, L. (1882). Hostility to the German School of vocalists I Voice, (4, #4, p. 55) II Voice (4, #5, p. 68)
Kofler, L. (1883) The old Italian school of singing. NY: E. S. Werner. (This was the first edition of The art of breathing) It first appeared in various issues of E. W. Werner's journal Voice, during the years 1881 and 1882.
Kofler, L. (1884). When to begin the cultivation of the voice I Voice, (6, #3, p. 33) II (6, #5, p. 73).
Kofler, L. (1885). Rumbling echoes from the recent meeting of the MTNA. Voice, 7, #8, 123.
Kofler, L. (1885). What is church music? Voice, 7, #11, 166.
Kofler, L. (1887) Art of breathing as the basis of tone-production for singers, elocutionists, educators, lawyers, preachers, and all others desirous of having good health. NY: Kessinger Publishing Company.
Kofler, L. (1887). Singing sharp and singing flat: Causes and remedy. Voice, 9, #7, p. 97.
Kofler, L. (1889) Take care of your voice: Vocal hygiene, practical hints. NY: E. S. Werner, NYC.
Kofler, L. (1889). Leo Kofler's reply to Emil Behnke. Werner's Voice Magazine, 11, #9, 190.
Kofler, L. (1892). Conditions of becoming an artistic singer. Voice, 14, #12, 350.
Kofler, L. (1893-1894). Take care of your voice Werner's Magazine: I (15, #10, p. 325) II (15, #11, p. 361), III (15, #12, p. 434), IV (16, #1, p. 11), V (16, #2, p. 50).
About Leo Kofler's impact on others see Jeroen Staring's talk on The Early History of F. M. Alexander.