Adam Politzer
1835-1920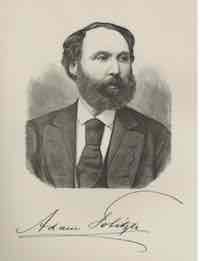 Adam Politzer (1835-1920) was the founder of clinical otology. He studied medicine in Vienna and became a doctor in 1859. It was during this time that laboratories became sites of clinical and histologic analysis. They were also the place of research into the causes of pathologic processes of the ear. Adam Politzer adopted this laboratory medicine, promoted it, and taught it to others.
Politzer became professor at the Clinic of Otology in Vienna in 1873, and then he went on to become the director of the clinic with Josef Gruber. This was the first clinic in the world to deal solely with otology. The clinic comprised about 20 beds and saw 12,000 to 15,000 patients annually.
In 1895, he, along with his colleagues Josef Gruber and Viktor Urbantschitsch founded the Austrian Society of Otology.
References on Adam Politzer
Mudry, A. (2000). The Role of Adam Politzer (1835-1920) in the History of Otology. American Journal of Otology, 21, 5, 753-763.