Max Aaron Goldstein, MD
1870-1941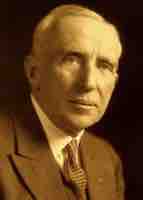 Max Goldstein was born in St. Louis Missouri on April 9, 1870. He graduated from Missouri Medical College in St Louis in 1892. Upon graduation he travelled to Europe to study in London, the University of Strasbourg, and in Vienna. His studies in Vienna were with otologists Adam Politzer, said to be the father of modern otology, and with Victor Urbantschitsch who pioneered a method of auditory training, using residual hearing to improve the hearing and speech of children who were deaf.
In 1914 Goldstein founded the Central Institute for the Deaf (CID) in St. Louis. At CID and its affiliated research centers, Goldstein conducted research into deafness, covering a number of topics including audiometric testing, auditory training, and lipreading. His research center attracted other researchers and welcomed emigrees from Europe fleeing from the Nazis. It thereby became an important hub of research into basic and applied research in hearing disorders.
In 1896, Goldstein formed the journal Laryngoscope, serving as its editor. His editorial board included Victor Urbantschitsch, his former teacher in Vienna. Goldstein was the editor of The Laryngoscope until his death in 1941.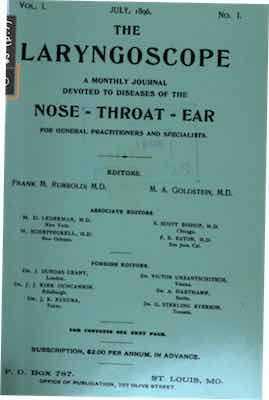 Goldstein References, a Small Sampling, Arranged Chronologically
Goldstein, Max (1895). The possibility of obtaining marked improvement in the treatment of deafness and supposed deaf-mutism by acoustic gymnastics-a system of vocal training of the auditory nerve, as advocated by Professor Urbantschitsch of Vienna on Urbantschitsch method of "acoustic gymnastics", Archives of Otology, 24, 1, 50-55. https://illiad-lib-buffalo-edu.gate.lib.buffalo.edu/illiad/illiad.dll?Action=10&Form=75&Value=89471
Goldstein, M.(1938) The otologist and the speech pathologist. 3, 1938, 231-233
Goldstein, M. (1939) Practical aspects of speech correction. 4, 99-102.
Goldstein, M. (1940) Speech without a tongue. 5, 1940, 65-69.
Goldstein, M. (1941) Obituary (G. O. Russell) 6, 1941, 172.
Goldstein, M. (1943) The man and his work (M. A. McGinnis and H. S. Lane) 8, 1943, 205-213
Articles on Goldstein
Bailey, B. (2001) Max Goldstein, MD: His continuing influences on our specialty. The Laryngoscope, 111, 1675-1681. https://onlinelibrary.wiley.com/doi/full/10.1097/00005537-200110000-00001
Websites on Max Goldstein
https://cid.edu/about-us/history-2/
http://beckerexhibits.wustl.edu/oral/transcripts/wolff.html