Friedrich Brodnitz
1899-1995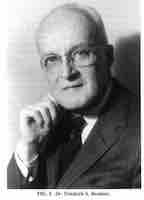 Friedrich Brodnitz was born in Berlin. He received his medical degree in otolaryngology in 1924 and then studied phoniatrics with Hermann Gutzmann Sr. and Theodor Flatau.
During the holocaust, Brodnitz abandoned his private practice in order to work for Jewish organizations in Berlin. The Jewish Telegraphic Agency reported his arrival in the United States on September 26, 1937 as follows:
DR. FRIEDRICH S. BRODNITZ, PHYSICIAN WHO ABANDONED HIS PRACTICE IN BERLIN WHEN THE HITLER REGIME TOOK POWER IN ORDER TO DEVOTE ALL HIS ENERGIES TO JEWISH ORGANIZATION WORK, ARRIVED HERE TODAY ON THE FRENCH LINER DE GRASSE TO MAKE HIS PERMANENT HOME IN NEW YORK.

DR. BRODNITZ, IN AN INTERVIEW ON SHIPBOARD WITH A REPRESENTATIVE OF THE JEWISH TELEGRAPHIC AGENCY, DECLARED "SYSTEMATIC LIQUIDATION" WAS THE ONLY OUTLOOK FOR THE JEWS OF GERMANY. HE SAW BURDENS ON THE OLDER GENERATION, WHICH NOW COMPRISES MORE THAN SIXTY PER CENT OF THE TOTAL JEWISH POPULATION LEFT IN GERMANY, INCREASING AS EMIGRATION OF YOUTH CONTINUED.

TIME, DR. BRODNITZ ASSERTED, WAS NOW THE MOST IMPORTANT FACTOR IN THE GERMAN-JEWISH POSITION — TIME TO PERMIT RETRAINING OF YOUTH AND PREPARATION FOR EMIGRATION.

DR. BRODNITZ IN BERLIN WAS CHAIRMAN OF THE EXECUTIVE OF THE UNION OF JEWISH YOUTH ORGANIZATIONS. HE ALSO ACTED AS PRESS CHIEF FOR BOTH THE HILFSVEREIN AND THE REICHSVERTRETUNG.
Brodnitz resumed his professional practice, once he relocated in New York, passing the American Board of Otolaryngology in 1942. He worked in the Clinic for Phoniatrics at Mount Sinai Hospital and in the Speech and Voice Clinic at Beth David Hospital in New York City. He also taught speech and voice pathology at Hunter College.
Brodnitz's specialty was voice and its disorders. He provided speech therapy for many singers in his private practice. Brodnitz authored two books on voice care, one academic (Vocal rehabilitation, 1971) and the second aimed at a general readership (Keep your voice healthy, 1973). He advocated exercise regimens as well as medication for voice therapies and he used the chewing method of Froeschels for the treatment of vocal nodules (Brodnitz & Froeschels, 1954).
His American career was a long and successful one. He was recognized by the American Speech and Hearing with their highest honors in 1981.
References
Brodnitz, F. (1951). Stuttering of different types in identical twins. Journal of Speech and Hearing Disorders, 16, 4, 334-336.
Brodnitz, F. & Froeschels, E. (1954). Treatment of nodules of vocal cords by chewing method. Archives of Otolaryngology, 59, 5, 560-565.
Brodnitz, F. (1954). Voice problems of the actor and singer. Journal of Speech and Hearing Disorders, 19, 3, 322-326.
Brodnitz, F. (1958). Vocal rehabilitation in benign lesions of the vocal cords. Journal of Speech and Hearing Disorders, 23, 1, 112-117 https://doi.org/10.1044/jshd.2301.112.
Brodnitz, F. (1960). Speech after glossectomy. Current Problems in Phoniatrics and Logopedics 1: 68-72.
Brodnitz, F. (1963). Goals, results and limitations of vocal rehabilitation. Archives of Otolaryngology, 77, 148-156.
Brodnitz, F. (1966). Rehabilitation of the human voice. Bull N Y Acad Med. 42, 3, 231–240.
Brodnitz, F. (1967). Semantics of the voice. Journal of Speech and Hearing Disorders, 32, 4, 325-330.
Brodnitz, F. (1971) Vocal Rehabilitation. American Academy of Ophthalmology and Otolaryngology, 4th edition, p 80.
Brodnitz, F. (1973). Keep Your Voice Healthy (Springfield, IL: Charles C. Thomas).
Brodnitz, F (1974). Voice Disorders. A collection of recordings. Graduate Program in Communication Disorders, University of Southern California.
Brodnitz, R. (1975) The age of the castrato voice. Journal of Speech and Hearing Disorders, 40, 3, 291-295.
Brodnitz, F. (1976) Spastic dysphonia. Ann Otol Rhinol Laryngol, 85 (2 pt.1), 210-14.
Brodnitz, F. (1981). Psychological considerations in vocal rehabilitation. The Journal of Speech and Hearing Disorders, 46, 1, 22-26.
Brodnitz, F. (1983). On the change of the voice. National Association for Teachers of Speech Journal, 40, 25.