Alfred Adler
1870-1937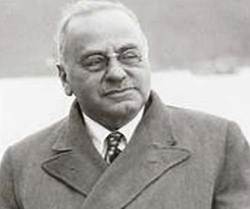 Alfred Adler began his professional life in 1895 in Vienna, Austria. He was an ophthalmologist. He turned to psychiatry in the early 1900s. In 1907, Sigmund Freud invited Adler to join his inner circle—a Wednesday evening discussion group held in Vienna. The group explored ideas about psychoanalysis. Ultimately, Adler and Freud parted ways. Adler forged his own approach to therapy and soon founded the School of Individual Psychology. He held that therapy should take into account the entire individual, not just the inner self.
In 1934, as the persecution of European Jews intensified, Adler emigrated to the United States. Here he founded the Journal for Individual Psychology, held a professorship at Long Island College of Medicine and entered the lecture circuit to promote his ideas. Ten years after Adler's death in 1937, his followers in New York City opened an Alfred Adler Consultation Center. Emil Froeschels, a speech pathologist who was living in New York City at the time, was active in the center, serving as a medical advisor.
Adlers' ideas were adopted by some for use with people with speech and language disorders. His followers in the US and Europe in the field of speech pathology included: Alfred Appelt, Emil Froeschels, Leo Stein, J. Vandette, and Dominick Barbara.
Henry Freund, a speech pathologist well known during his lifetime by those in the field of stuttering, was a severe stutterer. Among his therapists was Alfred Appelt who used Adlerian constructs to inform his thinking about stuttering therapy. Freund reported on his Adlerian therapy with Appelt as follows:
Before leaving Berlin, in 1932, I visited Alfred Appelt, a famous writer on stuttering and a former stutterer himself. He was the advocate of applying Adlerian psychology to stuttering. In his view, stuttering was essentially a protective device to conceal the inner weaknesses of the person (Van Riper, 1984).
References on how Adler's Ideas and How the Impacted the Field of Speech Pathology
Adler, A. (1958). What life should mean to you. New York, NY: Capricorn. (Original work published in 1931).
Appelt, A. (1911, 1920, 1929, 1930, 1945, 2019) The real cause of stammering and its permanent cure: A treatise on Psycho-Analytical Lines. Methuen & Co.
Dominick, B. (1957) Some aspects of stuttering in light of Adlerian psychology, Adler Journals 13, 2, 88-193 http://www.adlerjournals.com/_private/JIP/JIP%20v13%20n2/Some_Aspects_of_Stuttering_in_Light_of_Adlerian--Barbara.pdf.
Vandette J. (1964) Application of Adlerian principles to speech therapy. Adler Journals, 20, 2, 213-218. WWW adlerjournals.com http://www.adlerjournals.com/_private/JIP/JIP%20v20%20n2/JO-ANN%20VANDETTE,%20Application%20of%20Adlerian.pdf.
Van Riper, C. (1984) Henry Freund: 1896-1982. Journal of Fluency Disorders, 9, 2, 93-102.