John Henley
1692-1756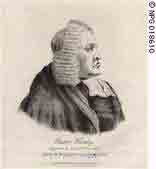 John Henley made his living as a public orator and entertainer. He was known for his flamboyant style and his arrogance. In 1714, he wrote a poem styled Esther, Queen of Persia, which was well received and in 1719–1721, he published The compleat linguist; or, An universal grammar of all the considerable tongues in being. The Compleat linguist is a textbook on Old English offering information about the history of language and comparative linguistics.
On July 3, 1726, Henly establish an institution called The Oratory. There he offered both religious and secular classes on a wide range of subjects. His primary aim was to purify the services of the Anglican Church by teaching a primitive liturgy. Many were critical of the institution, complaining about his theology, his flamboyant style of preaching, and his charging of admission.
Jo Allen Bradham ends her 1994 essay on Henley as follows:
…he appears to be a prototype of a modern evangelist who, while claiming to purify the faith and preach it with fervor, puts excessive emhasis on moey, operates—at least on occasion—in legal imbroglio, and suffers the scorn of the general public (Bradham, 1994, p. 112).
Writings by John Henley
Henley, John (1725) The history and advantages of divine revelation. London.
Henley, John (1726). The plan of The Oratory. London.
Henley, John (1726). The primitive liturgy for the use of the oragory. London.
Henley, John (1728). The academical, or weekday subjects of The Oratory. London.
Henley, John (1728). A narrative. In Oratory Transactions. London.
Henley, John (1728). First issue of his periodical Oratory Transactions.
Websites on John Henley
Writings about John Henley
Bradham, Jo Allen (1994) John Henley (1692-1756) In Moran, M. (Ed.). (1994). Eighteenth-century British and American rhetorics and rhetoricians. Critical Studies and sources (pp. 105-112). Westport CT: Greenwood Press.
Midgley, Graham (1973) The Life of Orator Henley. Oxford, UK: Clarendon Press.