Dorothea Lynde Dix
1802-1887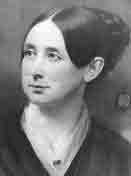 Dorothea Dix was born in 1802 in Hampden Maine. She left home at the age of 12 to live with relatives in Boston and Worcester. She was 14 when she opened her first school for young children in 1816. For the next 20 years, she combined teaching with writing textbooks, poetry, and religious tracts for young readers.
Dix traveled to England as an adult, where she met reformers who were changing the way the mentally ill were treated. She returned to America and, with the help of other progressive reformers at the time, such as Samuel Gridley Howe, she campaigned for funds to start asylums for the mentally ill. In 1845, as a result of her campaigning, America's first mental Hospital was established in New Jersey: New Jersey State Lunatic Asylum.
Trained as a nurse, Dix became the Union's Superintendent of Female Nurses during the Civil War.
Writings by Dorothea Dix, arranged Chronologically
Dix, Dorothea (1843). Memorial to the legislature of Massachusetts. Boston: Munroe and Francis.
Dix, Dorothea (1845). Memorial soliciting a state hospital for the insane submitted to the legislature of Pennsylvania. Feb 3, 1845. Harrisburg, PA: J. M. Lescue.
Dix, Dorothea (1846). A review of the present condition of the State Penitentiary of Kentucky with brief notices and remarks upon the jails and poor houses. Frankfort, KY: A. G. Hodges.
Dix, Dorothea (1846). Memorial soliciting an appropriation for the State Hospital for the Insane at Lexington: and also urging the necessity for establishing a new hospital in the Green River Country. Frankfort, KY: A G. Hodges.
Dix, Dorothea (1847). Memorial soliciting enlarged and improved accommodations for the insane of the state of Tennessee by the establishment of a new hospital. Nashville, TN: B. R. M'Kennie.
Dix, Dorothea (1848). Memorial soliciting a state hospital for the protection and cure of the insane submitted to the General Assembly of North Carolina. Raleigh, NC: Seaton Gales.
Writings about Dorothea Dix
Brown, Thomas (1998). Dorothea Dix: New England reformer. Cambridge MA: Harvard University Press.
Gollaher, David (1995). Voice for the mad: The life of Dorothea Dix. NY: Free Press.
Lightner, David (Ed.) (1999). Asylum, prison and poorhouse: The writings and reform work of Dorothea Dix in Illinois. Carbondale, IL: Southern Illinois University Press.
Marshall, Helen (1937/1967). Dorothea Dix, forgotten Samaritan. NY: Russell and Russell.
Wilson, Dorothy Clarke (1975). Stranger and traveler: The story of Dorothea Dix, American reformer. Boston: Little, Brown.