Introduction to Linux
BCH 519
Spring 2021
Video Recordings
Videos for BCH519 Unit 2 can be found at:
Outline for this lecture
What is Linux?
CCR OnDemand
Command Line Boot Camp
Edit files
An operating system is a collection of software that manages computer resources
Operating Systems
Linux
Windows
macOS, iOS, watchOS
Android, Chromium OS
Orbis OS
A very brief history of UNIX…
UNIX
Originally developed in 1969 at AT&T Bell Labs
First ran on the PDP-11/20 16-bit minicomputer
Widely adopted in academia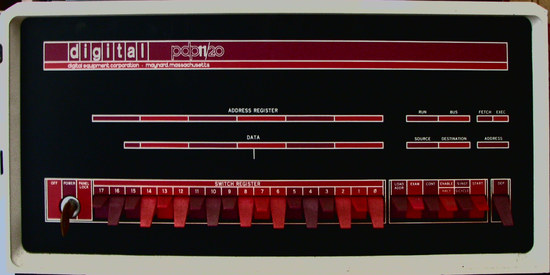 Source: http://www.retrotechnology.com/pdp11/11_panel_2.jpg
UNIX Features
Multi-user, multi-tasking, time-sharing
Large number of users to interact concurrently with a single computer
Consists of many utility programs or commands
Master control program called the kernel
Use plain text for storing data
Hierarchical file system
UNIX Philosophy
Write programs that do one thing and do it well
Write programs to work together
Write programs to handle text streams, because that is a universal interface
http://www.faqs.org/docs/artu/ch01s06.html
UNIX has many descendents..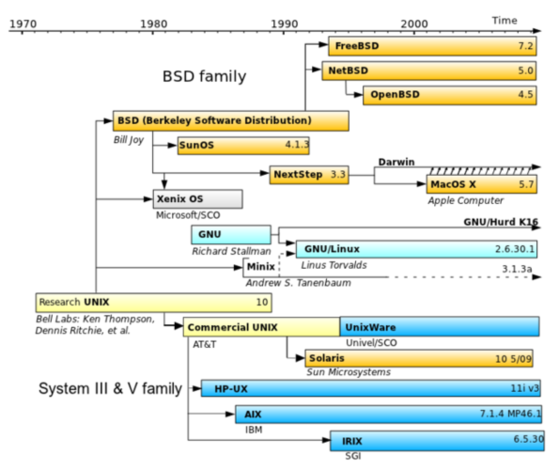 Source: https://en.wikipedia.org/wiki/File:Unix_history.svg
Linux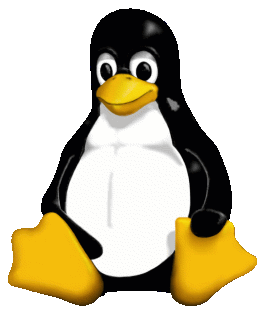 Linux
A "UNIX-Like" operating system
GNU Project started in 1983 by Richard Stallman, to create "complete UNIX-compatable software system" composed entirely of free software
Linux kernel first developed by Linus Torvolds in 1991
Together they make the GNU/Linux operating system
Free and open source
Many flavors of Linux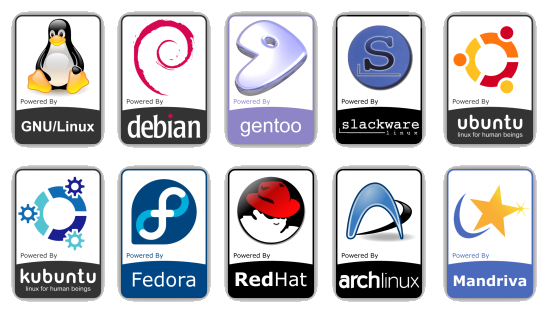 Linux on the Desktop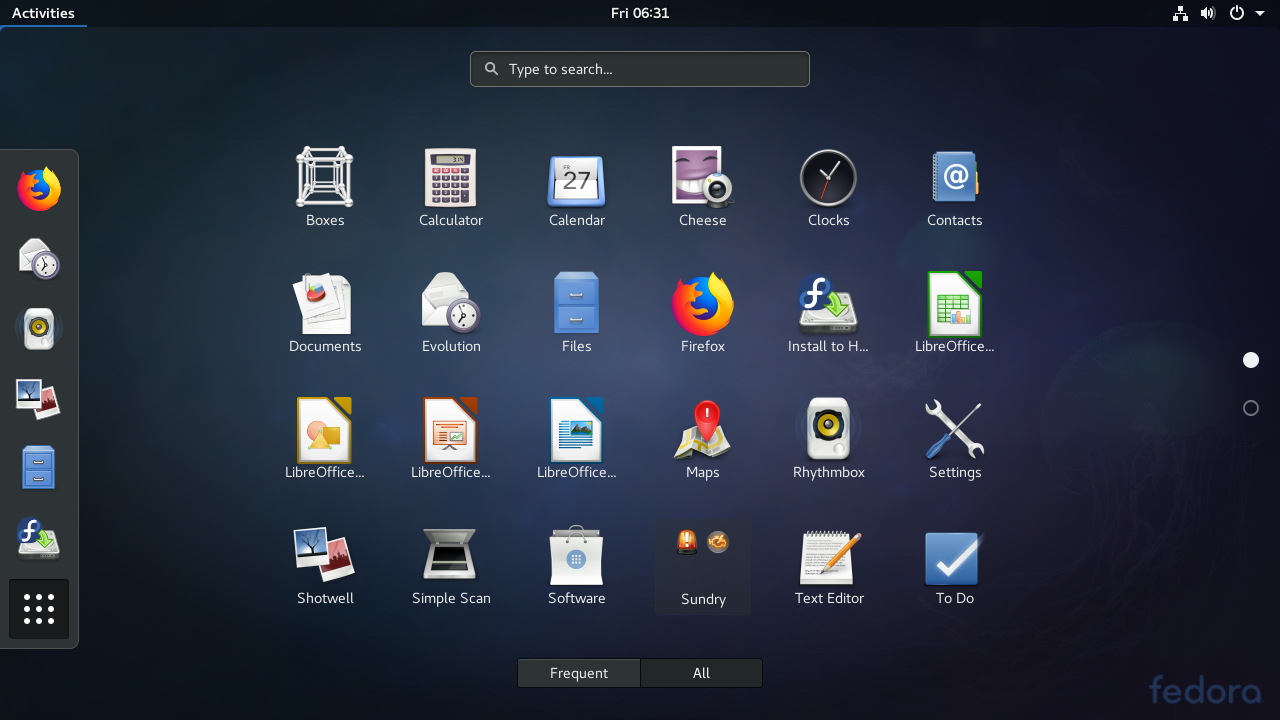 Linux in the Data Center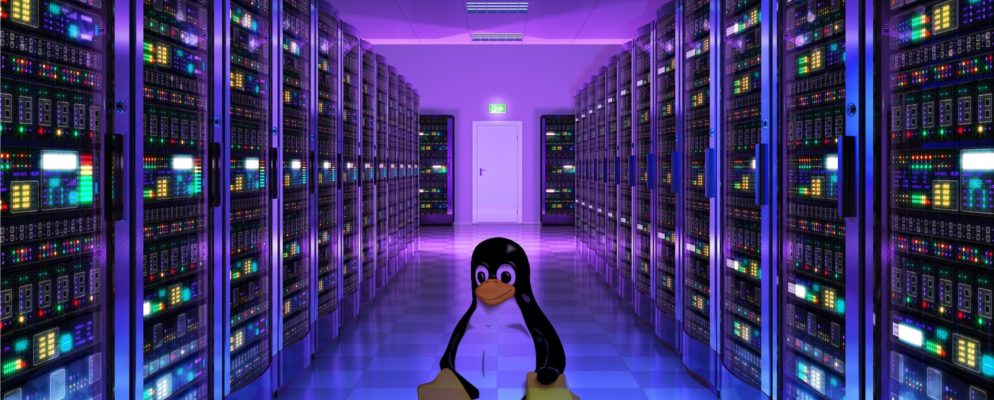 Source: https://www.makeuseof.com/tag/best-linux-server-operating-systems/
Linux is Everywhere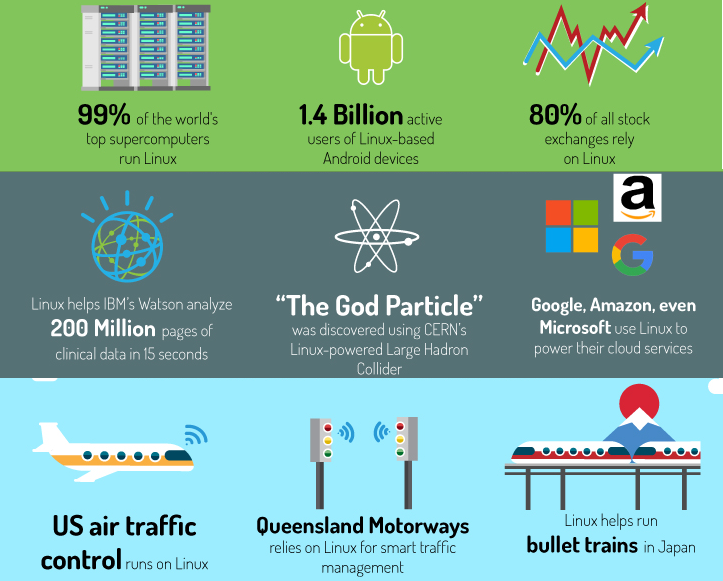 Source: https://blog.netdevgroup.com/2016/11/linux-is-everywhere-infographic/
Why Linux for this Course?
Many research centers run Linux
Popular in Bioinformatics
Includes many programming languages and environments
CCR operates a data center with hundreds of Linux computers
To run jobs at CCR, you need to be familiar with Linux
Getting started with Linux
Install Linux on your Desktop/Laptop (Local)
Run Linux off Live USB
Connect to remote Linux server (Remote)
Linux - Remote Login
Connect to remote Linux server
We use SSH: Secure SHell
Allows us to connect to remote Linux server using encrypted network channel

MobaXTerm (Windows)
OpenSSH (Linux/Mac OS X)
CCR OnDemand (Web based)
CCR OnDemand
Easy to use web-based portal for HPC resources
Shell access to CCR Linux servers using web browser
Uses SSH under the hood
CCR OnDemand Shell Access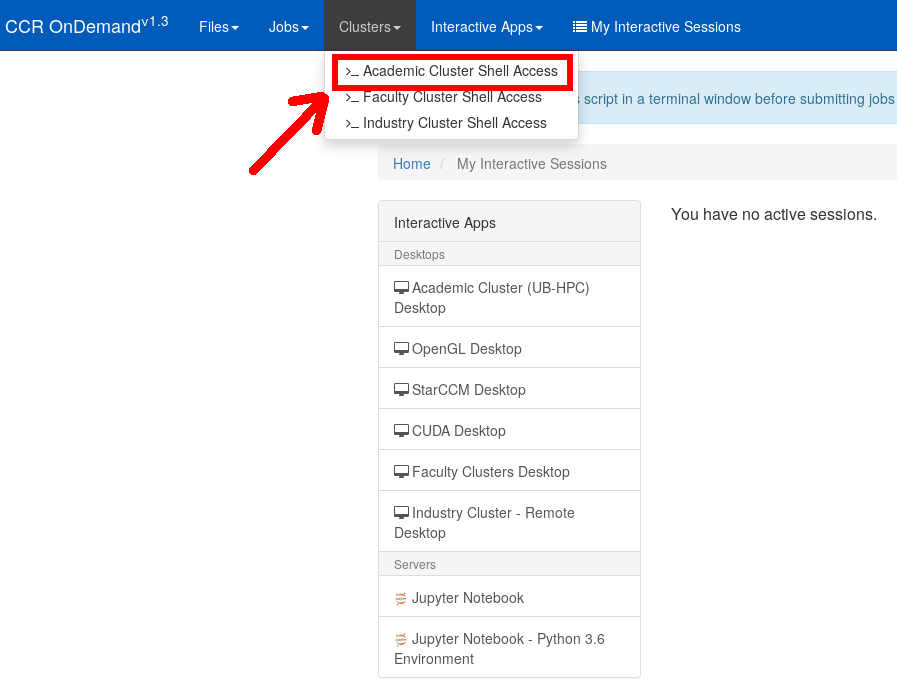 CCR OnDemand Shell Access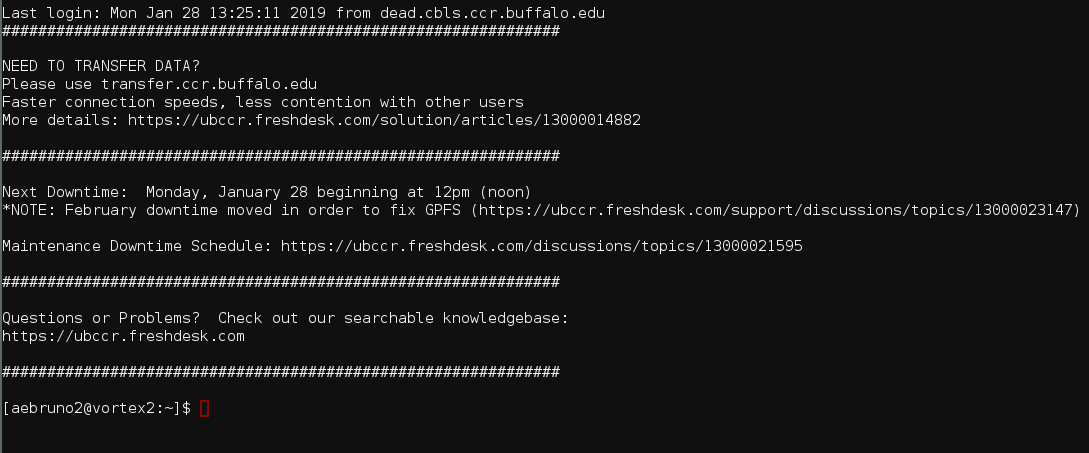 Operating systems have user interfaces
GUI - Graphical User Interface
CLI - Command Line Interface
CLI - Command Line Interface
Control the computer with commands
"Shell" - a program that accepts commands and performs operating system functions
We'll be using a shell called BASH
Anatomy of the shell
There's a prompt: [aebruno2@vortex1:~]$
You type in commands
Shell executes the commands
Prints output to the screen
Repeat
How to read the SHELL

Anatomy of a command
Basic form: command options arguments
command = name of the command
options = modify the behavior of the command
arguments = expression or filename
Commands can be simple: echo, date
More complex: find . -type f -name \*.py
Simple Commands
Print todays date
$ date
Mon Jan 

28

 13:24:03 EST 

2019



Echo a string
$ echo 

"Hello World"


Hello World

Simple Commands
What's my username?
What computer am I logged into?
$ hostname --fqdn
srv-p22-13.cbls.ccr.buffalo.edu

Getting Help
man page (short for manual page)
Usage: man [command name]
Files, Directories, and Paths
Basic unit is a File
Files are organized in directories (folders)
Navigate filesystem using paths
Hierarchical Filesystem
/home/aebruno2/bch519/hello.py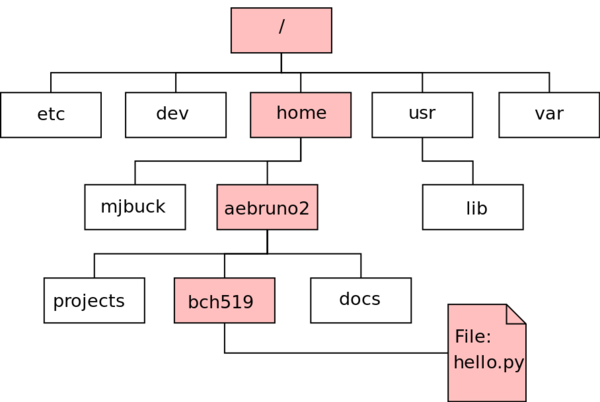 Moving around
Print the current working directory: pwd
List all files: ls
Change working directory: cd
Move up a directory (go back): cd ..
$ pwd
/user/aebruno2
$ ls
projects bch519 docs hello-world.txt
$ cd bch519
$ pwd
/user/aebruno2/bch519
$ ls
hello.py test.py README.txt
$ cd ..
$ pwd
/user/aebruno2

File Basics
Create a file: touch
Copy files: cp
Rename files: mv
Remove files: rm
View files: cat,less,more
$ touch hello-world.txt
$ ls
hello-world.txt
$ cp hello-world.txt goodbye-world.txt
$ ls
hello-world.txt goodbye-world.txt
$ mv goodbye-world.txt new-file.txt
$ rm goodbye-world.txt
$ cat hello-world.txt
Hello World!

Text Manipulation
Search for patterns in file: grep
Print first/last n lines: head, tail
Count lines, words, characters: wc
Print selected parts of file: cut
Sort file: sort
$ grep 

"pattern"

 my_file
$ head -n 

20

 my_file
$ tail -n 

20

 my_file
$ wc -l my_file
$ cut -f 1,3 my_file
$ sort my_file

Input/Output redirection
> takes output from command and writes it to file
>> takes output from command and appends it to file
< takes input from file and sends it to command
$ echo 

"Hello World"

 > hello.txt
$ cat hello.txt
Hello World
$ echo 

"Goodbye"

 >> hello.txt
$ cat < hello.txt
Hello World
Goodbye
$ grep 

"Hello"

 hello.txt > results.txt
$ cut -f 1,3 output.txt > columns-1-3.txt

Pipes
Allows you to "chain" commands together
| = pipe
| take output from command on left and send as intput to command on right
$ cat my_file.txt | wc -l
$ cat my_file.txt | grep -i 

"hello"


$ echo 

"Hello World"

 | wc -c > num-chars.txt
$ echo 

"1234"

 | rev


4321



Editing Files
Editor: A program for editing text files
Most important tool for programmers
We will use an editor to author Python programs
Editors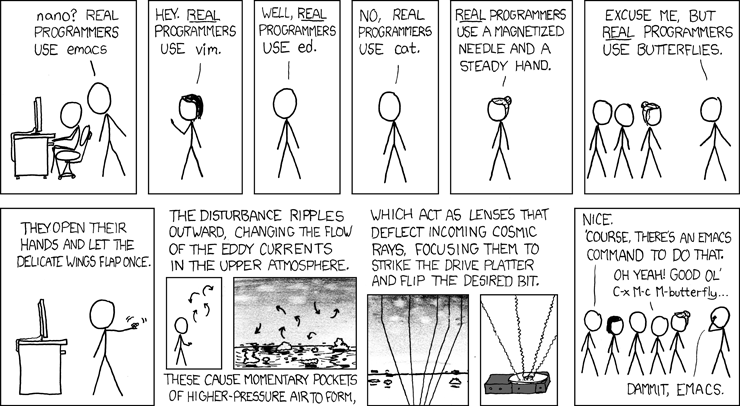 Source: http://xkcd.com/378/
GNU nano
Simple text editor
Controlled using the control key (Ctrl)
Documentation:
GNU nano basics
Start: nano <filename>
^ = Ctrl key
Save file: ^O
Quit: ^X
Search: ^W
Help: ^G
GNU nano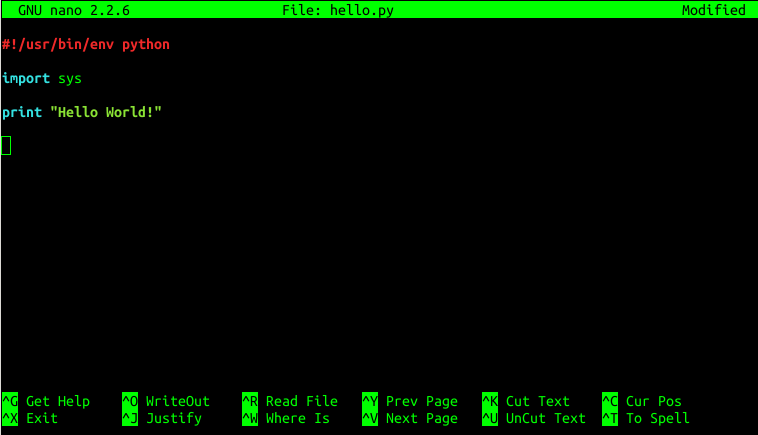 Homework #1
Due: 2021-02-16 09:00:00