Key Elements of Social Theory Revolutionized by Marx, 2021
Paul Zarembka, State University of New York at Buffalo
Studies in Critical Social Sciences, Vol. 168, David Fasenfest, editor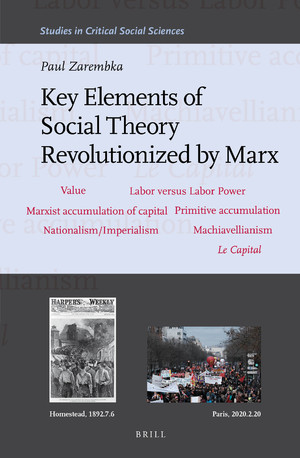 Brill hardcover . . . Haymarket softcover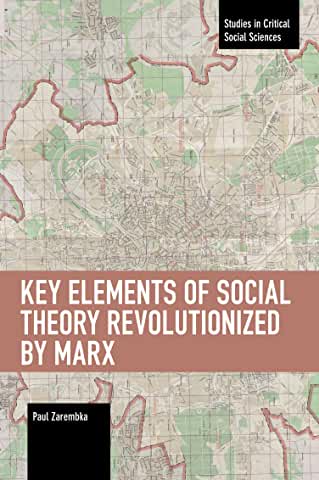 A valuable investigation of Marx's ever evolving, class-based intervention into social theory.
This innovative book hones in on key elements of Marx's vast oeuvre, focusing on his contribution to social theory.
Themes addressed include: the declining utility of Hegelian philosophy for Marx, his deepening confrontation with
Ricardian political economy, Engels' distorting impact on the publication of Capital, the place of the accumulation
of capital, and especially of 'primitive accumulation', in Marx's thought, and more.
Extending beyond an analysis of the writing of Marx himself, Zarembka highlights the contributions of Rosa
Luxemburg in the realms of political economy and nationalism, and closes the book with a consideration of
state conspiracies. Index.
For table of contents and ordering, click on a cover above
Research in Political Economy ordering, and
for other political economy sites, click here
Statement of Purpose
and Ordering, click on
Volume 34:

Research in Political Economy

Paul Zarembka, Series Editor
Department of Economics
State University of New York at Buffalo
Buffalo, New York 14260-1520
Fax: (716) 645-2127 . . . . . Tel: (716) 645-8686
E-mail: zarembka@buffalo.edu

Abstracts for chapters available via links at the publisher's website

Editorial Board:
Paul Cooney Seisdedos, Pontificia Universidad Católica del Ecuador, Ecuador
Radhika Desai, University of Manitoba, Canada
Thomas Ferguson, University of Massachusetts at Boston, U.S.A.
Virginia Fontes, Fluminense Federal University, Brazil
Seongjin Jeong, Gyeongsang National University, South Korea
Jie Meng, Fudan University, People's Republic of China
Isabel Monal, University of Havana, Cuba
Ozgur Orhangazi, Kadir Has University, Turkey
Ndongo Samba Sylla, Rosa Luxemburg Stiftung, Dakar, Senegal
Jan Toporowski, SOAS, University of London, U.K.

Volume 35



Volume 36 (2021)

IMPERIALISM AND TRANSITIONS TO SOCIALISM


Editor: Rémy Herrera, National Center of Scientific Research (CRNS), France

This collection of essays is designed to shed light on the issues of imperialism and the transitions to socialism. Written by eighteen contributors, from twelve countries and three continents, it is organized into two main parts. The first section delves into the theoretical aspects, the analysis of which is key for understanding the subject under consideration. The second part of the volume is focused on the examination of practical experiences of socialist transition, more or less advanced and with varying degrees of success, in China, Vietnam, North Korea, Cuba, Venezuela, Ecuador, and Brazil.

Imperialism and Transitions to Socialism argues that countries wanting to embark on a socialist transition is not only a response to a spirit of justice, but also an answer to the call of reason: it is a question of survival for humanity, and for life. Socialism is not just a word, it is a struggle. It is not an end, but a transition process, long and difficult, that can take many paths towards the liberation of labour from the domination of capital. It is socialism, a society of solidarity, which walks with history.



Click below for Volumes
(beginning in 1977):

Commodification: Animals (#35)

National Question; Crisis (#26)

Transitions in Latin Amer. (#24)

Hidden History of 9-11 (#23),
and also 2nd Edition

Dynamics and Money (#18)

Prior: Burch, 17, 16, 15,
14, 13, 12, 11, 10, 9, 8,
7, 6, 5, 4, 3, 2, 1

Preface
Rémy Herrera




PART I: THEORETICAL ELEMENTS

Abstract Labor and Imperialism
Fabien Trémeau

Imperialism and Working-Class Agency
John Smith

The Imperialist Multinational: Concentration, Fiction or Rent?
Andy Higginbottom

Unequal Exchange and Global Value Chains
Andrea Ricci

The Transition Towards a Post-capitalist Economic Rationality
Wim Dierckxsens, Andrés Piqueras and Walter Formento

Study on the Evolution of China's Economic Structure (from 1952 to 2014) – Analysis of the Role of Profit Rate by Impulse Response Functions
Zhiming Long and Rémy Herrera




PART II: PRACTICAL EXPERIENCES

Land Revolution and Local Governance: Socialist Transformation in China
Sit Tsui, Erebus Wong, Lau Kin Chi and Wen Tiejun

Imperialism and Transition to Socialism in Vietnam
Tran Dac Loi

A Testimony on the "Juche" Thought in the Democratic People's Republic of Korea
Kinhide Mushakoji

Imperialism and the Transition to Socialism in Cuba
Al Campbell

The Venezuelan Oil and the U.S. Imperialism (1920-2020)
Hemmi Croes

The Citizens' Revolution in Ecuador and U.S. Imperialism
Constantin Lopez

Brazil: Impeachment and the Conflicting Relationship between the Dilma Rousseff Government and the National Congress
Leonardo Loureiro Nunes


About the Contributors

Index

245 pages, 2021  

ORDERING:

.


Emerald Group Publishing Limited
Howard House, Wagon Lane, Bingley, BD16 1WA United Kingdom
Emerald's web page for Research in Political Economy

For orders go to: Emerald's Bookstore, and use code "RPEC30" for 30% discounted pricing
Statement of Purpose: This RESEARCH annual is founded on analyzing society in a manner consistent with the importance of the role of class. International in scope, the annual volumes deal primarily with economic and political issues and the unity between them. Both theoretical and empirical works are included. While published papers must be appropriate for developing class analysis of society, they need not be explicitly marxist. The RESEARCH can accept papers up to 20,000 and thus, in addition to usual journal length papers, may be appropriate for work which is not book length, yet is substantial. For submissions, please send your paper electronically, double-spaced typed with notes as endnotes followed by a reference list, to the volume's editor or general editor. Usual practice is review by two competent persons, on a double-blind basis, within a relatively short period of time.
"Collections like Research in Political Economy provide a forum for ...
serious radical scholarship so grotesquely absent from most mainstream
periodicals" -- Richard B. DuBoff, Monthly Review
"... has played a very positive role in developing the scientific Marxist agenda"
-- Ajit Sinha, Science & Society
Click on "Links" to return to the top.