Statement of Purpose
and Ordering: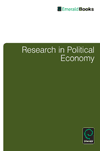 Research in Political Economy
Editorial Board:
Paul Cooney Seisdedos, Universidad Nacional de General Sarmiento, Argentina
Radhika Desai, University of Manitoba, Canada
Thomas Ferguson, University of Massachusetts at Boston, U.S.A.
Seongjin Jeong, Gyeongsang National University, South Korea
Jie Meng, Tsinghua University, People's Republic of China
Isabel Monal, University of Havana, Cuba
Ozgur Orhangazi, Kadir Has University, Turkey
Jan Toporowski, SOAS, University of London, U.K.
Paul Zarembka, Series Editor
Department of Economics
State University of New York at Buffalo
Buffalo, New York 14260-1520
Fax: (716) 645-2127 . . . . . Tel: (716) 645-8686
E-mail: zarembka@buffalo.edu

Abstracts for chapters available via links at the publisher's website
Inexpensive Volume 23
2nd edition: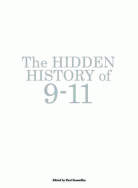 Available from
Seven Stories Press
Volume 31 (2016)

RISKING CAPITALISM
Editor: Susanne Soederberg, Queen's University
The growing centrality of risk management in pro-market governance raises important questions regarding how risks are produced, and why? Who and what is included in, and excluded from, risk management, and why? And, what is the relationship between the rise of risk management and neoliberalism?
Charting the relationship between risk, contemporary capitalism and its neoliberal modes of governance, Risking Capitalism, addresses these questions by examining - both analytically and empirically - diverse meanings and practices of risk management across a range of scales and themes, ranging from austerity to climate change to housing and debt. The authors investigate the relationship between shifts in contemporary capitalism and the ways in which neoliberal forms of risk management have emerged, been reproduced and normalized, and, transformed historically.


Click below for Volumes
(beginning in 1977):
Introduction - Risk Management in Global Capitalism
Susanne Soederberg, Department of Global Development Studies, Queen's University, Kingston, Canada
PART I: RISKING HOUSING
Revanchism, Stigma, and the Production of Ignorance: Housing Struggles in Austerity Britain Type
Tom Slater, School of GeoSciences, University of Edinburgh, Edinburgh, UK
Neoliberalization through Housing Finance, the Displacement of Risk, and Canadian Housing Policy: Challenging Minsky's Financial Instability Hypothesis
Alan Walks and Dylan Simone, Department of Geography, University of Toronto, Toronto, Canada
A Multidimensional Approach to Urban Entrepreneurialism, Financialization, and Gentrification in the High-Rise Residential Market of Inner Santiago, Chile
Ernesto López-Morales, Department of Urban Planning, Centre for Studies of Conflict and Social Cohesion, University of Chile, Santiago, Chile
PART II: RISKING POVERTY
Financialization of Poverty: Proletarianizing the Financial Crisis in Post-Developmental Korea
Chang Kyung-Sup, Department of Sociology, Seoul National University, Seoul, South Korea
Household Debt and the Financialization of Social Reproduction: Theorizing the UK Housing and Hunger Crises
Adrienne Roberts, Department of Politics, University of Manchester, Manchester, UK
Navigating the Aftermath of Crisis and Risk in Mexico and Turkey
Thomas Marois, SOAS, University of London, London, UK, and Hepzibah Muñoz-Martínez, Department of History and Politics, University of New Brunswick, Saint John, Canada
PART III: RISKING CLIMATE
Accumulating Insecurity and Manufacturing Risk along the Energy Frontier
Michael Watts, Department of Geography, University of California, Berkeley, Berkeley, CA, USA
Risky Ventures: Financial Inclusion, Risk Management and the Uncertain Rise of Index-Based Insurance
Marcus Taylor, Department of Global Development Studies, Queen's University, Kingston, Canada
The World Bank's Neoliberal Language of Resilience
Romain Felli, Department of Political Science and International Relations and Institute of Environmental Studies, University of Geneva, Geneva, Switzerland