---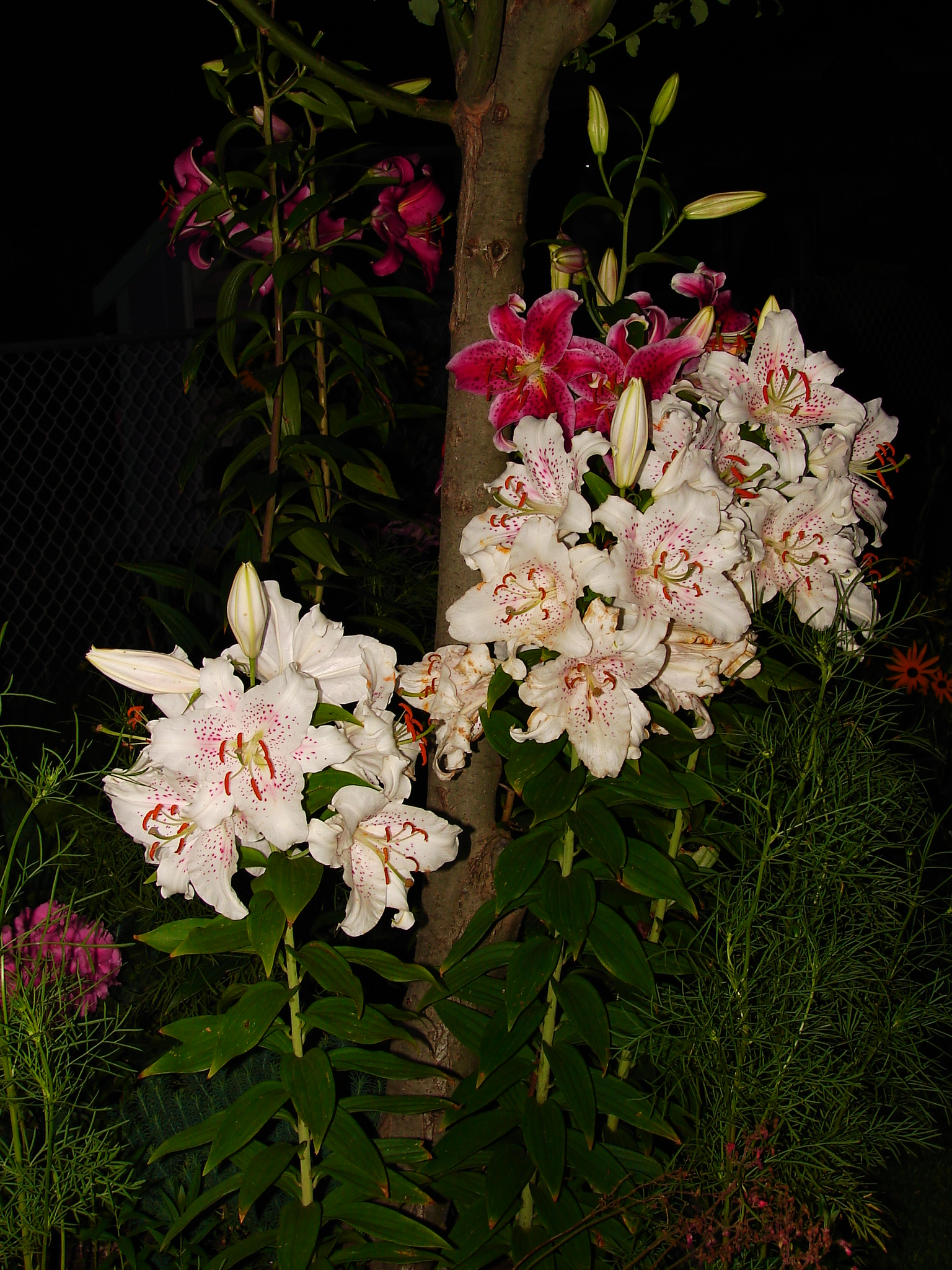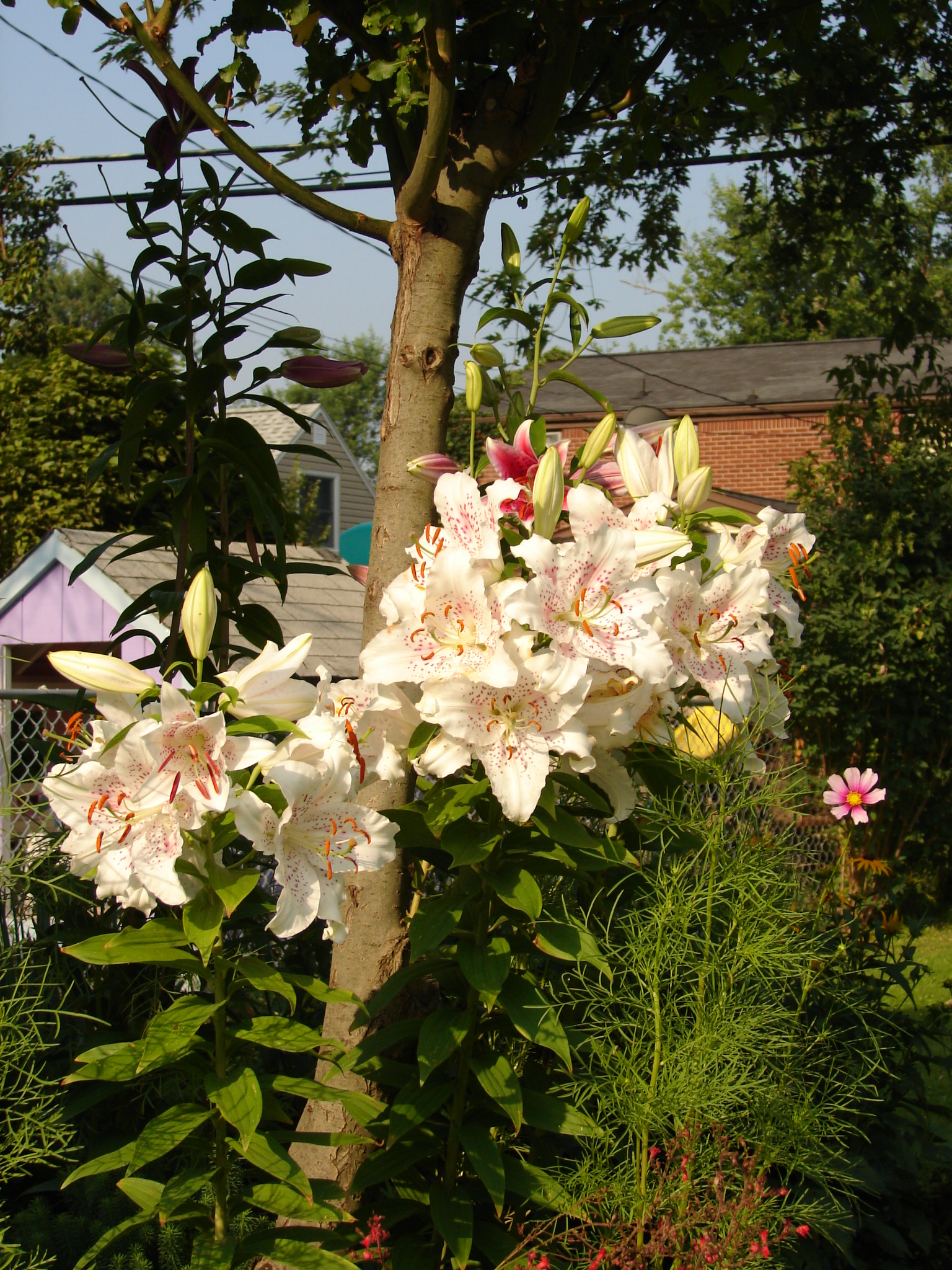 Same cluster of white & red Oriental Lilies a week apart, night and day. The Cosmos are just starting to open. I prefer the lilies at night.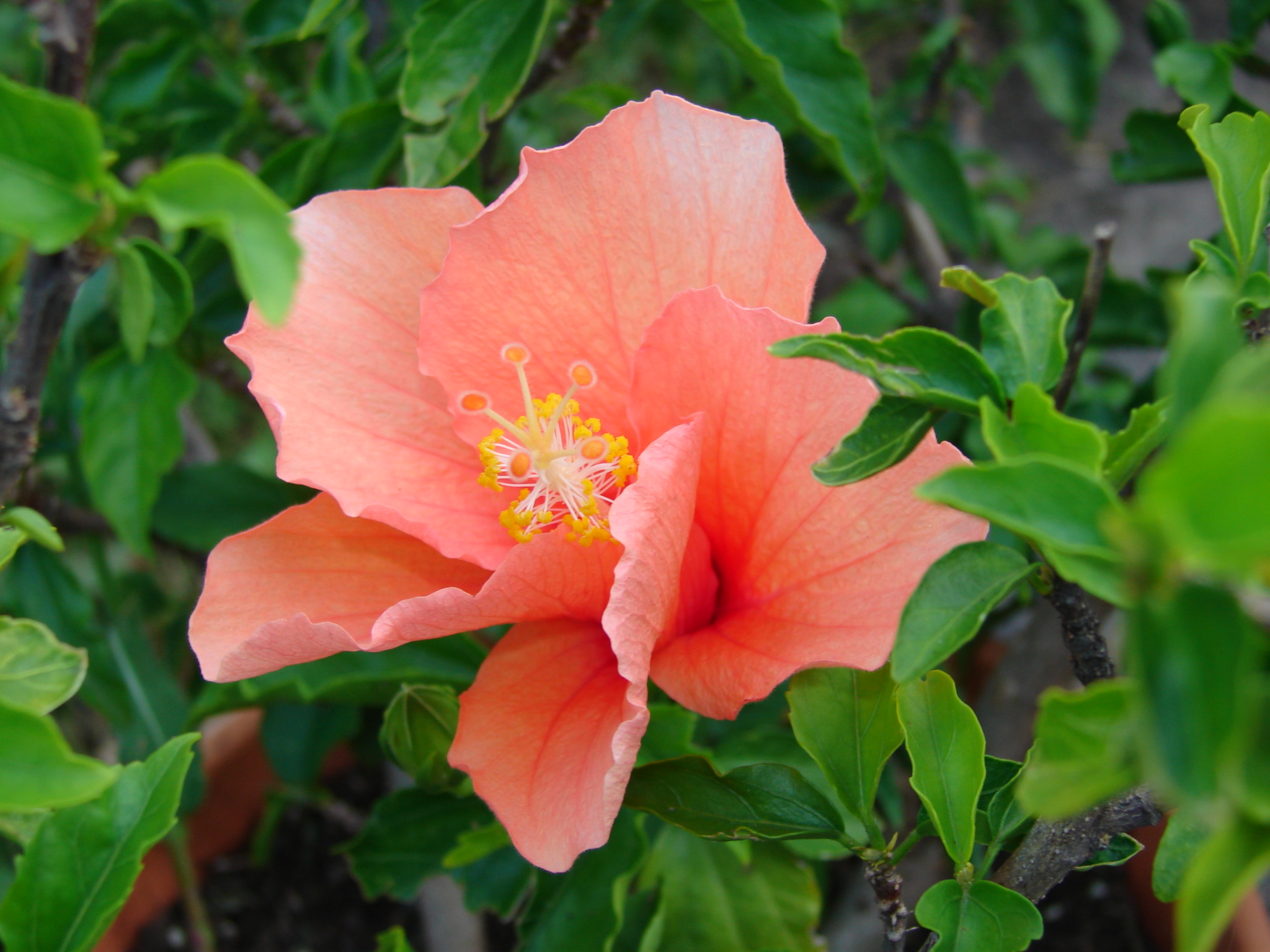 Tender Hibiscus on the driveway. Beautiful flower. Very nice to look at but wildness and unpredicability transform beautiful into gorgeous.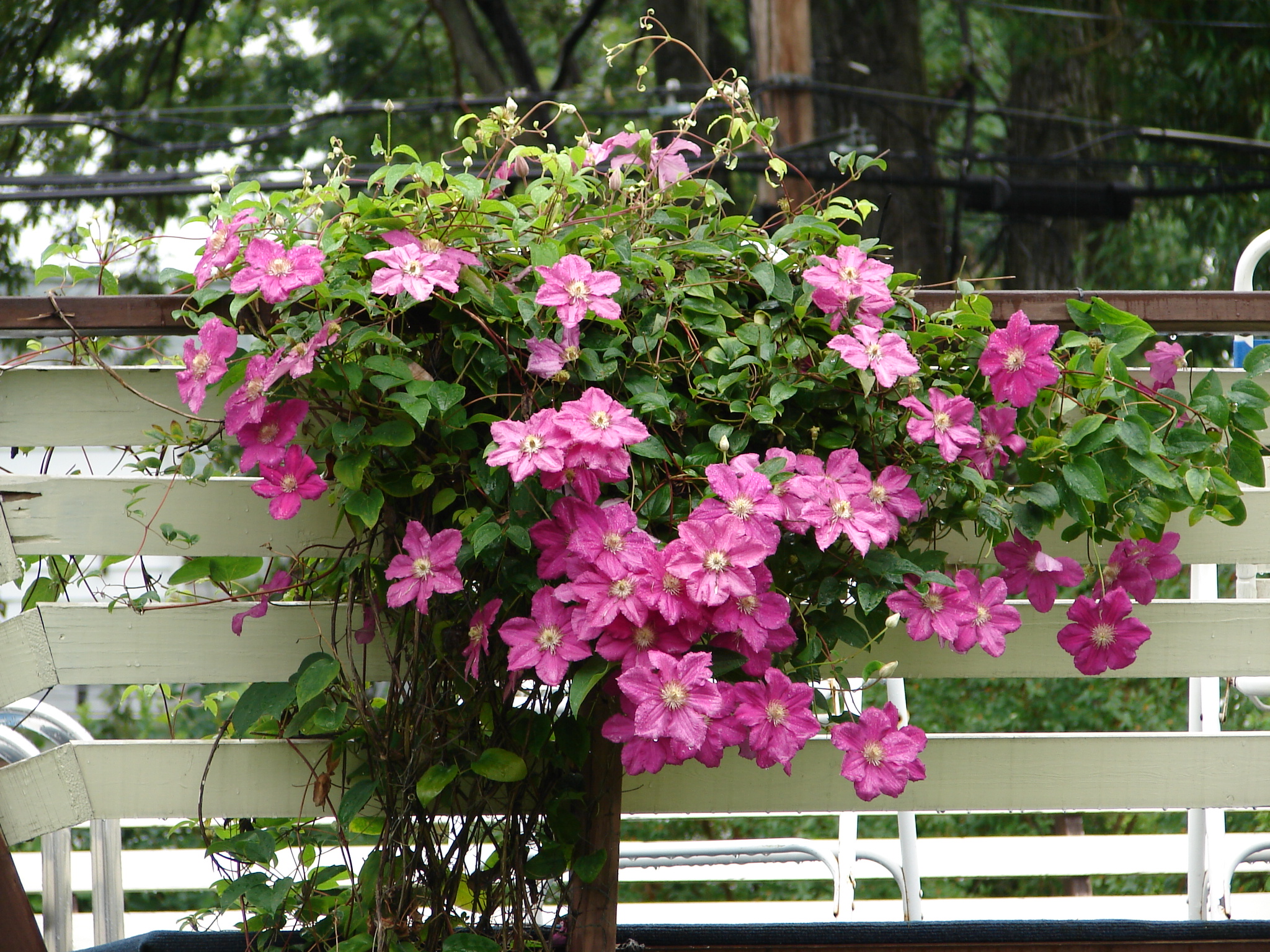 Clematis in bloom on the pool railing always make me happy. Like a close friend calling unexpectedly. My cousin Dianne called the very day I put this up...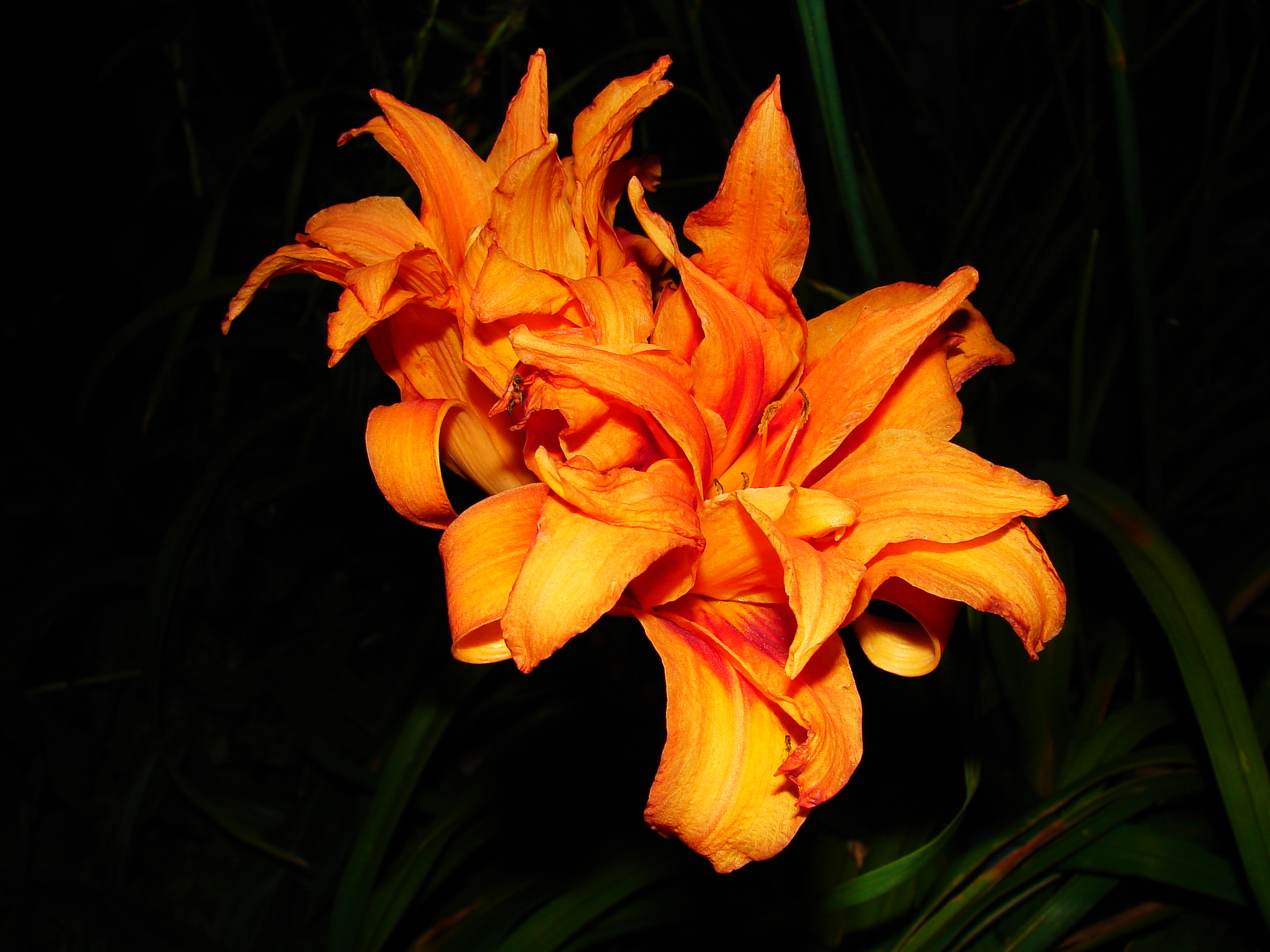 Wow!... These flowers get it! What pollinator could resist? Very close to gorgeous. These are sport double lilies given to me years ago.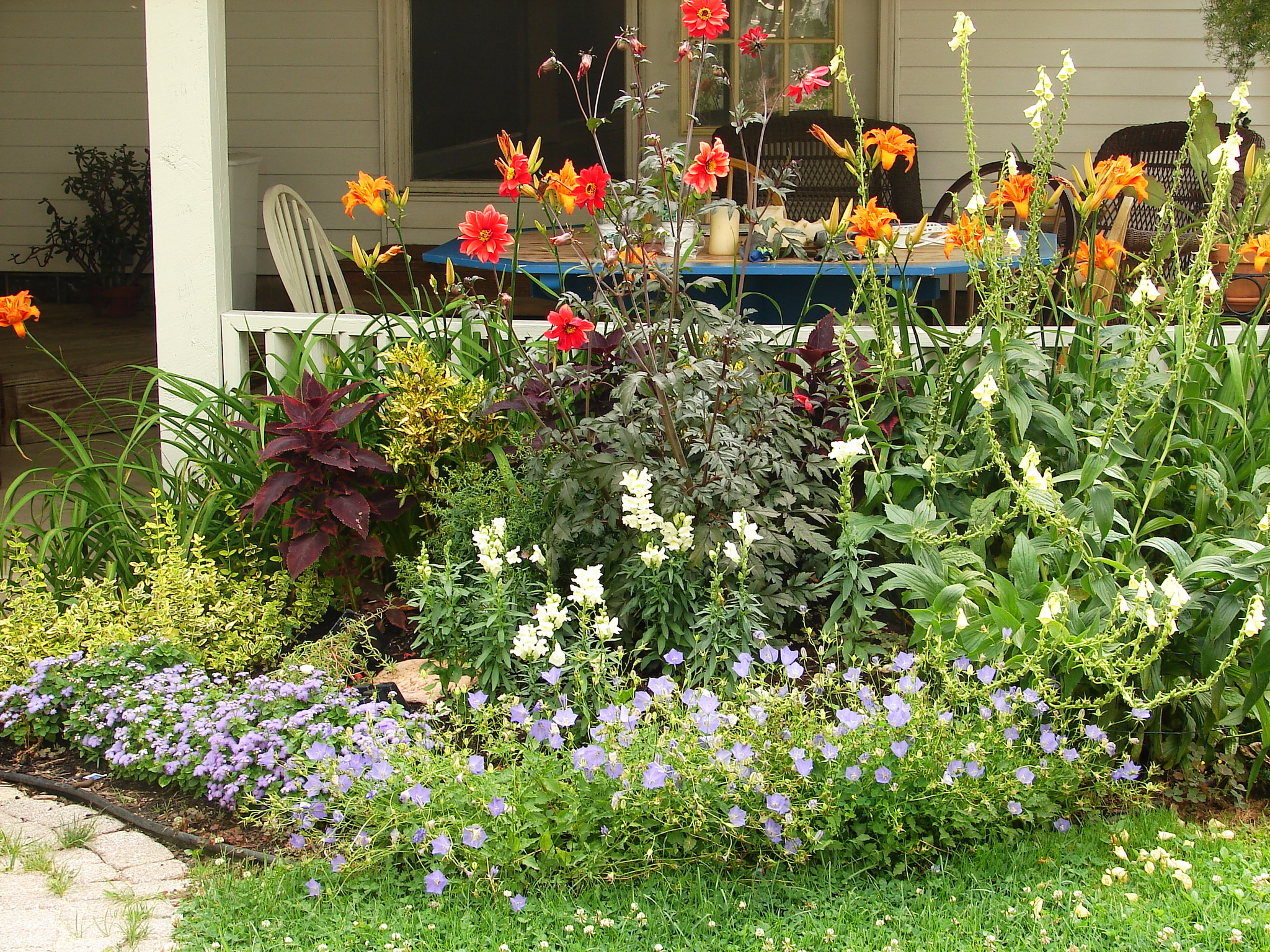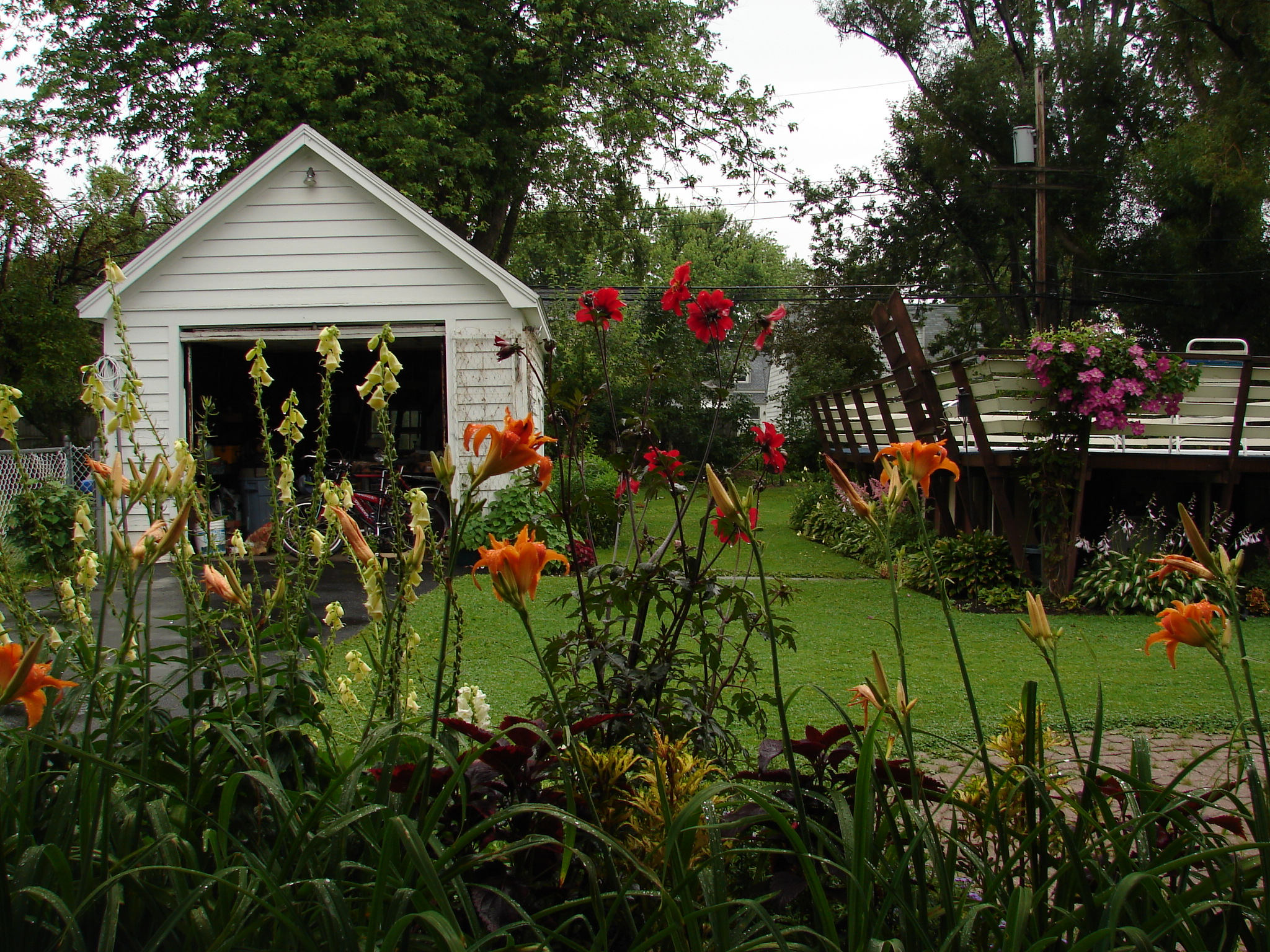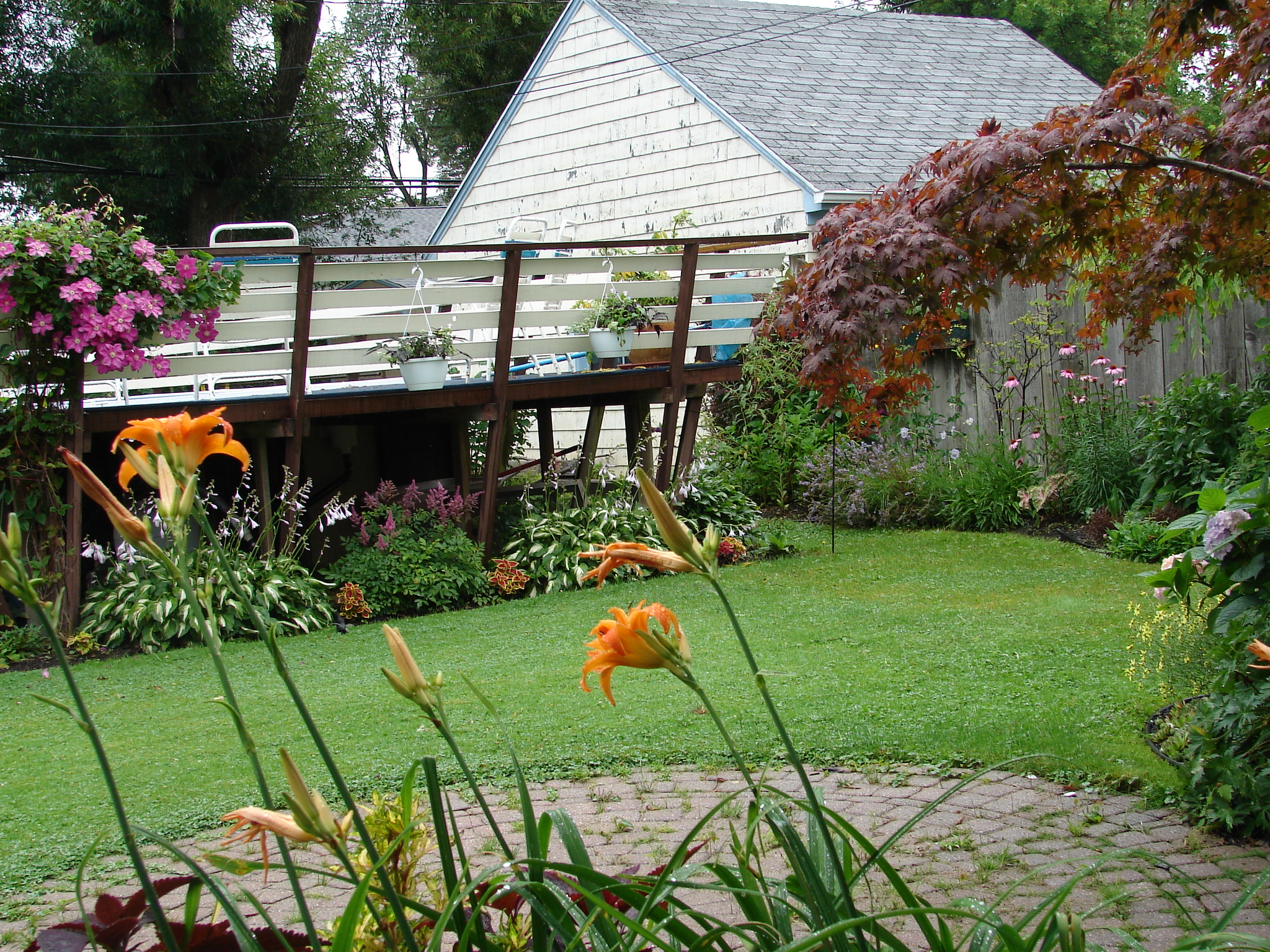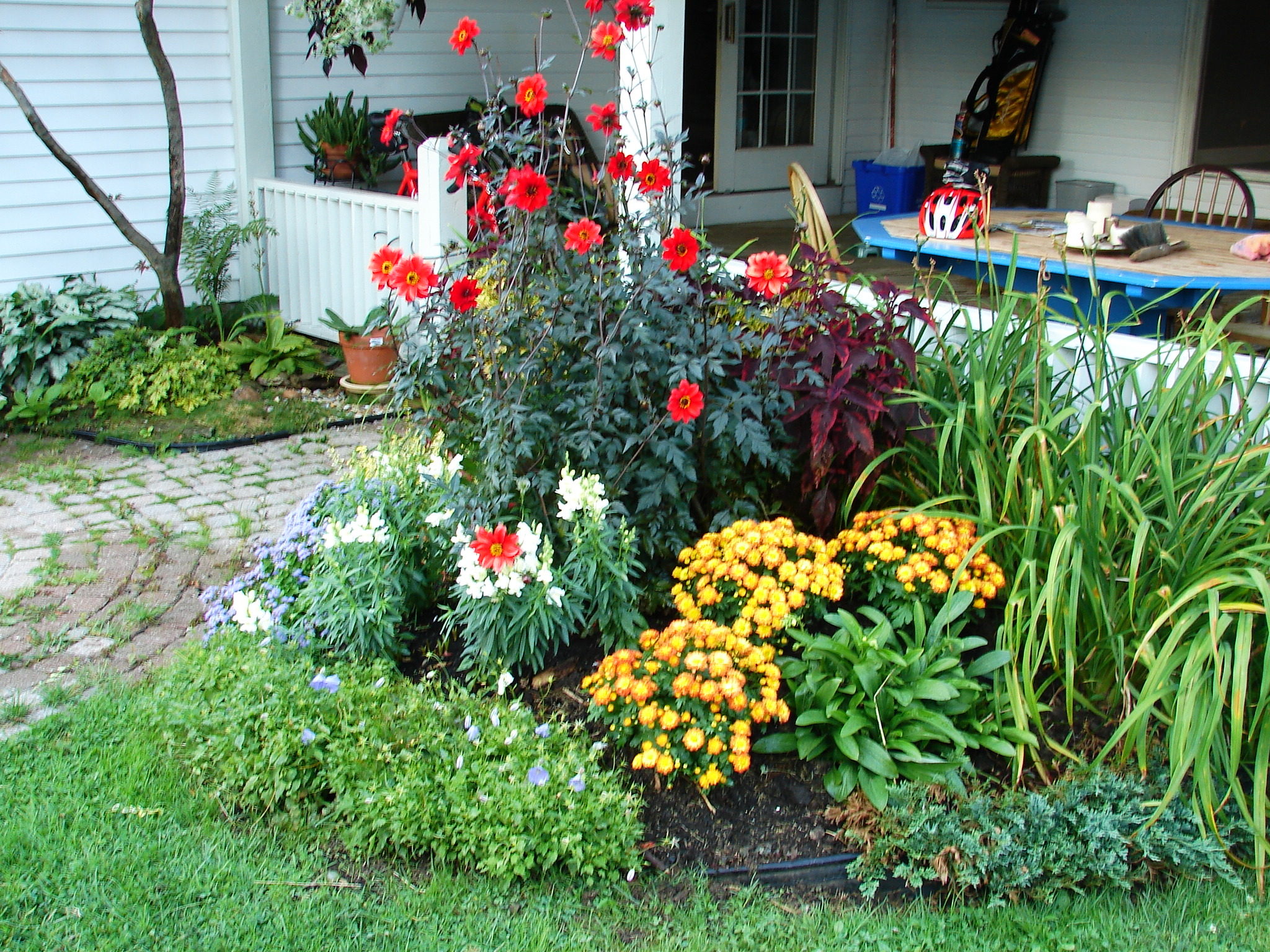 Garden near back porch. Double Day Lillies, (2) Coleus, Ageretum, Snap Dragons, Bell Flowers, Portulaca, Euodymas, Foxglove, Dahlia. The rightmost two pictures are looking out from the back porch at night and to the left and right. This little garden evolves throughout the year. Rightmost, the Foxglove has been cut back while burnt yellow Chrysanthymums fill in the break. Love the contrasting colors.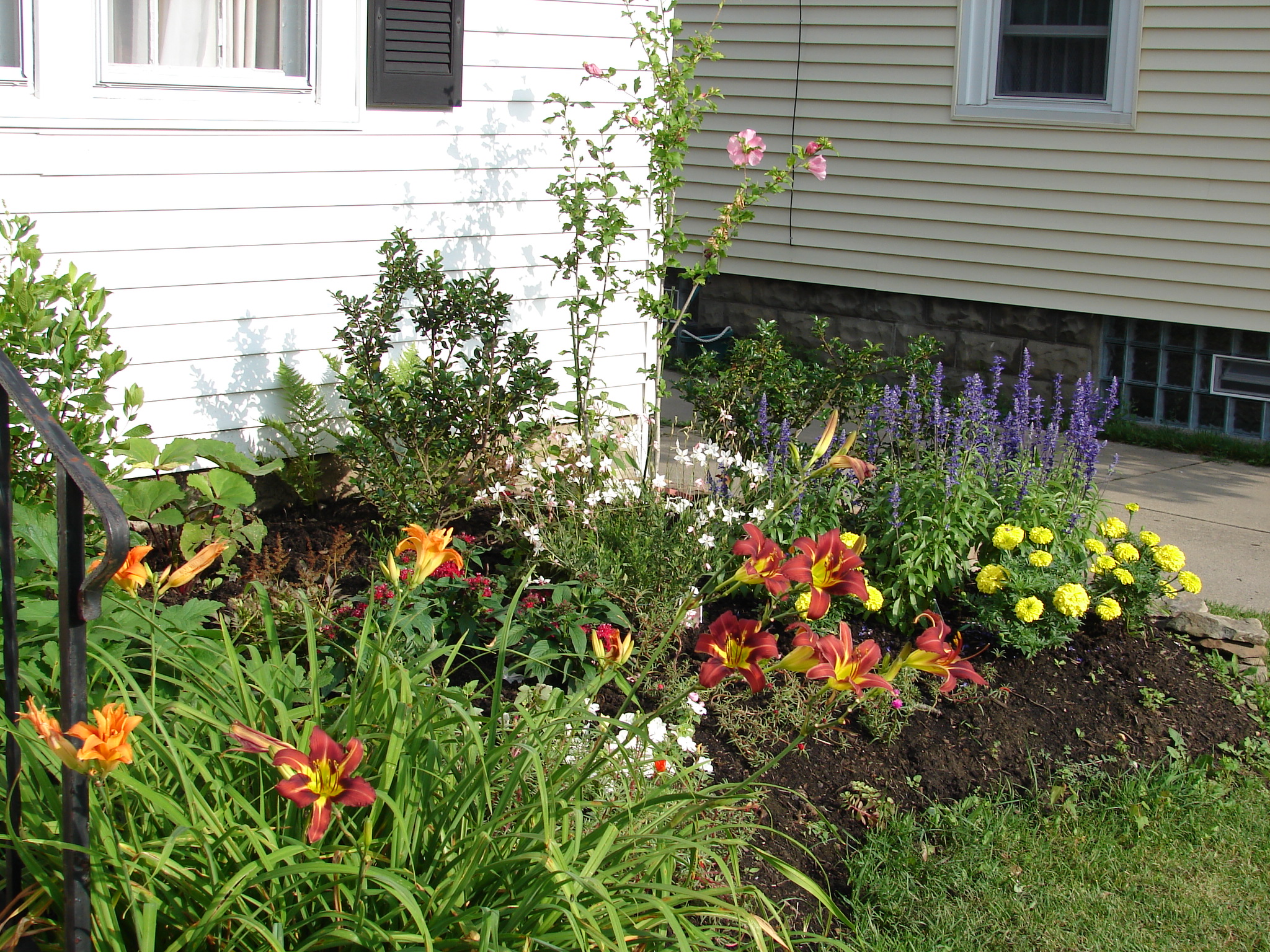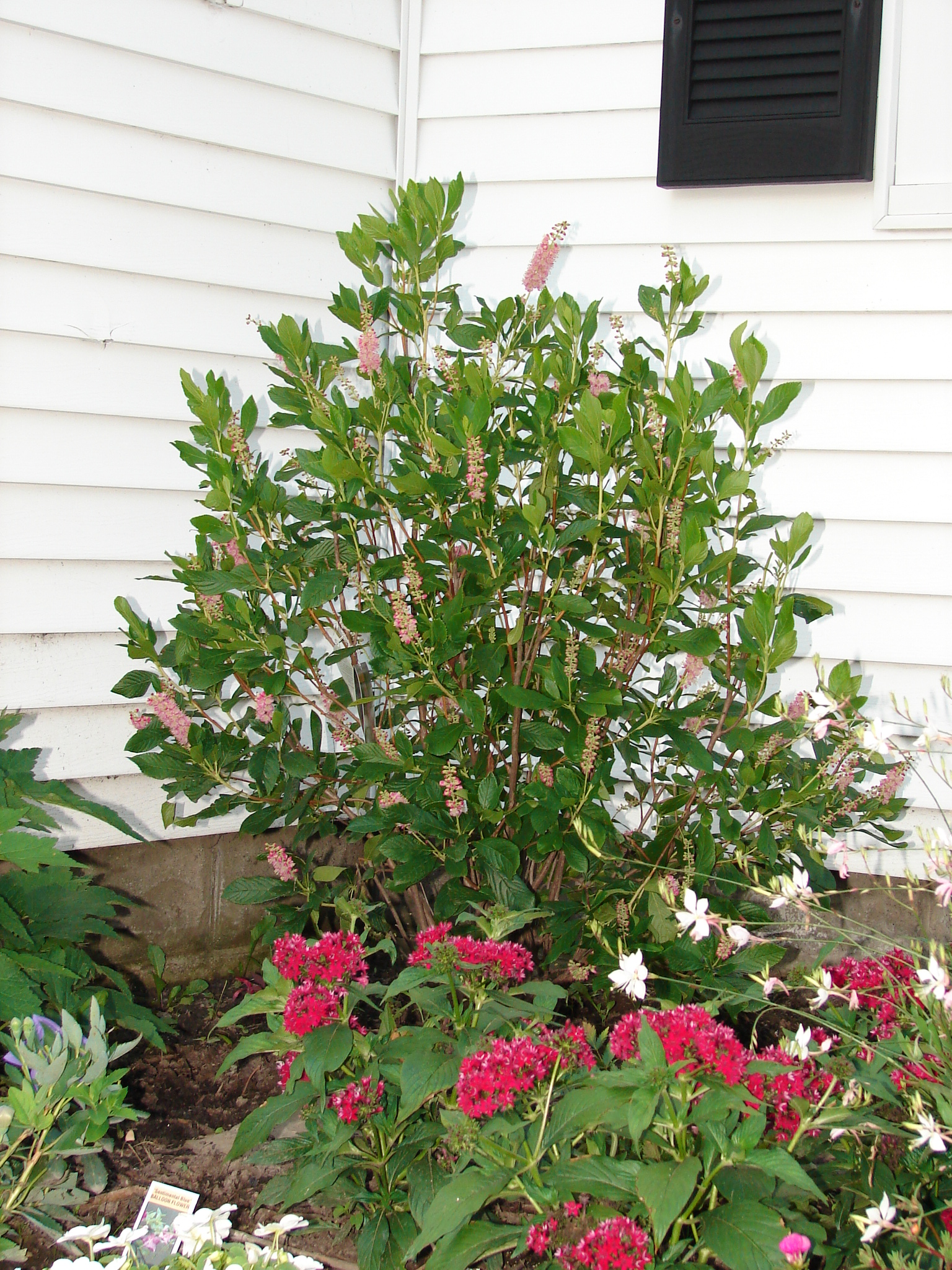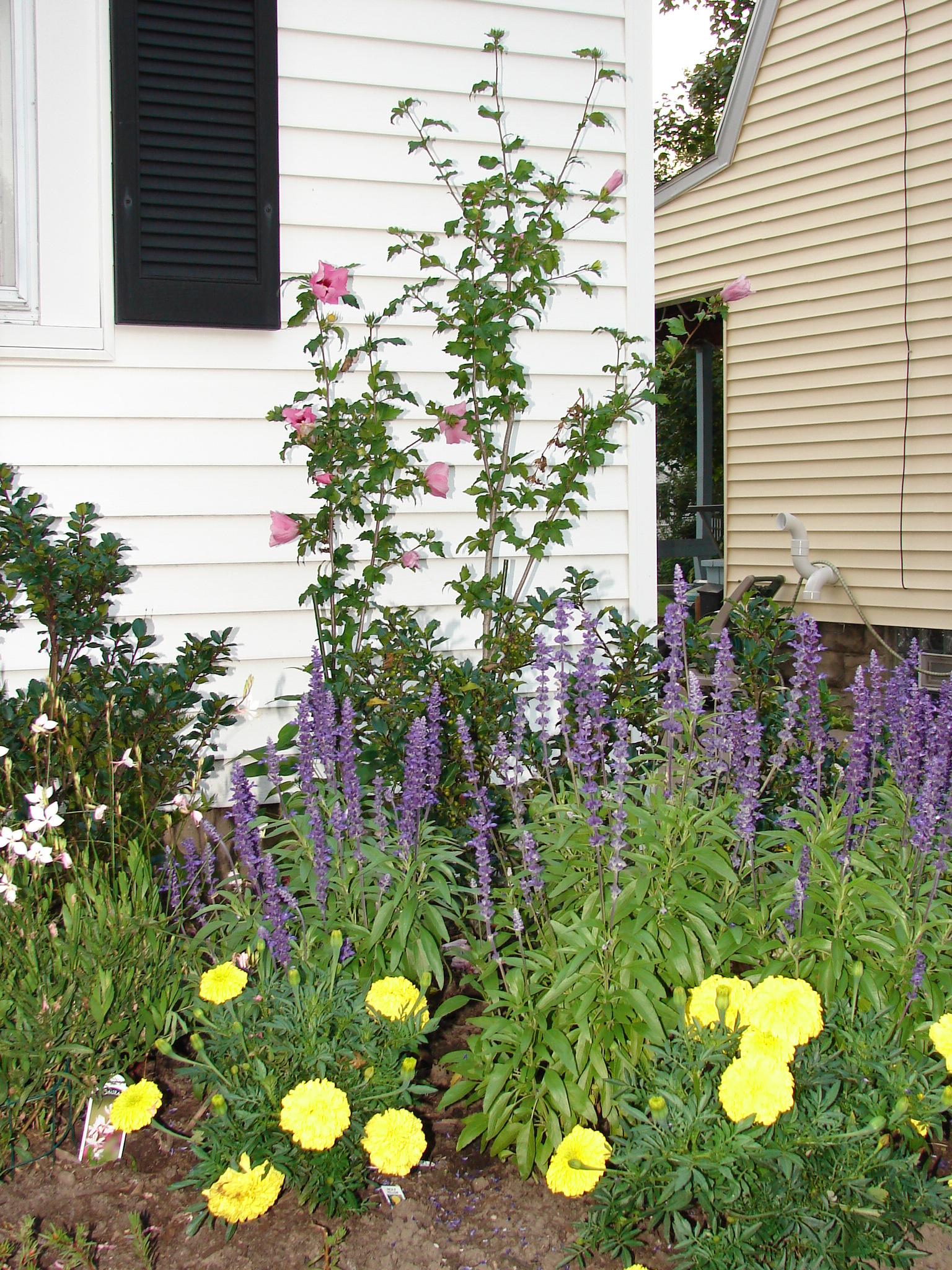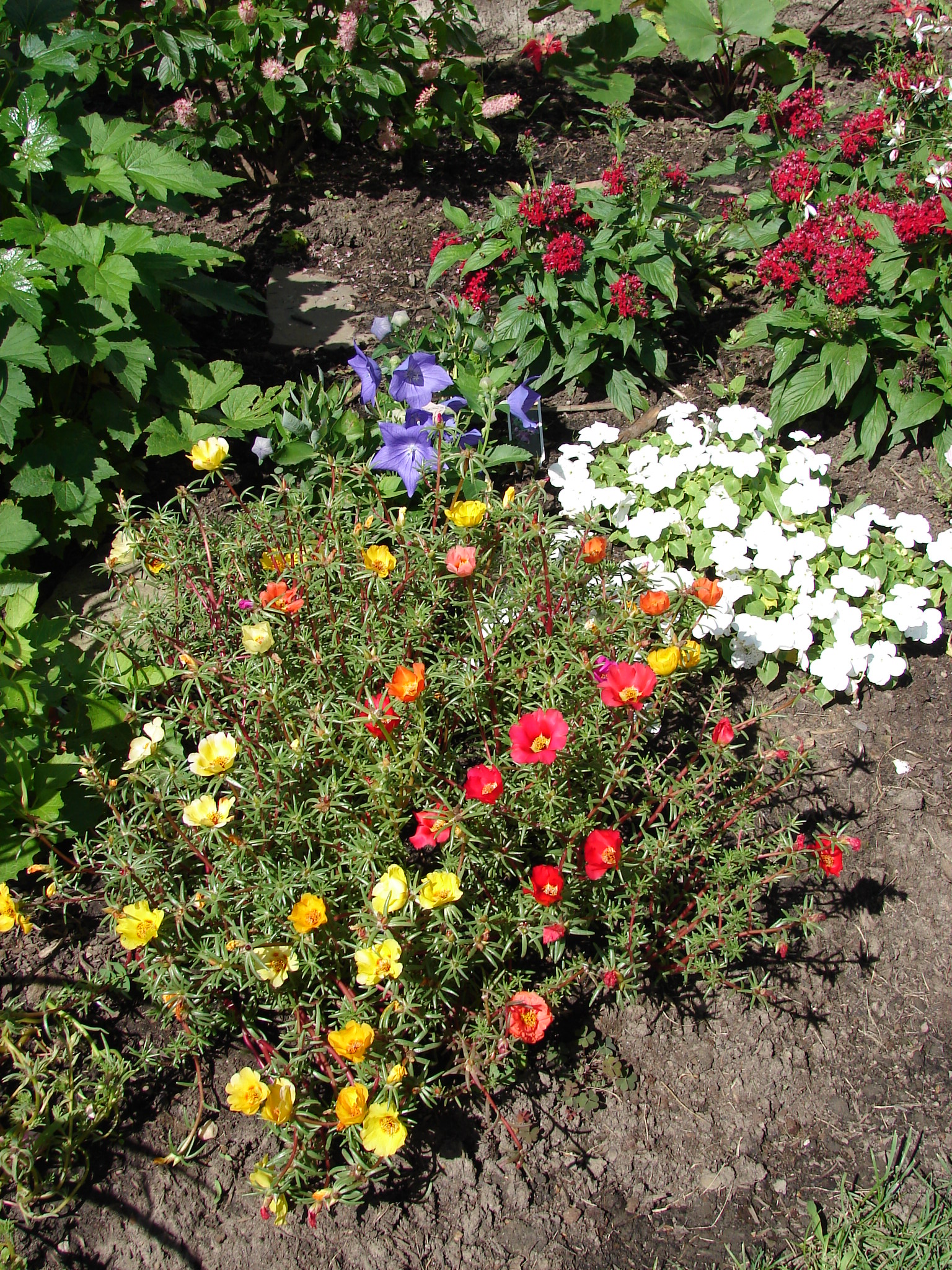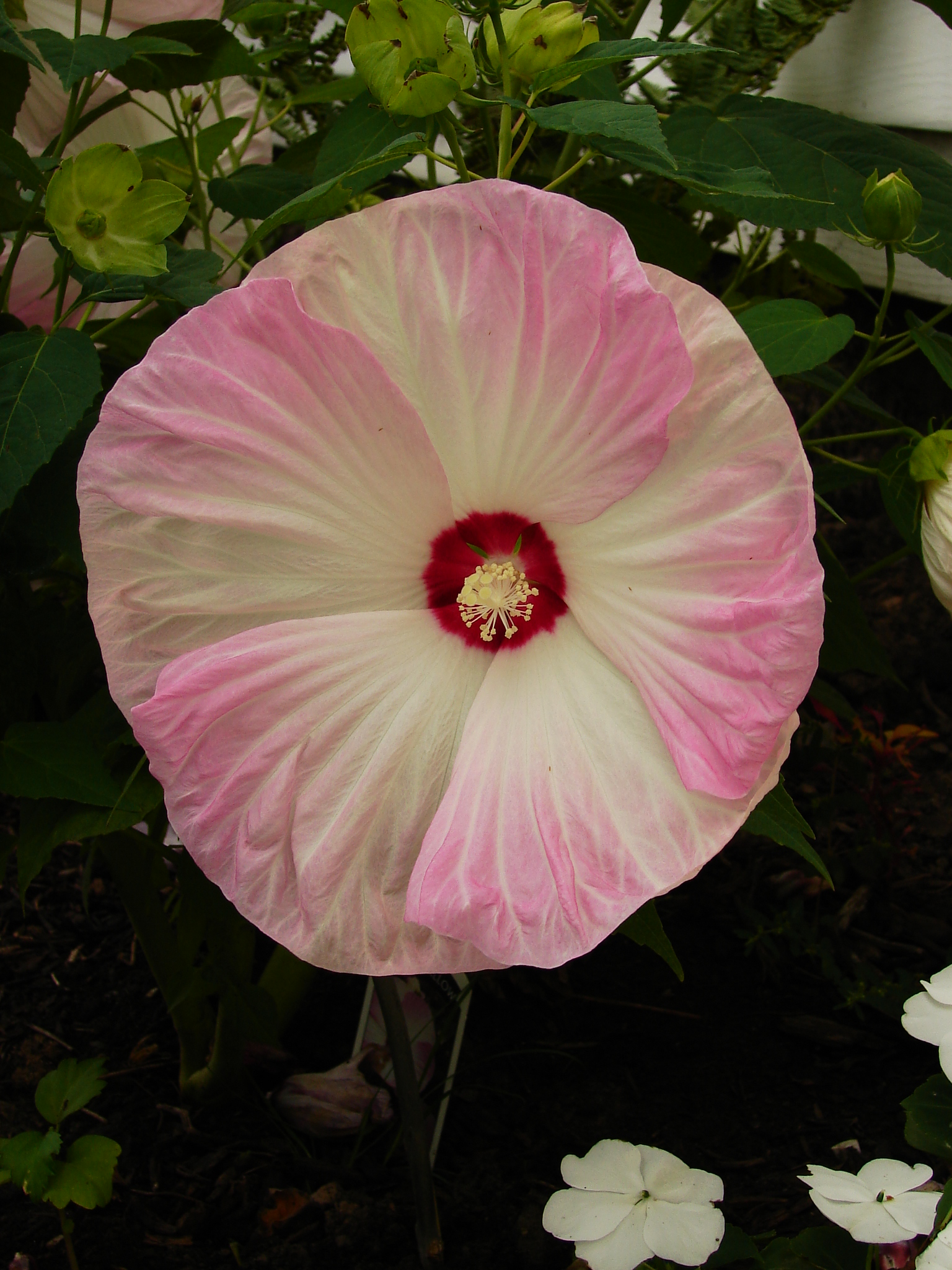 Front right garden. Summer Sweet, Blue Tip Holly (male & female), Hibiscus, Dwarf Hibiscus (at base of Hibiscus and hidden here), Japanese Anemone, Ligularia, Guara, Portulaca, Impatiens, Salvia (Rhea), Marigolds, (2) Lilies. The picture 2nd from the left focuses on Kalanchoe and Summersweet with Impatiens, Balloon Flowers and Guara peeking in. The picture 2nd from right focuses on Marigolds, Rhea Salvia and Rose of Sharon (Hardy Hibiscus). Fourth picture, Portulacas... a favorite of my grandfather, a great gardener. Last picture, Dwarf Hibiscus is a libertine for flies and beetles with beautiful six inch flowers.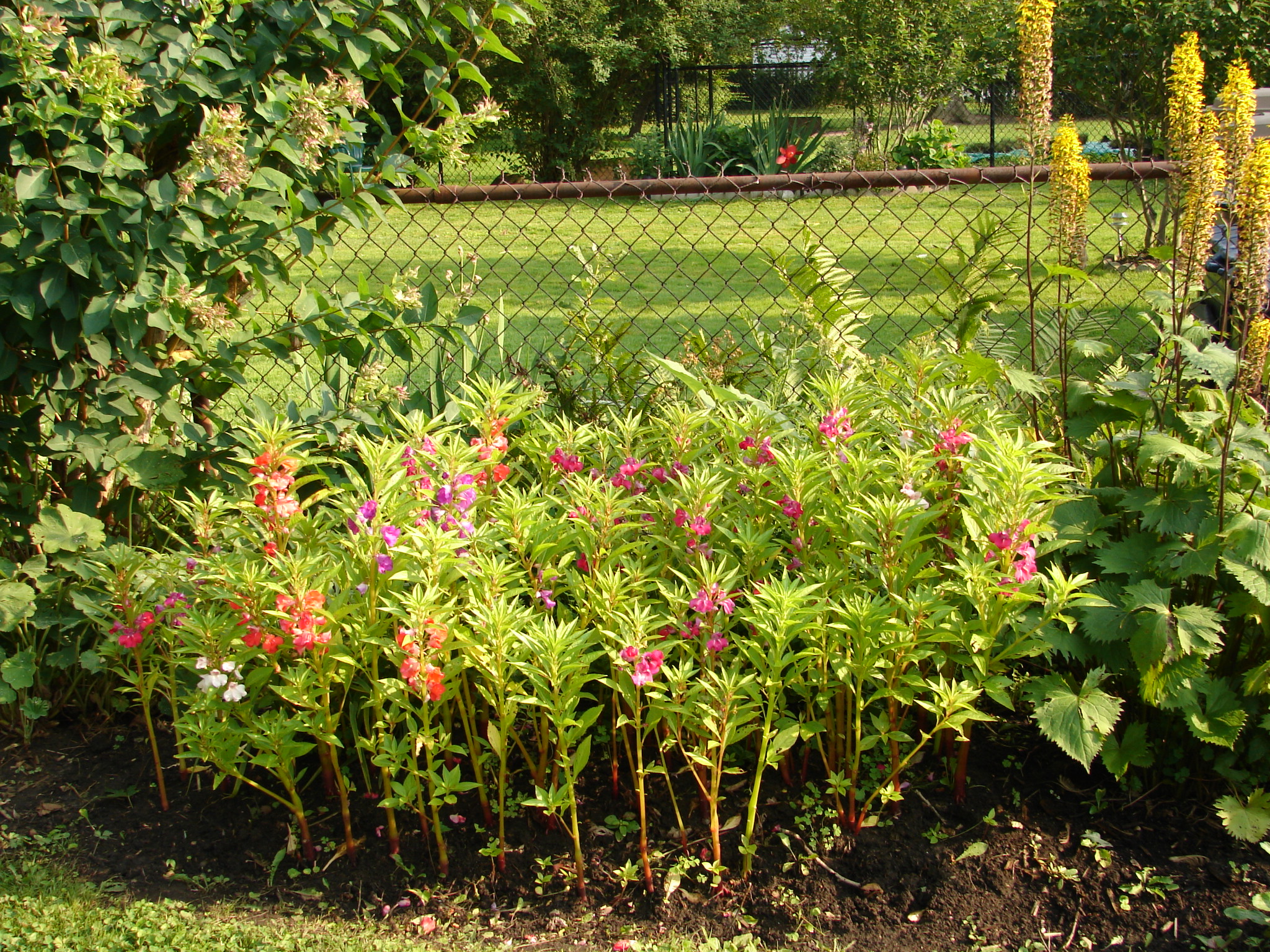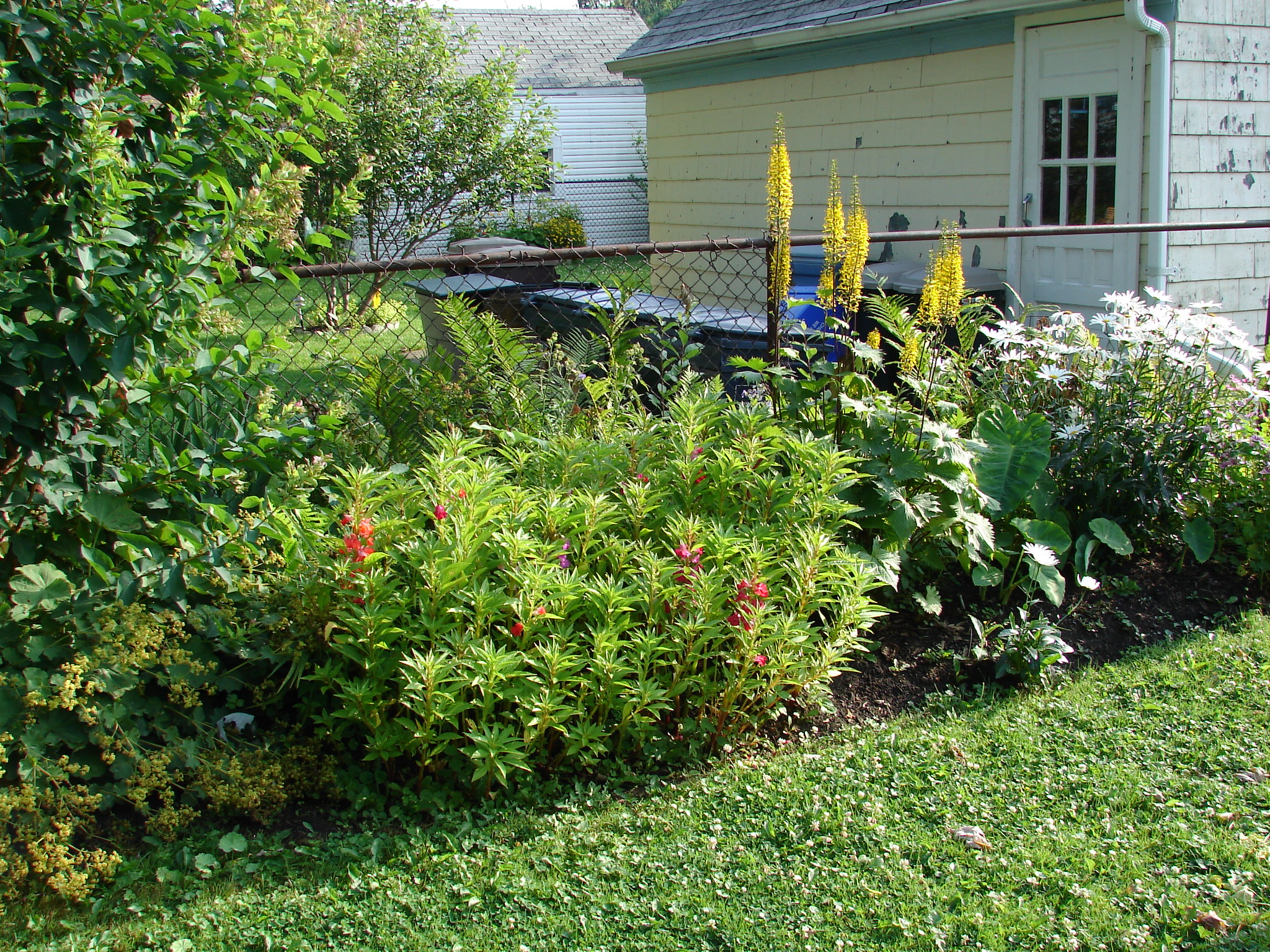 Clump of Balsam. Old time flower and a close relative to New Guinea Impatiens. To the right is a common Ligularia ("the Rocket"). Balsams used to be grown everywhere but are now pretty uncommon. Self-seeding they continue to flower and gain height until frost. Dozens will come up each year and you pick the ones you want... The right picture shows a few more plants. Lady's Mantle, Ligularia, Daisies, Malva, Forget Me Nots, Jacobs Ladder and a Sun Flower. The Ligularia is suffereing because its getting too much light and the soil is not damp enough.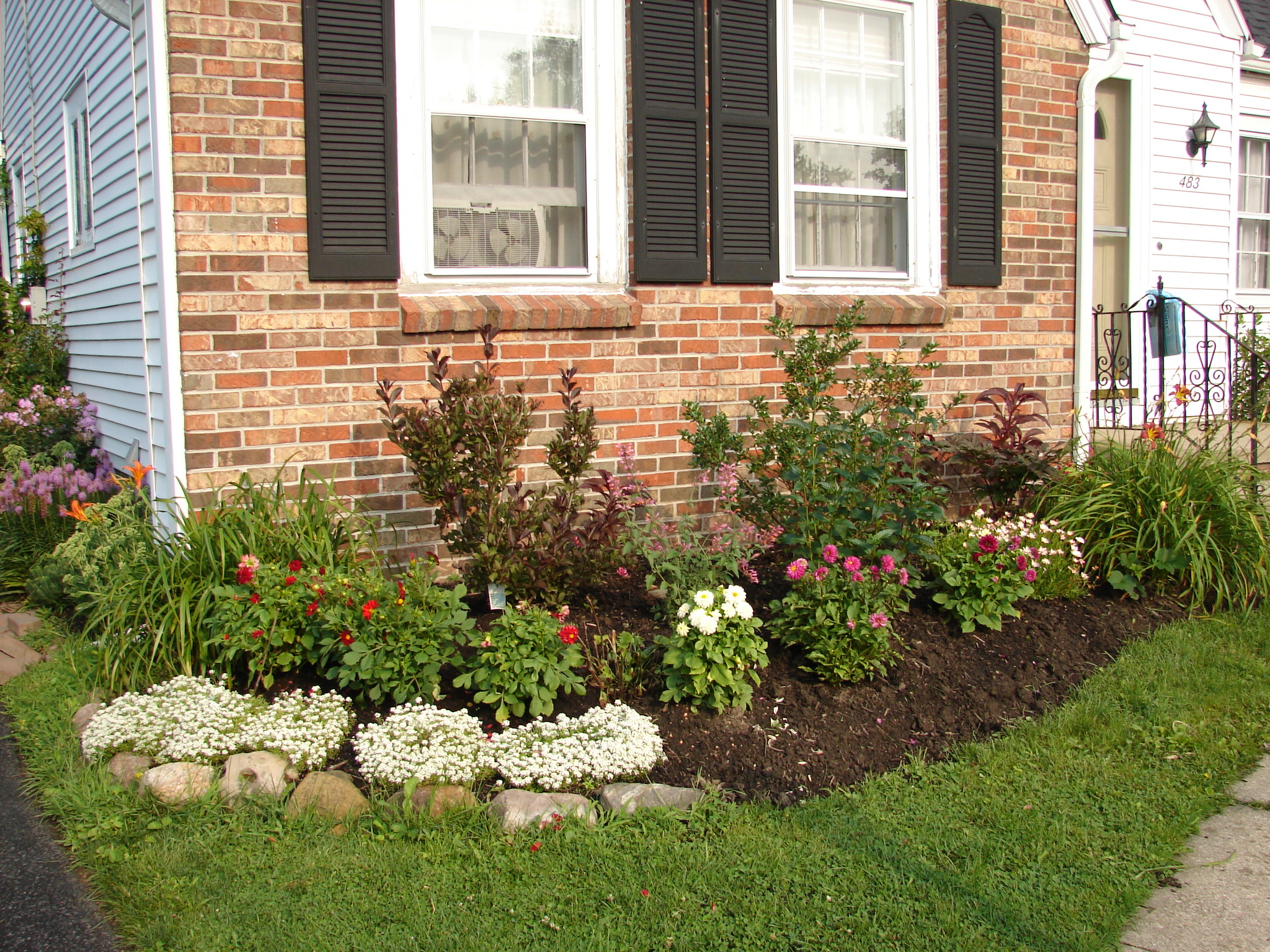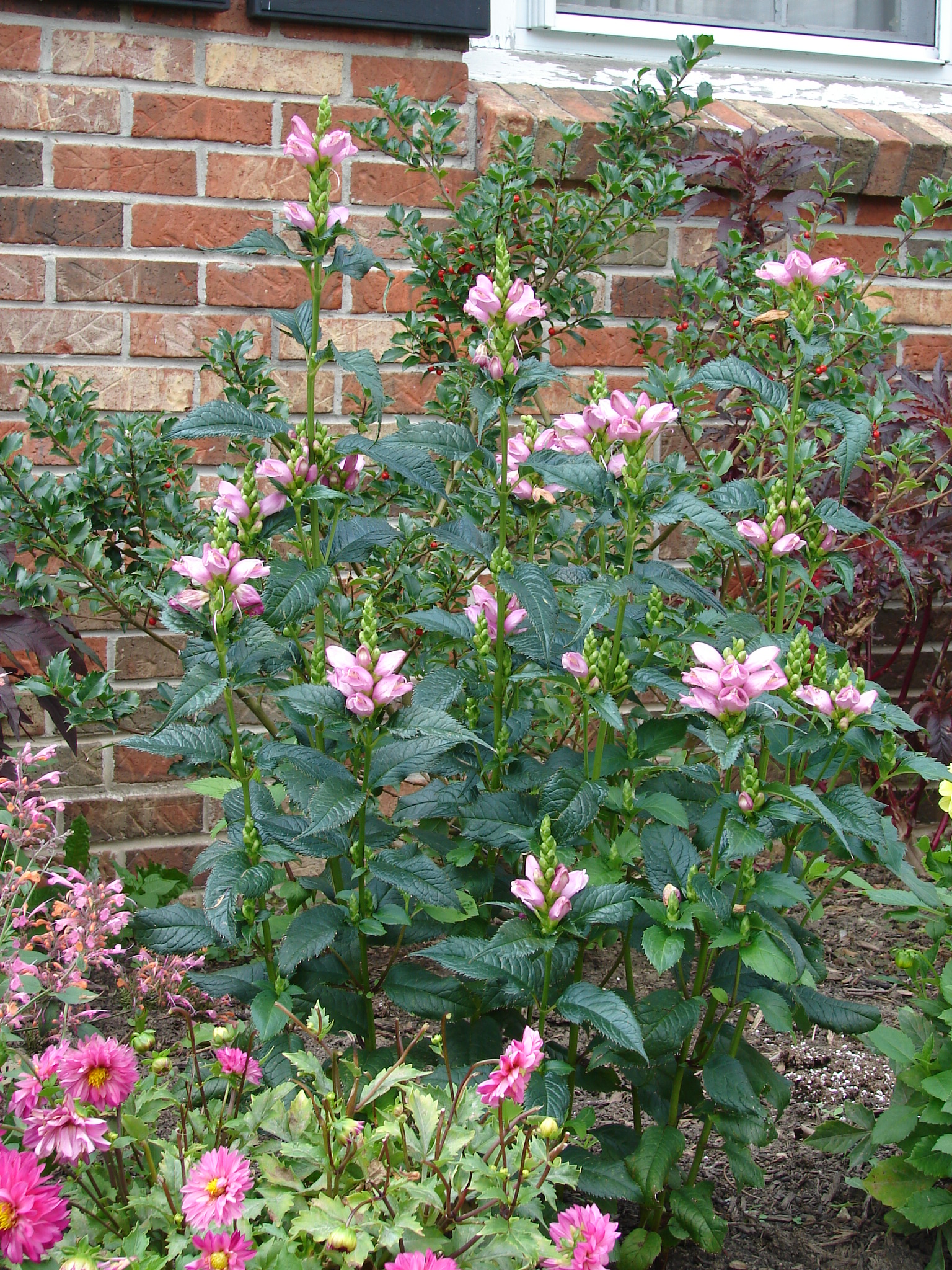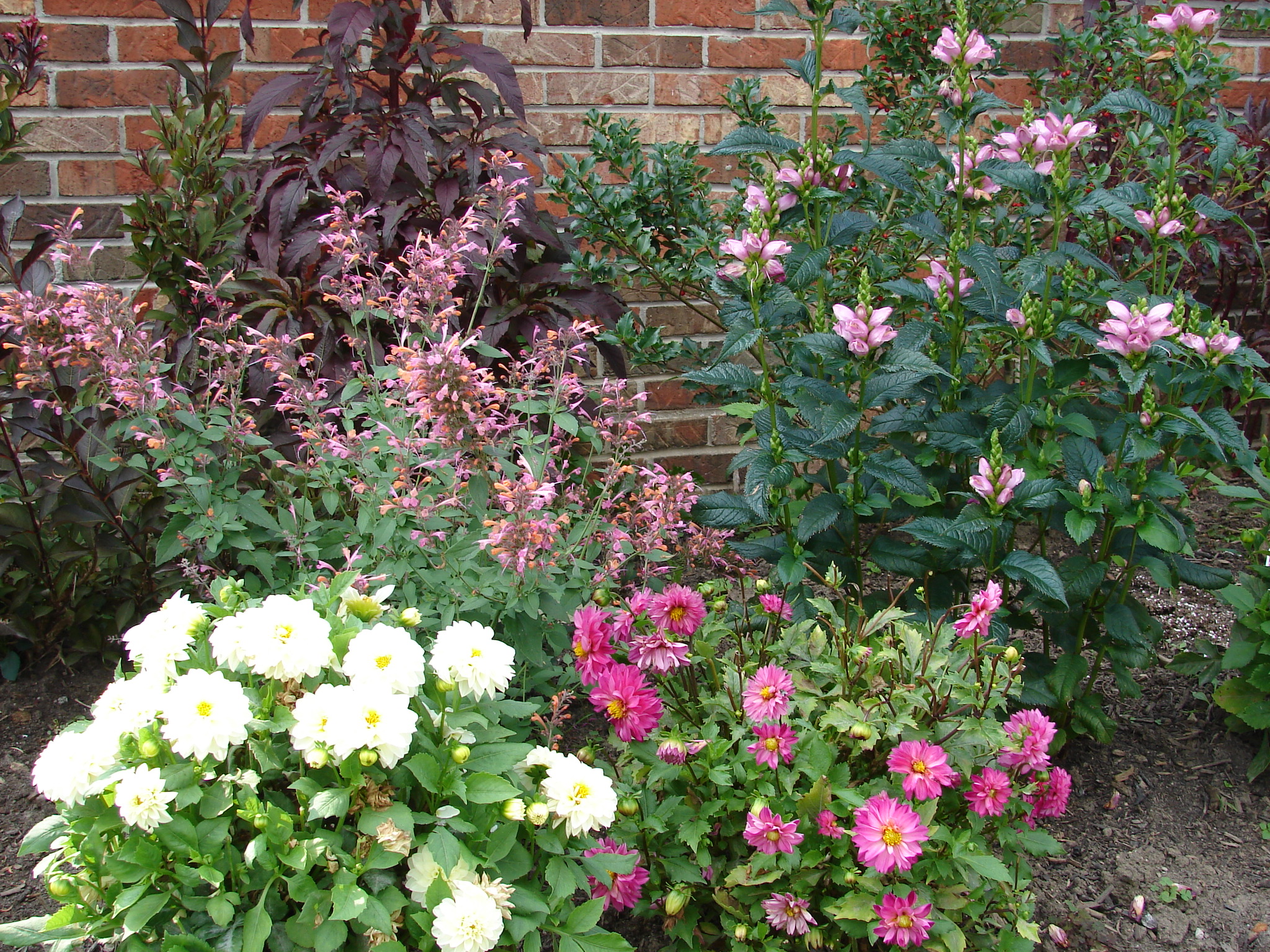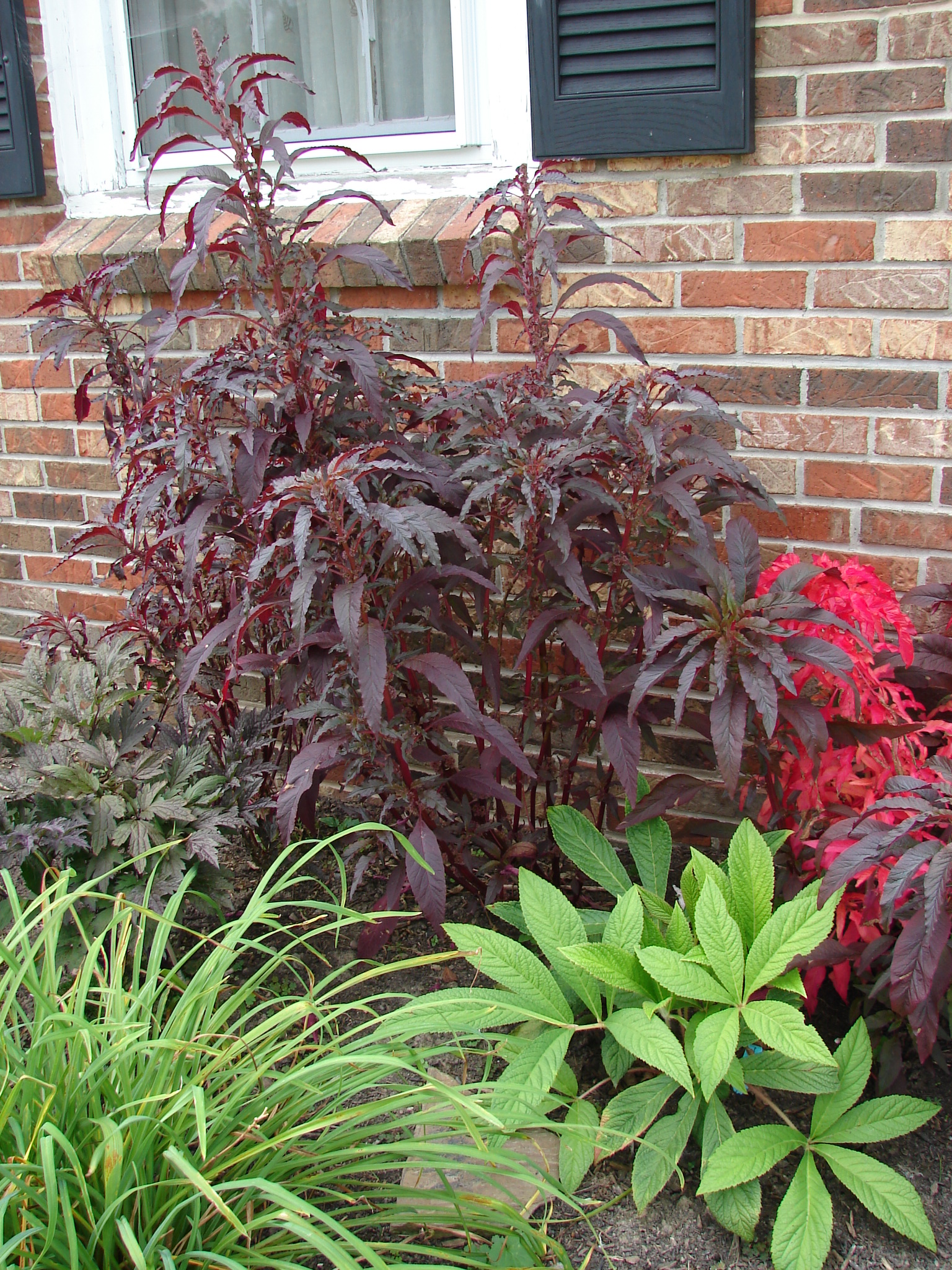 Front left garden just planted this Spring and photographed early in the year. Weigela, Blue Tip Holly, Black Leaf Snake Root, Amaranthus, Osteospermum, Turtlehead, Day Lilies (2), Dahlias, Alyssum, and Feather Flower. Remaining pictures from August. Second picture is a nice variety of Turtlehead. Third picture Dahlias in front of Agapanthus and Turtlehead. Fourth picture, just color and texture with Daylilies and Feather Flower in front of Amaranthus (2).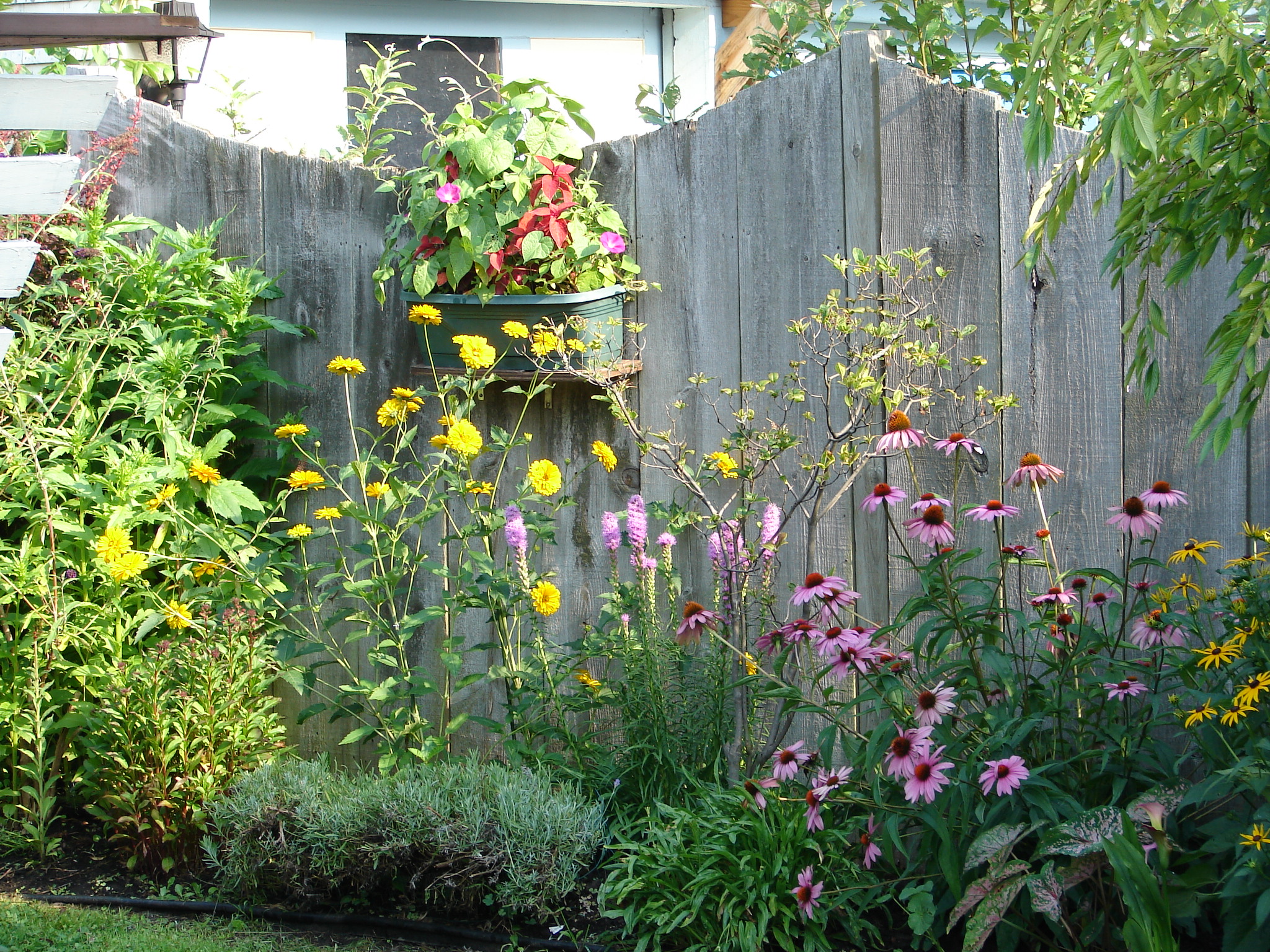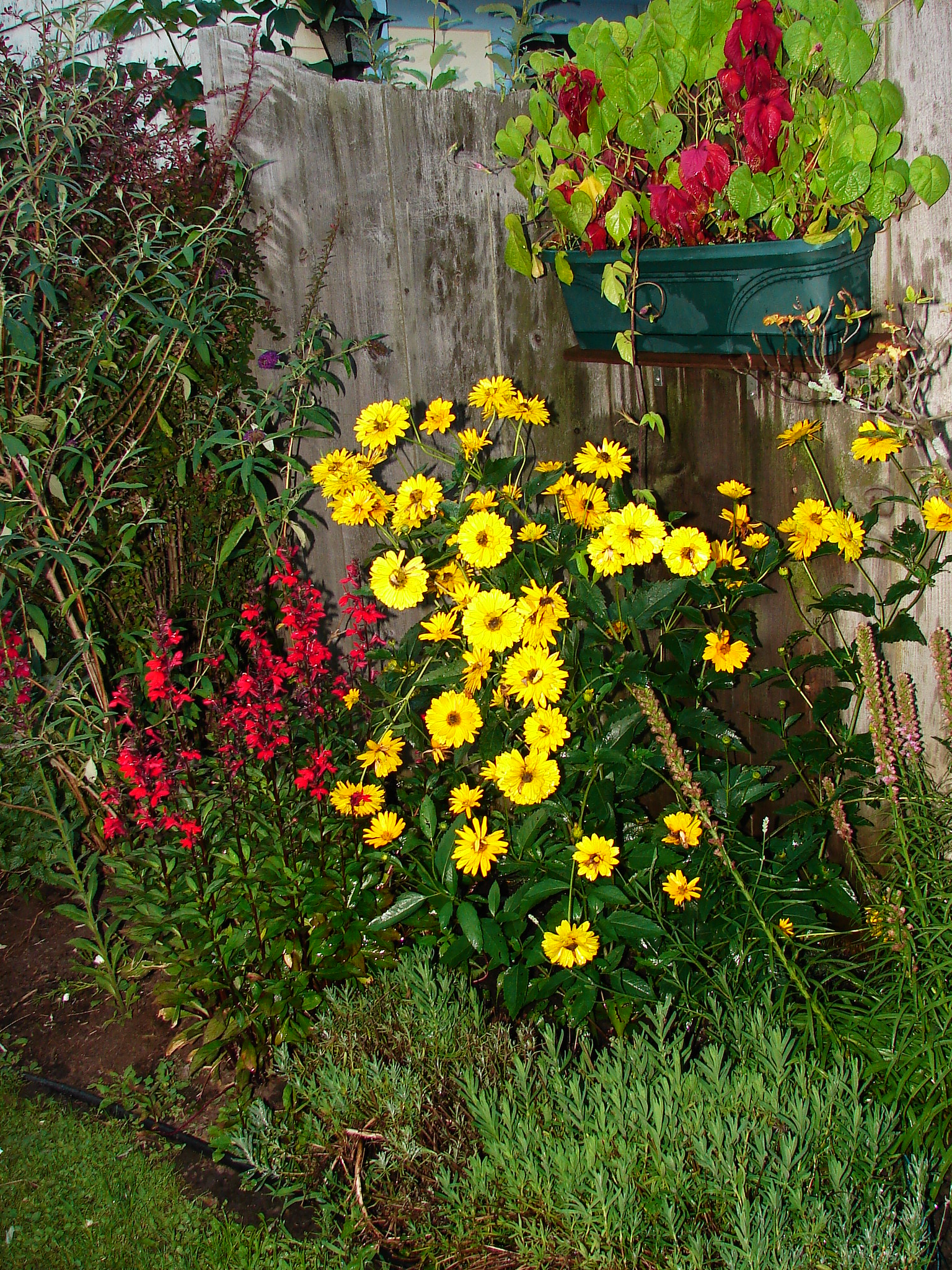 Part of rear garden. Black Eyed Susan's, Cone Flowers, Pin Cushion Flower (past bloom), Lavendar, Liatris, Heliopsis, Coleus & Morning Glories (in planter), Butterfly Bush, Salvia (Blue & Black), Lobelia. Right, the Lobelia have come into bloom and look great next to the Heliopsis.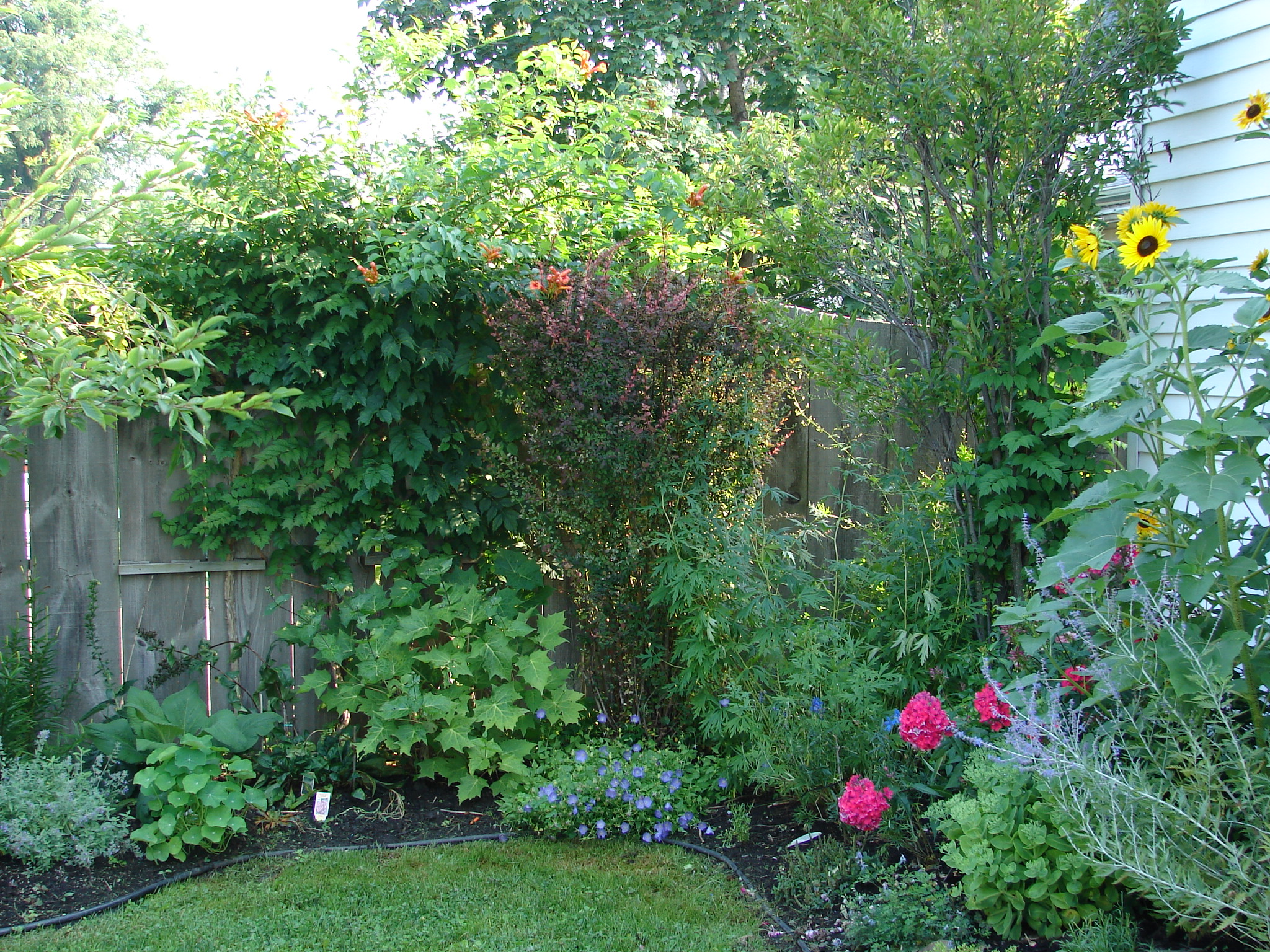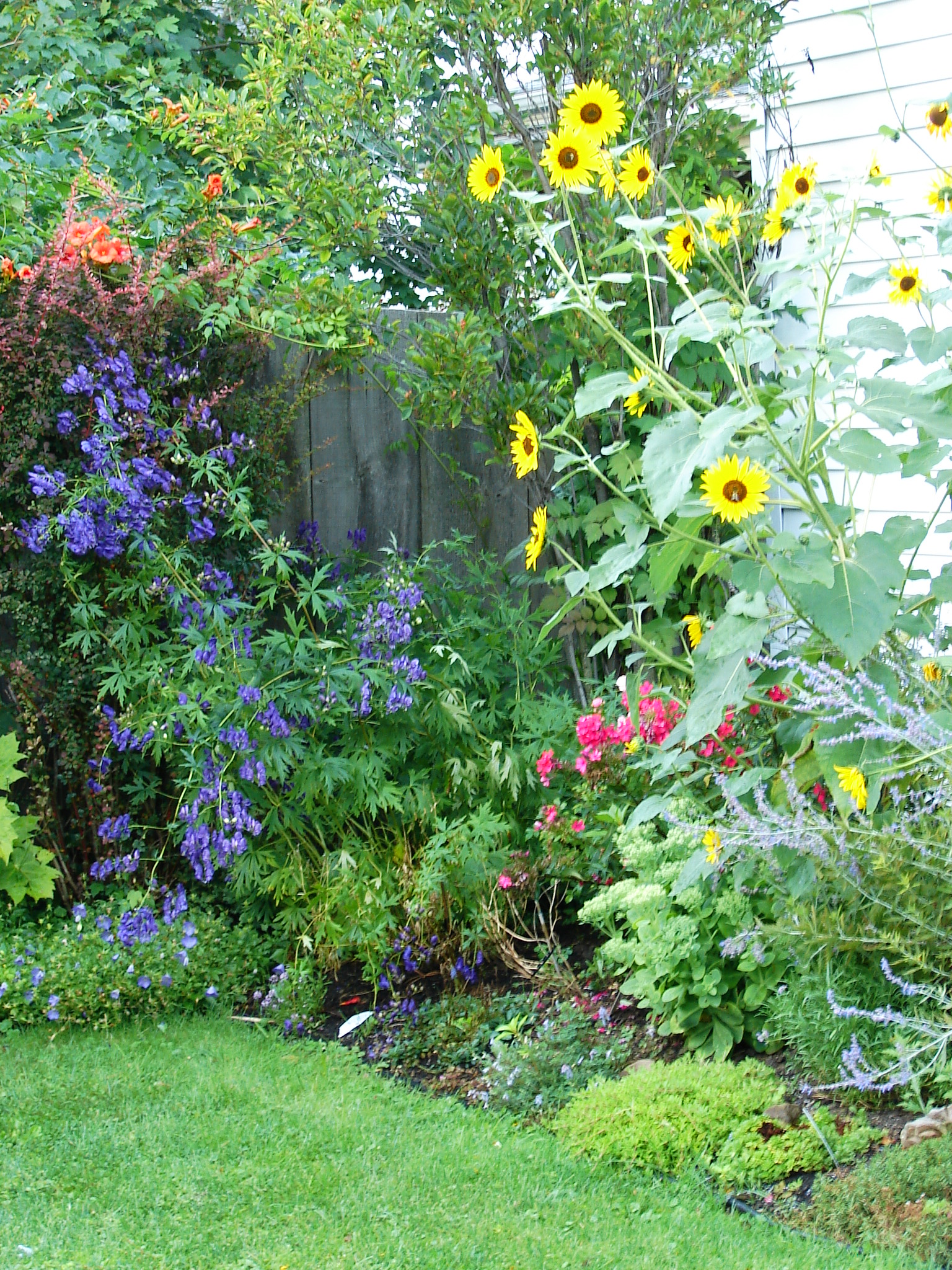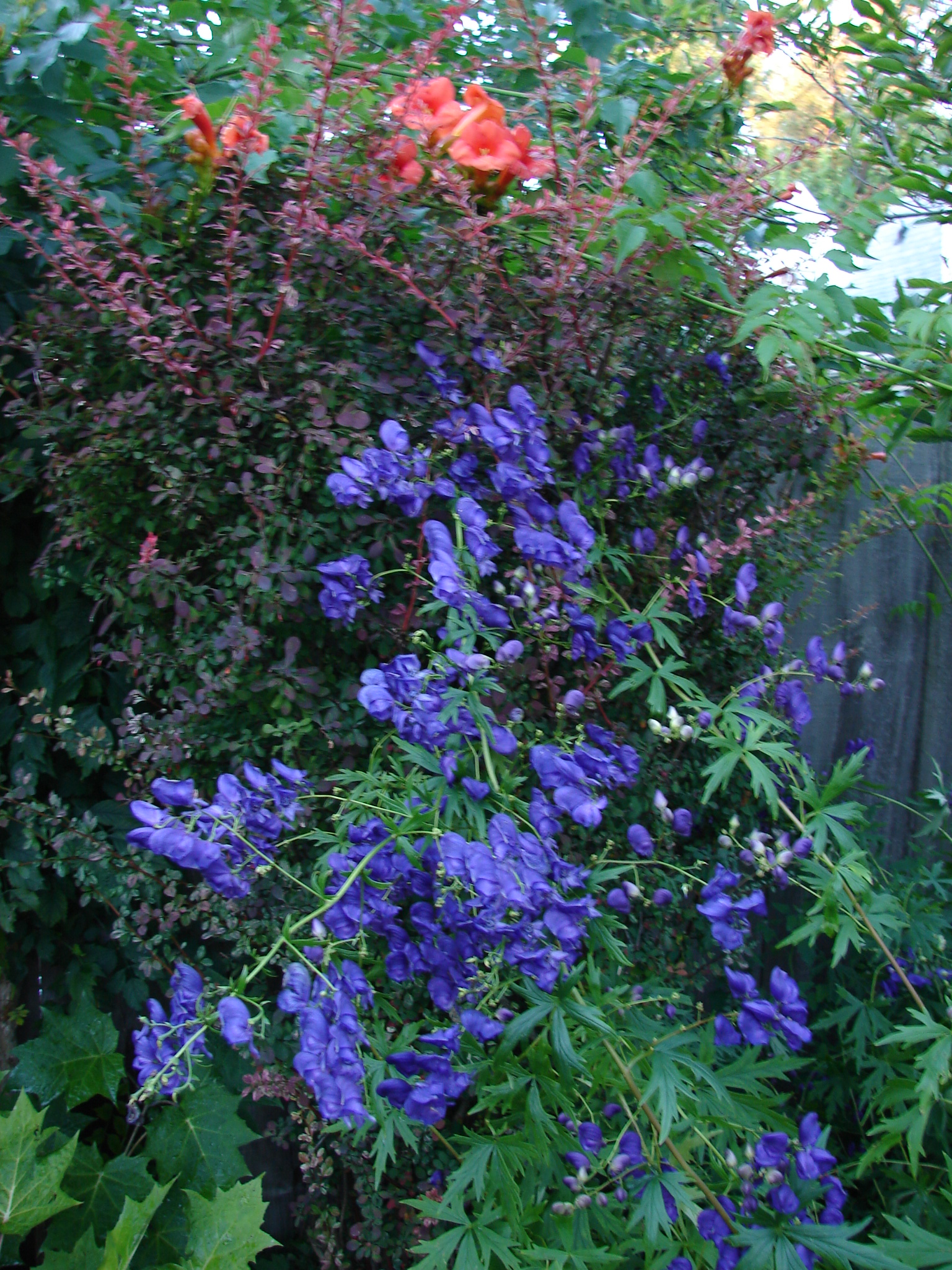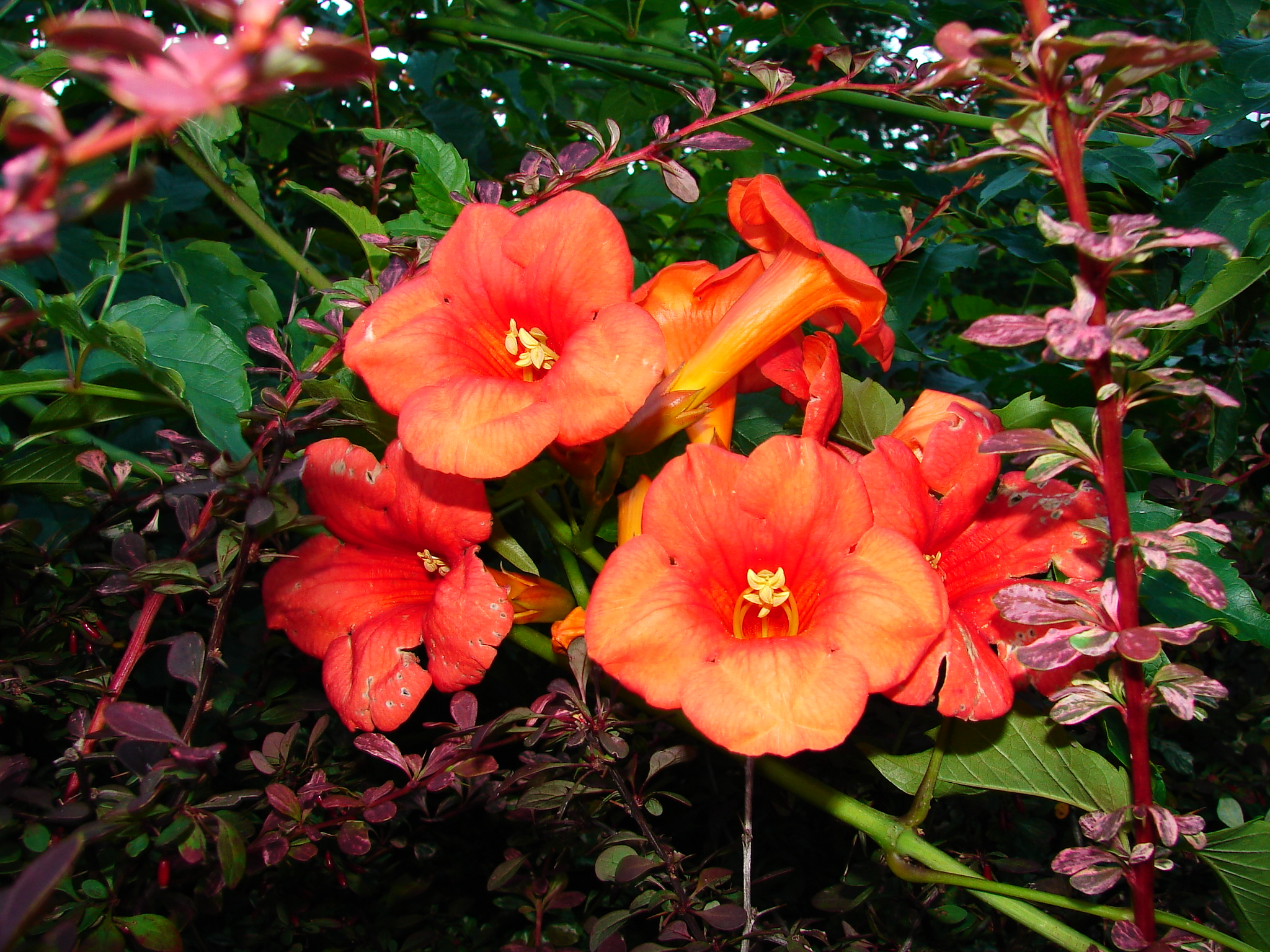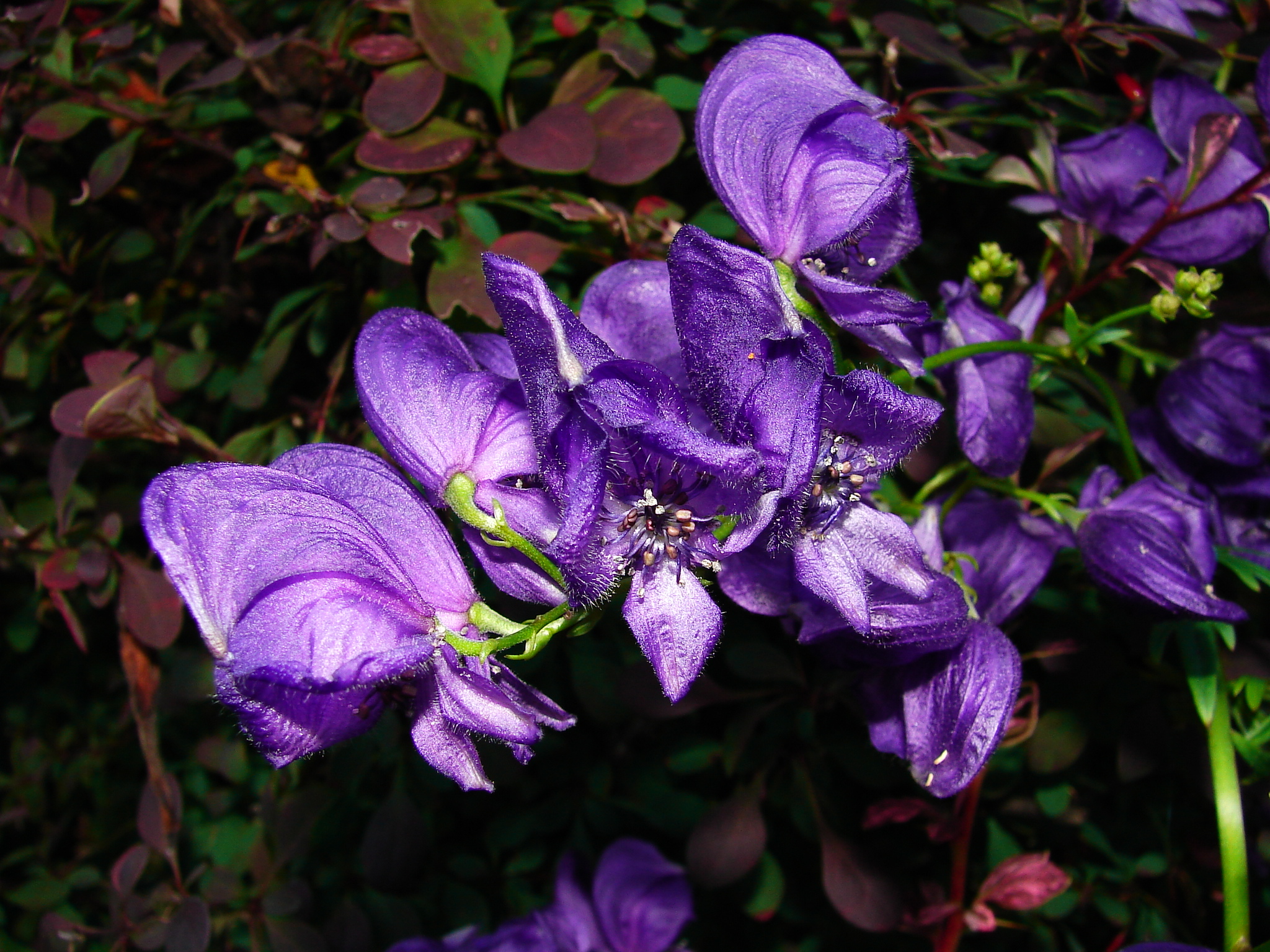 Corner of the rear garden. The red flower is a nice Phlox. Also, Russian Sage, "Dwarf" Sunflowers, Wall Flowers, Corydalis, Veronica, Monks Hood, Trumpet Vine, Kiringashoma, Nasturtium, Lobelia, Nepata, Lobelia, Foxglove (Strawberry) and Bell Flowers. Second from left, same corner in August. I love the Monks Hood underneath the Trumpet Vine (picture 3)! Two pictures on the right, close ups of Trumpet Vine and Monks Hood (all parts deadly poisonous with no known antidote, great plant if you have too many deer, bunnies or dogs who like to dig and eat plants...).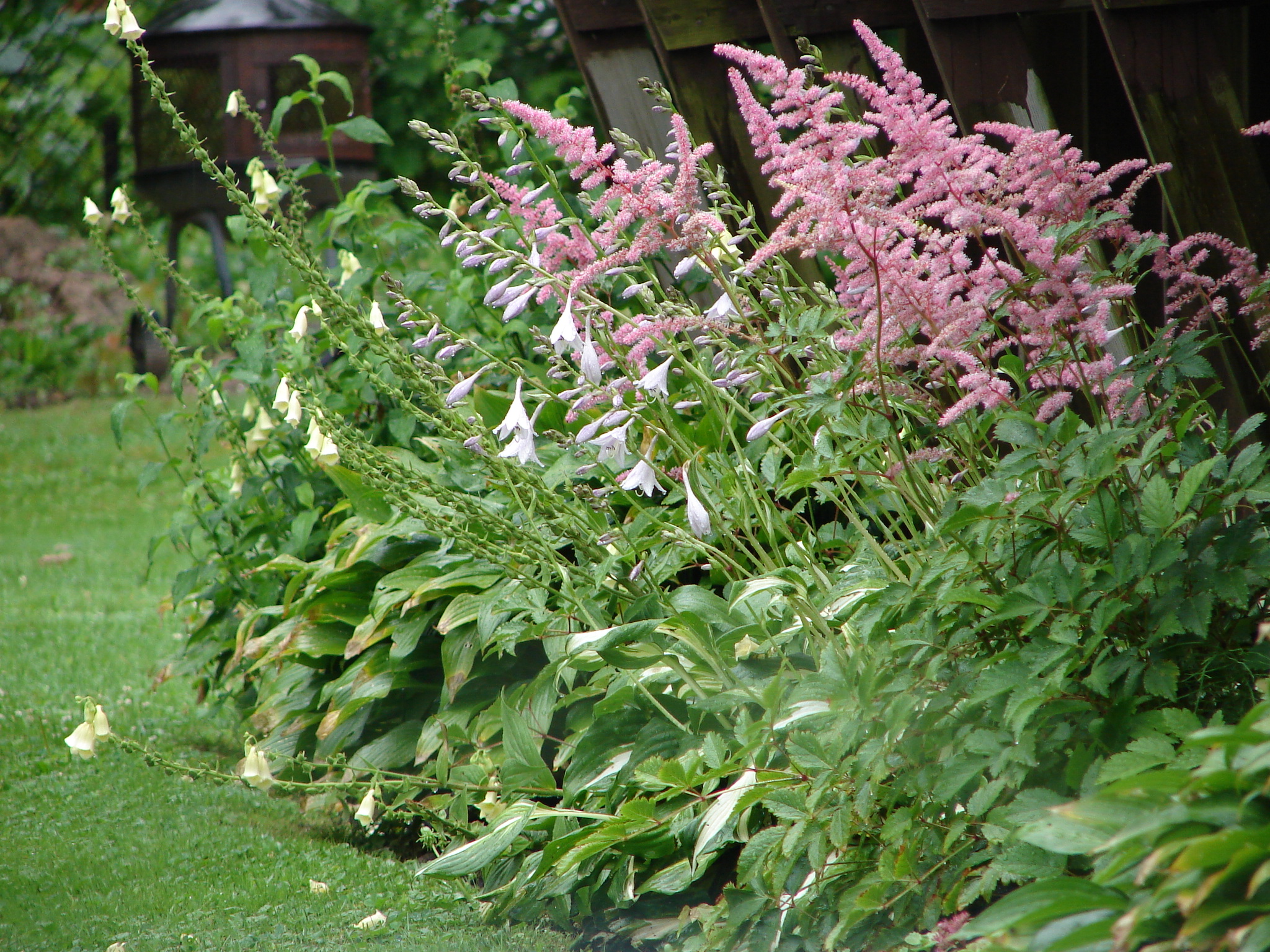 Hostas, Astilbe and Foxglove by side of pool.