Decision Support and Geographic Information Systems for Planners: Mountain Bike Trail Conditions in Hunters Creek Trails Park
Hunters Creek
Hunters Creek provides the most varied and exciting mountain biking in Western New York. John Jenny's "Mountain Biking: Where and How on the Niagara Frontier" says 'Please be very careful, be in very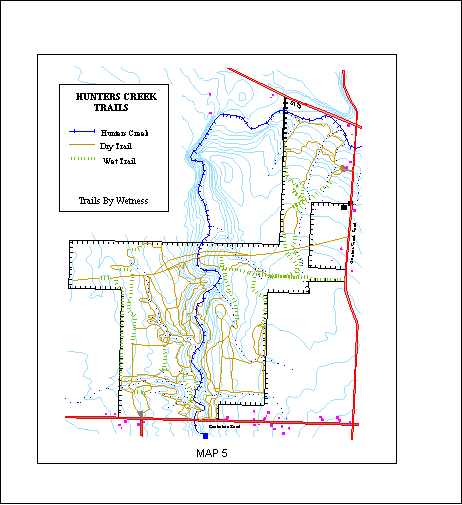 good condition and ride with friends. This is a vast and dangerous area.' To get a sense of this read Juan Banzai's experience at the most notorious trail - the Widow Maker! For him the ride is a RUSH!!!! Even our careful Planning Department Chair has left an imprint of his head on a large tree at the bottom of this descent. The area is an Erie County land bank – basically former farmstead that has reverted to "undeveloped" nature - long used by hikers and cross-country skiers from nearby East Aurora. Bike trails have been carved largely through the hard work of a famous individual called "Good John" who is hereby nominated for the Nobel Trail Prize.
Unfortunately, and not surprisingly, each year more bikers appear raising the specter of ruined trails or worse, active control of use by the relevant authorities. Many trails that were narrow footpaths/singletracks only a few years ago are now much wider and considerably wetter. The park's soils are poorly drained. Trail use during wet periods leads to "mud hole" formation, which widen as users seek to avoid the mud. Trails are wettest in the spring from snowmelt until mid-April. Conditions can also suffer after heavy summer rains, and during cool fall weather. There is no official organized maintenance of the trails at Hunters Creek. Upkeep appears to be undertaken mainly by Good John and his merry men.
GIS for Planners (PD560)
In this course students use a selection of GIS techniques, such as importing data bases and data manipulation, selecting and querying data, thematic mapping, location and shortest route analysis. They also learn how GIS applications may be speeded to meet deadlines and circumvent institutional bottlenecks. For their final project students select a challenging exercise that reflects critical issues in Western New York and elsewhere. Under duress students make even undertake projects especially close to the professor's heart such as the state of mountain bike trails at Hunter's Creek.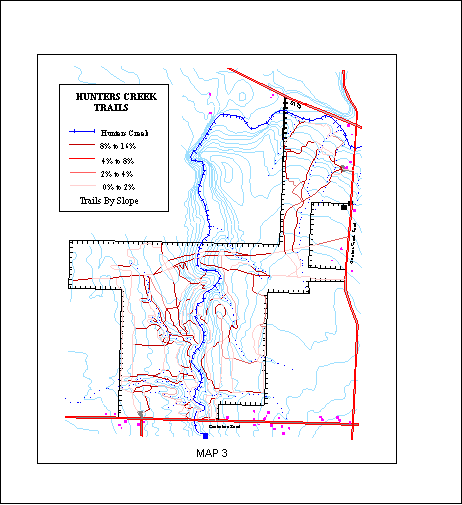 The ultimate aim of the biking trail exercise is to provide an on-line map of that can inform riders of the current condition of individual trail sections at Hunter's Creek and provide them with a way of planning satisfying rides that avoid the damaged or threatened sections. The GIS maps shown here were digitized by three students (Kim Lorentz, Denise Mattrey, and Wahler Sein) from a trail map provided by the Friends of Hunters Creek. Thematic layers were drawn for trails, wetlands, elevation, streams, rivers, woodland, adjacent roads, power and gas lines, private land, and other relevant features. The Friends map identifies trails that are often wet and they urge riders to plan a route to avoid these trails, at least until late summer or midwinter. The main goal of the Hunters Creek on-line GIS is to refine this information – to make it more trail specific and to relate trail conditions to day-to-day weather conditions. A second goal is to provide information that will encourage rider's to help maintain the trails. A third goal is to provide a system for planning rides that match the abilities/excitement level of individual riders in terms of, for example, length of ride, severity of hills (up and down), and type of trail. A fourth goal is simply to provide an exercise in decision support analysis – forcing students to use the various functions of GIS – calculating slopes by comparing the intersections of contours and trail sections, identifing trails which meet desired conditions, and providing informative interactive maps. Similar skills are useful for analysis of any transportation system.