A FEW OF BOB SPENCER'S HOBBIES
The following are photos and texts that illustrate some of the hobbies that occupy Bob's time:

Mary grew Iris in her garden and dearly loved them. So the first glass project Bob designed and made was the stained glass picture shown here.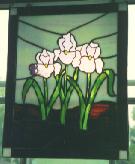 Iris




Mary is a quilter, so when Bob was looking for a design for another picture, he used an illustration found in a quilting magazine as the inspiration for the "Goose on the Moon"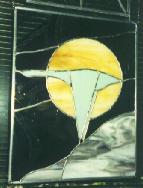 Goose on the Moon

An illustration in a craft magazine provided the basis for this design of a spider web. Bob built it into a frame and it now hangs in their living room.


Spider Web




Bob combined his woodworking and his stained glass interests to produce this kaleidoscope, and the box that contains it.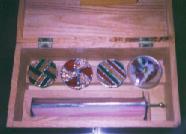 Kaleidoscope




A book on the use of the bandsaw provided the instructions for building a chair based upon some original Shaker designs. Bob built four of them, one for each of their four children.


Four Dining Chairs




While traveling in Arkansas, Bob bought a kit to build a mountain dulcimer This was his first attempt to construct a working musical instrument.

Mountain Dulcimer




While attending an Elderhostel in Maine, one of the instructors demonstrated a rather unusual instrument that had been made for him. Bob took measurements and photos of the instrument, called a bowed Psalter and upon returning home, using the photos and measurments, Bob made the bowed Psalter shown here.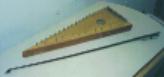 Bowed Psalter
---
Poetry is a minor hobby that has interested Bob since college days. Occasionally when the spirit moves him he assembles one such as the following samples.

QUIET NOVELS

Quiet lives are novels rich as more exotic tales.
Joys and sorrows of daily events and ordinary acts
Put color and texture in the fabric of our being, while
Conversation makes essays enlarging our perceptions, and
Literature merging in the warp and woof of recall
Enriches memories and piques our interests in strangers.
We grow when sense of self becomes entwined with others
Such total integration makes all of us as brothers.

---
This poem was written during a visit to the Lancaster County area of Pennsylvania and after attending an Elderhostel which included a course on the Amish. I remember being impressed by their stubborn insistance on their difference with the world of violence that surrounded them, and their sense of community and interdependence. Oct.1989
AMISH
Peaceful people
Harrassed for different views
Living quietly without rancour
Demonstrating life with
Fullness, caring and cooperation.
Is our progress so backward
That unfettered competition
Is more honored than peace?


---
As a bookbinder Bob made his own journal books. This incantation invokes the muse's assistance in completing the purpose of the creation.
BOOK

Book, brightly handmade and blank
inspire this reluctant pencil.
Bring wisdom to the page.
---
Handwork has always been part of Bob's life. The transformation of simple materials into something that can provide a sense of joy or usefulness, is one of the rewarding mysteries. Bob tried to capture that in this poem.
STAINED GLASS
Glass
Brittle, Hard
Shining, Glittering, Waiting
Window, Color, Imagination, Hands
Shaping, Forming, Growing
Delicate, Strong
Beauty.
---
This was an attempt to express the frustration of conveying the chaos of a rich imagination in the hard and limiting confines of ordinary words.
IDEAS
Moths of the psyche
flitting in the light
of consciousness;
pairing and splitting
in bright atomic chaos.

Frozen in words,
they transmute to
mounted specimens,
pale metaphors
of the original.
---
This was written in October 1989 during a visit to Washington D.C. with friends from England on their first visit there.
WASHINGTON CITY

Facades of
marble and granite
belie frenetic avarice
and venal competition which
distract the populace
dashing by, spewing
exhaust that works its
disintigrative damage
on the symbols of liberty,
even as political practice
nibbles away in paranoia
at the social reality of
Freedom.
---
Here is a list of a few of the Books that Bob likes to keep near to hand, many of them contain thoughts and ideas familiar to Bob since childhood when he acquired them from a quirky, maverick, maiden aunt.
"The Timetables of History" by Bernard Grun,
ISBN 0-671-24987-8
A handy reference that allows a quick focus on historical context for many past events.

"The Practical Cogitator; The Thinker's Anthology" Curtis and Greenslet, Eds.,
ISBN 0-395-34635-5 pbk
A bedside book for quick relaxing excursions at random into many fields of human thought.

"Nasrudin" by Idris Shah SBN 0-525-47306-8
Subtitled "The Pleasantries of the Incredible Mulla,"a whitty compilation of timeless universal truths, in the Sufi tradition.

"Tales of the Dervishes," by Idris Shah SBN 0-525-47262-2
A collection of Sufi stories used by dervish teaching masters to instruct their disciples.

"Confucius, The Analects," Translation from the Chinese by William Edward Soothill
ISBN 0-486-28484-0
One of the classics of the Confucian canon. Contains the conversations and sayings of Confucius. It pertains to political and social matters, and outlines the ideal behavior of "the superior man."

"The Little Zen Companion, " by David Schiller
ISBN 1-56305-467
A delightful potpourri of wisdom from both the East and the West. Great for random perusal.

"The Rubaiyat of Omar Khayyam," Trans. by Edward FitzGerald & E.H. Whinfield
Little Brown & Co. 1910
An old standby for relaxing.

---

The next page will provide links to some of Bob's favorite web sites.