Michelle C Raczka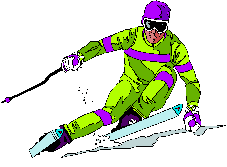 If you are interested in learning more about the UB alpine racing team, click on my mail link and e-mail me. You do not need to have any prior racing experience to join the team.
Link to USA Today
UB's Home Page
CS 101 Class Web Page
Link to Kelly Kraus's home page
Many articles on the Internet and the Web have a warning at the top or the bottom of the page that warns users that the material they are viewing is copyrighted material. However, most of the warnings are small and say that you may print one copy for yourself but you may not sell the material or download it. The Internet spans the world so it is impossible to control who does what. Controlling what you download to your computer is impossible, plus it is an international issue.