This exhibit consisted of artists such as: Eilis O'Connell, Kathy Prendergast, Daphne Wright, Andre Stitt, Cecily Brennan, John Carson, Anne Carlisle, Maud Cotter, Liadin Cooke, John Gibbons, Frances Hegarty, Siobhan Hapaska, Andrew Keamey, Mo White, Nicholas May, Tina O'Connell, Mark Frances and tallentire/seth. All of the artists live and work in Britain.
The type of media in which the artists worked is large-scale paintings, photography, sculpture, video, performance and installation.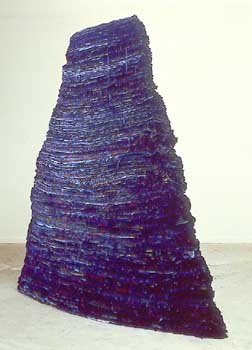 Some of the artists such as Kathy Prendergast, began exhibiting in the early 1980s. Prendergast's work has revolved around issues dealing with sexuality, identity, landscape, mapping and power.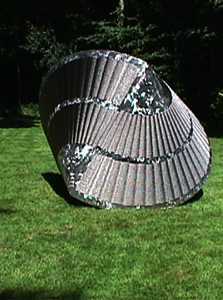 Eilis O'Connell's sculptures are woven in steel as geometric cones, spheres and cubes.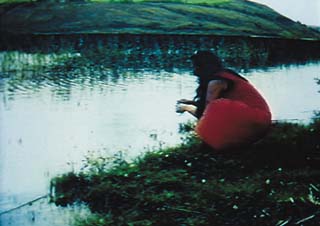 On the other hand, Frances Hegarty turns to video technology to address narratives of emigration, boundaries between personal and cultural histories and notions of home and language.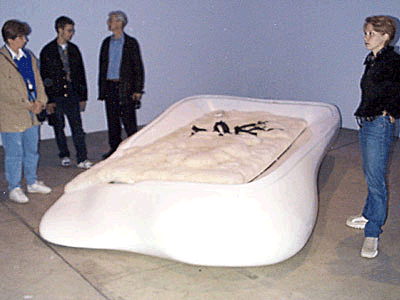 Siobhan Hapaska works mostly in painted fiberglass.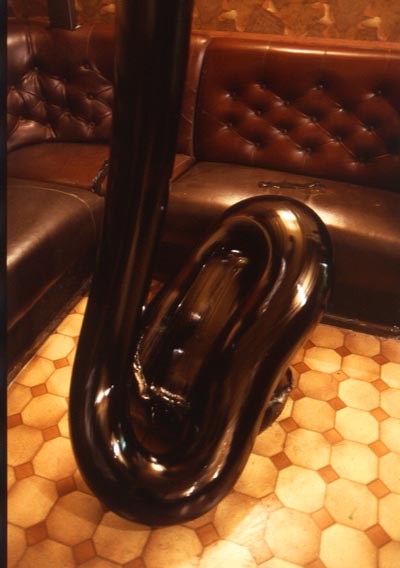 And finally, Tina O'Connell's interventions use structural site-specific installations.
Besides the exhibit at the Albright-Knox Art Gallery containing the above artists' works, there have been many other exhibits which have been controversial in nature and have questioned our intellectual freedom. There has been Robert Mapplethorpe, Andes Serrano, but recently the exhibit entitled, "Sensation: Young British Artists From the Saatchi Collection" has been threatened by Mayor Giuliani to cut all city funding to the Brooklyn Museum if the show was not cancelled. The museum filed a First Amendment suit in federal court and There were rallies held at the museum by supporters and opponents of the exhibit. A plexiglas shield was Installed in front of the Virgin Mary painting and the museum also installed metal detectors.
At London's Royal Academy, the "Sensation" show caused lines to form around the block. There were young kids with green hair and older women. Arnold Lehman, director of the Brooklyn Museum said, "People were truly enthralled."
This exhibit included Damien Hirst's carcasses of a cow or pig, showing the innards, while being suspended in tanks of formaldehyde. Included in the Brooklyn Museum exhibit was "The Holy Virgin Mary" painting by Chris Ofili which utilizes elephant dung, a hallmark in his work signifying a link to his African roots.
Further, controversial artwork in recent news has been Judy Chicago's "The Dinner Party." While Controversy has not entirely revolved around its contents but it has crept into the issue. Chicago gifted her work to the University of the District of Columbia. Upon doing so, the head librarian, Albert Casciero was not consulted. Casciero reports that the 39,000 square foot building where the sculpture would be housed cannot accommodate a major artwork of this size.
The artwork portrays the struggle of women throughout history in 39 porcelain place settings and needlework. Each of the plates are painted to signify a woman from the past. Critics have characterized these plate paintings as "sexual imagery."
While in July of 1990 the District of Columbia City Council passed a capital budget which included the $1.6 million to renovate the library which would house the work. However, when the budget went to the U.S. House of Representatives for approval, an amendment was introduced by Rep. Stan Parris (R-Va.) to remove that amount from the operations budget because "some members of Congress found the work pornographic." It was stated that citizens should not have to pay bills connected with artwork. As of September 4th, a committee has been appointed to review the decision as to whether or not to accept the gift.
In comparing other controversial art exhibits to "0044," The Buffalo News reporter makes the comment that "innocent folk come in with a fairly good set of eyes and never got to use them in the comfortable old ways. In fact, there is a considerable amount of material that seems designed to assault or engulf the sensibilities." This News reporter has referred to Sioblean Hapaska's fiberglass forms, with further observation, as "sexy pop forms."
Further study on the Albright-Knox show was characterized by observance of many hesitant visitors. Many stood in the doorway of video and sound exhibits. One room held Andre Stitt's work, which included several metal shelves displaying a dildo embedded with razor blades, blood stained clothing and jars with feathers. Curiously, many museum-goers proceeded to the end of the shelves which occupied the sexual paraphernalia.
Visitors seemed to enjoy the sculptures of foil which stood approximately 5 or 6 feet tall. They seemed to delight in the ability to walk among these luminous shapes. Or was it the poetry recitation which gave a false sense of serenity.
One could not tell if the innate silent was owing to unusualness of these exhibits or to the contemplation by each individual. Exception to this was Elizabeth Magill's oil paintings. Many more visitors paused for a considerable time and exchanged comments as they devoured the contents of her paintings. Also, visitors seemed intrigued by the cast aluminum balls on the gallery floor and the pools of Waterford Crystal by Tina O'Connell called "Spillage."
A question looms as to whether or not Western New Yorkers view "0044" as controversial or just another perspective of visual arts?
MJ