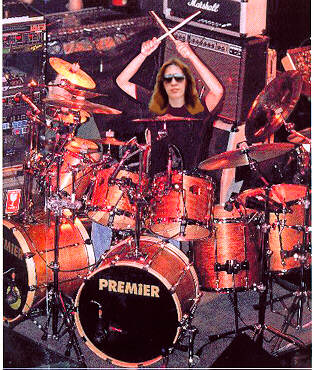 MJ
---
Have you ever wanted to do something in your life, but never did and then regretted it the rest of your life?
Well, I'm not regretting it! I'm DOING IT!
That's right I'm playing the drums! I have just started playing, so I'm a little ways from playing any gigs.
Imagine this: my son who plays lead guitar, forms a band with his mom on drums (for those of you who don't know, I like to play rock music; you know, Led Zeppelin,Van Halen,Pat Benatar,etc.).
Anyway, to get back to my dream, we are on stage and Dan (that's my son) introduces the band and he says,"I'd like to introduce the band . . . and on drums is my mom."
Cool, huh!
Hey, you never know! It could happen!
CINDY BLACKMAN and MITCH MITCHELL move over!!
---
I would like to hear from anyone who plays drums, so write to me at my email address
: mzajac@acsu.buffalo.edu.
Check out the DRUM and PERCUSSSION links below: