still interested in america's favorite cyber-montanans?
(spam-free, cookie-less, makes you smarter)
Name:   
E-mail: 
Thoughts: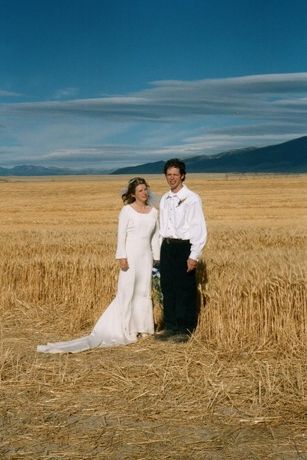 Congratulations, Wherever You Are
As wedding guests straggle home, initial reports indicate that the day was a smashing success, and this--the first photo I've seen--would confirm that all was beautiful, indeed. Special thanks to the Mighty Ben for submission of the stellar pix. Anyone else have any good ones? Send them in!
Where do we go from here?
I have received no instruction from the beloved ones concerning any future plans for this little site. Truth be told, I haven't heard anything from them in a month. For now, I'll attempt to post your wedding photos, and any news updates which drift my way. Perhaps some of you might be able to contribute. I'll probably leave the site up indefinitely, to preserve the historical record, so to speak, and because I have unlimited web storage space. Thanks for stopping by. --keith