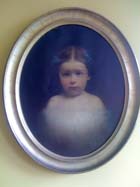 Elizabeth, the exceptionally intelligent, highly cultivated daughter of General Peter B. Porter (hero of the War of 1812, Secretary of War under John Quincy Adams) and Letitia Breckinridge (a southern belle with an impeccable pedigree), was born at Black Rock (Buffalo) on April 19, 1823.
For a time she was rumored to have been "the woman Mr. (Millard) Fillmore intended to lead to the altar." Perhaps a bit reckless in speech, she was known to often boast to European royalty that her family "owned the Falls." When the war broke out she was firm and steadfast in her convictions. In May of 1861, she inherited two slaves from her grandfather's Kentucky estate and promptly freed them.
She was at the forefront of the women's aid society in Niagara Falls and in 1862 left with her brother's regiment for Baltimore where she served for many months as an Army nurse. In 1863, when she was back in Niagara Falls on sick leave, she roused herself to come to the aid of a returning infantry unit that had also returned with most of its men gravely ill. She nursed them back to health and even insisted that they take her carriage and team for a tour of the Falls.
In June of 1864, she bravely brought her dear brother, Col. Peter A. Porter's, lifeless body back to Niagara Falls where he was laid to rest in Oakwood Cemetery. Her experiences during the war rendered her an invalid and she died in Niagara Falls on January 28, 1876. She sleeps in the Porter plot at Oakwood, a giant in our history, sadly mostly forgotten by residents of the city she loved most of all.

Elizabeth Porter in an undated photograph.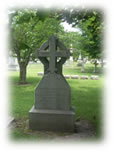 Elizabeth Porter's grave.



Letter written by Elizabeth Porter thanking the people of Niagara Falls for donating apples to the sick soldiers.  Published in the Niagara Falls Gazette, January 20, 1864. 












Julia Averill Griffen
Elizabeth Porter
Margeret Breckenridge