Welcome
to
Ron Dollmann's Home Page

---
My parents, Margaret & Carl, named me Ronald Kingsley Dollmann. As a youngster I was never too fond of the name Kingsley, but I've grown accustomed to it. The family grew up in Buffalo, New York and I went to Public School #68 before attending Bennett High School. I've been associated with the University at Buffalo since 1960, first as an undergraduate, then as a graduate student and now as a professional. I graduated with a B.A. in Psychology in 1964, and a M.Ed. in Counselor Education in 1967. I've been with the Division of Student Affairs for over twenty-seven years. I currently work in the Student Affairs' Business Office and also head up the University's Veterans Affairs Office.
My wife Marilynn and I have been married for thirty-two years. We have two children: a daughter Krissie and a son Mark. Marilynn teaches at Frontier High School in Hamburg, New York. Krissie graduated from the University at Buffalo and is a third-year teacher at Newfane. Mark graduated from SUNY College at Fredonia. Our family lives in the country, outside of Buffalo, and we enjoy the splendors of nature. We have a fishing pond nearby, a forest and ravine to explore, horses to ride, cats to cater to, and a young horse to pamper. We enjoy gardening and the annual battle against rabbits, deer and slugs. I look forward to the chorus of spring frogs and quiet summer evenings in the hammock.
I also enjoy racquetball, fishing - especially fly fishing, and genealogy. I am a collector of almost anything; from old bottles, seashells to coins. My newest avocation is metal detecting. I also enjoy down hill or alpine skiing and horseback riding, but I have been doing less of both as time goes on. While in Korea in 1970, courtesy of the U.S. Air Force, I earned a black belt in Okinawan karate.
One of my favorite web sites is Genealogy, eventually you will be able to check out my own family trees for Smith, Logan, Murray, Brownlie and Dollmann. I'm especially interested in my Scottish and Northern Irish roots and with the help of Scottish relatives, we just about have our branch of the Smith family tree complete. For a great resource, check out Genealogy Terms and Phrases.
Treasure Net is another favorite site and with The Florida and Caribbean Treasure Connection you can get to everything from beach combing to metal detecting for Spanish gold on Florida beaches. Not surprisingly, I've not found my Spanish gold yet, but I have found modern-day coins that have been in the sand for some time. Leave me on a quiet Florida beach with my detector and I'll be content for hours. If you're into coins like I am, check out Numismatica. I don't have a valuable or extensive collection, but I appreciate the history and exquisiteness of the old coins and enjoy completing the current coin series.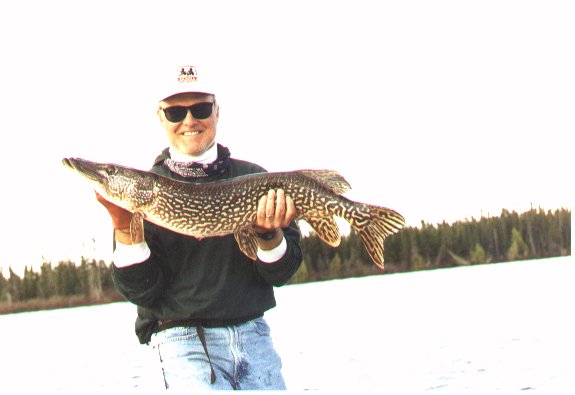 You would also be amazed at how much information is available on fishing and fly fishing on the net. Some great stories and information. I've personally gone deep sea fishing, fished the surf off the beaches of Florida, flown into northern Canada for northern pike and walleye, fished for Steelhead trout in local creeks, and fished in my own backyard for large mouth bass and bluegill. The fish to your left is a nice 39 inch northern pike caught and released on Kesagami Lake in northern Canada in Ontario Province. It really doesn't matter where, or what fish I'm after, I just enjoy fishing and there is so much more out there to learn and experience about fishing.
I also like to travel. The U.S Air Force took me to Texas, South Carolina, South Korea, and Delaware. Marilynn and I lived a year in Charleston, South Carolina from where we traveled to Washington, D.C. and Fort Lauderdale, Florida. When the family was young we took summer trips to Cape Cod, Massachusetts to visit relatives and frequently vacationed in Orlando, Florida during Easter holidays. Marilynn and I traveled to Germany and Italy in 1985. We stayed with good friends in Tubingen, Germany and toured southern Germany, including a visit with German relatives. We then visited with Marilynn's relatives in Fano, Italy, stopping off at Venice on the return route. I've also traveled with various family members to such memorable ski areas as: Jackson Hole, Breckenridge, Copper Mountain, Squaw Valley, Attitash, Sugarloaf, Gunstock, and Whiteface Mountain. Marilynn and I recently traveled to Albuquerque, New Mexico for a south-western wedding. One of our most favorite places to visit currently is Jupiter, Florida. We have good friends there who we visit and where we can fish, beach comb, metal detect and relax on the beach. I definitely see a pattern developing for the future. For a trip to your favorite place, check out the Virtual Tourist.
---

dollmann@buffalo.edu