Events & History
Best General Resources & Latest Reports
National Hurricane Center / Tropical Prediction Center (National Weather Service). Start here. Current and historic data, satellite weather images, photos, plotting charts, and many other resources. If you live in an area that is prone to hurricanes and tropical storms, this is the place to find current data and predictions. Also has the official list of Worldwide Tropical Cyclone Names.
Climate of 2005: Hurricane Katrina

Summary

(NCDC). Excellent site. Provides climate/weather history of the hurricane, compares Katrina to past megastorms, and has a great deal of data, maps, and description of the "tropical storm cycle."
Federal Emergency Management Agency (FEMA). Latest info on relief efforts, status of disaster areas, how to help, how to prepare, and more.
Hurricane Katrina Flood Recovery Maps. View and download maps, GIS data on current relief and recovery efforts.
Hurricane Research Division Links (NOAA/AOML). Essential links for everything on hurricanes.
Local News
For current stories, not Katrina-related
Special Pages by News Services (with links to good resources)
Hurricane Katrina Special Report (CNN). News and events about and following the disaster (Includes related information for a year after). Includes a comprehensive listing of resources, images, data, and links to additional sites, not only for New Orleans, but for all Southern states affected by the hurricane. Includes: People, Locations, Health, and Economics, plus video, audio, and documentary articles by survivors.
Hurricane Katrina in Depth (BBC). News and events, plus other information, similar to the CNN site. Includes coverage of all states. View a map of what states have taken in refugees.
Hurricane Katrina (Katrina.com). Site by a Web designer, named Katrina, who has voluntarily worked to provide excellent links to resources and emergency phone numbers, etc.
Hurricane Special (New York Times). News, stories, images, videos, links to all materials.
Hurricane Katrina Information Guide (Middletown Thrall Library). Great list of links to news, information, images, relief efforts, and various commentary pages.
Katrina Special Coverage (National Geographic News).
Hurricane Katrina (GlobalSecurity.org). Includes information on relief efforts.
See also: Ten Years Later; One Year Later.
News Services (for Updates)
Images, Maps, GIS (Check all sites for images and maps)
Images
Hurricane Katrina Images (NOAA). Coverage of Louisiana, Mississippi, and Alabama. Has an index map for ease of use in locating areas. If you are searching for specific neighborhoods and houses, this one will help.
Before and After Images of various sites around New Orleans. Also has annotated images of the flooding, and other aspects. (GlobalSecurity.org).
Damage Assessment Maps (FEMA):
Maps
Hurricane Katrina Mapping Response (LSU World Health Organization Collaborating Center for Remote Sensing and GIS for Public Health). Louisiana State University is close to the situation and has been compiling images, GIS, and links to maps and imagery of all types.
Radar Loop of the hurricane as it hits Louisiana (Slidell, LA radar station).
Katrina Satellite and Radar photos (Goddard Space Flight Center). Shows before and after comparison images, radar and map images of the storm, and an animation showing the levels of the water in New Orleans during the storm surge.
Other News & Photo Sources
Relief Efforts and Contacts
This section no longer pertains directly to Katrina relief, however it may be useful in a future disaster and is left as a model for planners.
See also: Special Ways to Help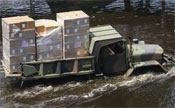 How to Contact States for Help, Information, Assistance Finding Relations
This section no longer pertains to Katrina, however it will be useful should another hurricane disaster hit the region.

Official State Contacts
Louisiana State Police (for Emergency Calls)
225-922-0325; 225-922-0332; 225-922-0333; 225-922-0334; 225-922-0335; 225-922-0340; 225-922-0341
Mississippi Emergency Management - 601-352-9100
Louisiana Volunteer Equipment & Donations State - 225-925-7377
Louisiana Office of Emergency Preparedness - 225-925-7500
Ten Years Later
One Year Later
Though most of the sites on this page include current relief efforts and restoration data, here aresamples of some of the damaged cities and towns and how they are coping a year after the storms.
Katrina: One Year On (BBC). News coverage of recovery and the issues affecting recovery.
Hurricane Katrina (Katrina.com). Site by a Web designer, named Katrina, who has voluntarily worked to provide excellent links to resources and emergency phone numbers, etc.
Waveland, Mississippi (considered "ground zero" for Katrina)
Hurricane Science
Damage Reports and Data
Hurricane Awareness & Preparedness
Severe Weather Warning Centers
Disaster Preparation
For Kids
Additional Sources for References
U.S. Serial Set Digital Collection. This has many documents pertaining to previous New Orleans hurricane disasters, some of which include maps. Available online to some institutions, but also the print editions can be located in most U.S. Government Depository libraries. A sample of some relevant map titles include:

Improvement of Mississippi River levee in front of New Orleans (1882).
Atchafalaya, Lafourche & Pontchartrain Levee Districts (1895).
Sketch map of New Orleans Land Company tract, New Orleans, La.,
showing arrangement of ditches and levees (1910).
Report on interim hurricane survey of Mississippi River Delta at and below New Orleans, La. (1962).
Report on interim hurricane survey of Lake Pontchartrain and
vicinity, La. (1965).
Causes and Perceptions of Katrina, Rita
Natural or man-made disasters create a variety of responses from people as to "why did this happen?" Below are a few sample articles (ranging from scholarly to spiritually) on the wide range of "reasons" for the hurricanes. These are provided simply for discussion and do not reflect views of the page author.
God, Cosmos, Katrina and Rita. An article on what people believe causes great disasters. " The desire to assign cosmic significance to the arrival of hurricanes Katrina and Rita is an example of humankind's ages-old need to find reason within chaos, according to University at Buffalo anthropologist Phillips Stevens Jr., Ph.D., a renowned expert on the origins, nature and meaning of cults, superstitions and cultural identities."
Is Global Warming Fueling Katrina? (Time article).
Perceptions, rumors, and other "beliefs" fuel the debate. These below are just a few examples.
Special Ways to Help