History & Events
Latest Reports
Current Status Reports (ReliefWeb). Updates on progress, status of loans and other activities as the region recovers. Of special interest is:
South/Southeast Asia and East Africa: Earthquake and Tsunamis: Fact Sheet no. 14 (ReliefWeb Aug. 9, 2005) Status Reports for Countries prepared by the International Federation of Red Cross And Red Crescent Societies (IFRC).
News Special Pages
News Services (for Updates)
Southeastern Asian News Services (by country)
Images, Maps, GIS, and Video
Relief Efforts and Country Contacts
Lists of Relief Organizations
Selected List of Major Organizations
How to Contact Countries for Information, Assistance Finding Relations
Tsunami Science
General & Brief
How does this event affect the entire world? See a page of maps and charts that show the extent of the tsunami's reach to all oceans of the world (West Coast/Alaska Tsunami Warning Center). It is amazing!
Science, Research, & In-Depth
Tsunami Awareness & Preparedness
Tsunami Warning Centers
Disaster Preparation
Earthquakes & Seismic Activity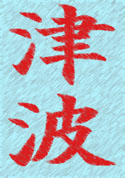 Tsunami is a Japanese word with the English translation, "harbor wave." Represented by two characters, the top character, "tsu," means harbor, while the bottom character, "nami," means "wave." (Quote from Univ. of Washington, Dept. of Earth and Space Sciences "Tsunami! website).