Buffalo and Western New York are filled with a full array of sights, sounds, and happenings. While your primary focus at the University is the pursuit of knowledge through academic studies and research, you should take the time to explore Buffalo and its environs. Here are a few fun places to visit (listed in alphabetical order) and some places that are nearby or across the state. Many of these offer learning experiences:
Adirondack Mountain Club (ADK) - Niagara Frontier Chapter
http://www.adk.org/html/adk_niagara_frontier_chapter.html
ADK Chapters hold monthly meetings and host scheduled hiking, backpacking, canoeing, cross-country skiing, bicycling activities in the region and in the Adirondack Mountains, and more, much more.
Albright Knox Art Gallery
http://www.albrightknox.org/
The Albright-Knox Art Gallery is supported in part, by grants-in-aid from the County of Erie and the City of Buffalo, and with public funds from the New York State Council on the Arts. It is the region's major art gallery.
All About Buffalo Many links to Buffalo area activities, attractions, food, sports, and almost anything else you might want to find.
Beaver Meadow Nature Center
http://www.ggw.org/gvc-adk/oag/nature/beaver.htm
Guided trails, bird watching, snowshoeing, marshland and bogs. Includes the Beaver Meadow Observatory.
Bergen Swamp Preservation Society
http://www.rin.buffalo.edu/c_gene/envi/berg_pres_soci.html
Bergen Swamp (east of Buffalo and south west of Rochester) is a collection of outstanding marsh bogs. Bergen Swamp is perhaps the better known with an outstanding inventory of rare and endangered plants and animals. Bergen Swamp is located in Genesee County between the towns of Bergen and Byron in the Black Creek wetlands.
Buffalo Audubon Society
http://www.buffaloaudubon.org/
Serving the birding communities of Western New York, including monthly meetings, special events and projects, and outings.
Buffalo Bandits Booster Club
Http://www.banditsboosters.org/
The team does not have a Web site, but their booster club tells you all about professional indoor lacrosse in Buffalo.
Buffalo Beat
Dining and entertainment in the Buffalo area from Buffalo's alternative weekly newspaper.
Buffalo Bills
http://www.buffalobills.com
Feel the power of NYs only true NFL franchise.
Buffalo Bisons
http://www.bisons.com/
Some will argue there's nothing minor about this AAA Professional Baseball and lot closer than Toronto.
Buffalo Blizzard
http://www.buffaloblizzard.com/
There's another kind of blizzard in Buffalo. It's indoor, professional
Buffalo Museum of Science
http://www.sciencebuff.org/
Browse the museum's corridors spanning ancient to modern times, includes the Tift Nature Center (http://www.sciencebuff.org/tifft.html)
Buffalo Philharmonic Orchestra
http://www.bpo.org/
The areas premier source of cultural enrichment and entertainment through music.
Buffalo Rugby Club
http://buffalorugby.com/new/index.php
Something about the mystique of leather balls, sweat, blood, bawdy songs, and beer.
Buffalo Sabres
http://www.sabres.com/
99 NHL Eastern Conference Champions; battle cry: "It wasn't a goal!" (The 1999/2000 year: "It wasn't much of a season.")
Buffalo Zoo
http://www.buffalozoo.org/
The Zoological Society of Buffalo, Inc. was incorporated in October 1931 for the establishment, maintenance and operations of the Zoological Gardens for the education and recreation of the people and visitors of the Niagara Frontier.
Buffalo and Erie County Botanical Gardens
http://www.buffalogardens.com/
Opened in 1900 in the Olmstead-designed 150-acre South Park features a architects features glass house or conservatory designed by Lord & Burnham architects features 13 greenhouses including collections of orchids, bromeliads, begonias, cacti, ferns, palms, citrus, an herb marketplace, and a rainforest tower above a pond and water garden.
Butterfly Conservatory
http://www.niagarafallslive.com/butterfly_conservatory_in_niagara_falls.htm
Niagara Parks Butterfly Conservatory features over 2000 exotic butterflies of the world in a tropical rainforest setting. Identify the various species as you make your way along the 180 meter (600 ft.) pathway. Located 5.5 miles north of Niagara Falls, Ontario.
The Chautauqua Institution
http://www.ciweb.org/
For 125 years, the Chautauqua Institution has been rooted in the idea of renewal. The Institute provides a "a smorgasbord of personal enrichment for all ages" with a divers array of more than 2,000 events each season including:symphony, opera, chamber music, visual arts, dance, theater, popular entertainment, open-enrollment classes, and programming for young people.
Dyngus Day Celebration in Buffalo
http://www.dyngusdaybuffalo.com/pages/1/index.htm
You can be Polish for a day and have a lot of fun in this wonderful tradition. Historically a Polish-American tradition, Dyngus Day celebrates the end of the often restrictive observance of lent and the joy of Easter. Over the decades, Dyngus Day has become a wonderful holiday to celebrate Polish-American culture, heritage and traditions.
Genesee Country Museum
http://www.gcv.org/
An all-round family education opportunity in Mumford, NY (southwest of Rochester at LeRoy Thruway Exit 47).
Green Eggs and Ham Ultimate
http://wings.buffalo.edu/sa/frisbee
SUNY Buffalo's Ultimate Frisbee organization, with tournaments and other Ultimate links.
Iroquois National Wildlife Refuge
or http://www.llbean.com/parksearch/parks/html/15427gd.htm
or http://www.gorp.com/gorp/resource/us_nwr/ny_iroqu.htm
Consists of 10,818 acres of marshland, wooded swamp, wetlands, wet meadows, pasture and cropland. The area is valuable habitat for waterfowl and is a stopping point for thousands of birds during spring and fall migrations. Tours can be arranged for educational purposes. View a map of the refuge or get Bird Checklists (from: Bird Checklists of the United States, USGS). Additional sites include: the Buffalo Audubon Society Iroquois Observations page.
Jell-O Museum (LeRoy, NY). About an hour from Buffalo, you can visit the place where Jell-O gelatin was born and produced. "There's Always Room for Jell-O"
Museums of Western New York
http://rin.buffalo.edu/s_comm/cult/muse/muse.html
The eight counties of West New York provide scores of museums to explore local history to the limits of the universe. Here a great place to start.
Music in Erie County
http://rin.buffalo.edu/c_erie/comm/arts/musi/musi.html
Listing of sites for music in Erie County, including addresses, phone numbers, and Web sites.
Niagara Aerospace Museum
http://niagaramuseum.org/
For more than 20 years Buffalo was the center of aviation and aerospace research and aviation manufacturing taking place in the region. This museum is a tribute to that history.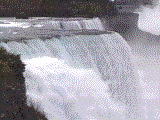 Niagara Falls (Canadian side)
One of the natural wonders of the world is located about 20 miles north of UB's North Campus. See a web cam view (or web cam 2).
Niagara Parks Botanical Gardens
Established in 1936, it is the only residential school for training horticultural students in Canada. One hundred acres of immaculately maintained gardens provide a visual feast for over 1 million visitors annually.
Old Fort Niagara
300 Years of history, just minutes from Niagara Falls. The site of historic battles and sieges, trading and conquest, Old Fort Niagara is an exciting place where the past lives on, Preserved as they stood in the 1700's when France and Britain controlled Niagara. The Fort's structures include the oldest building in the Great Lakes.
Parks, Hiking, and Orienteering in Erie County. Here are copies of maps of some local parks and reserves that have hiking and orienteering trails, as well as locations of city parks.
Ralph's Roadmap for Wings
Every thing you need or want to know about Buffalo chicken wings. Here is a site for their history and preparation. If this does not have what you're looking for in the local, tasty snack, nothing will...
Round-the-Bend
Things to do just "''Round the Bend," including the Greater Niagara and Chautauqua/Allegheny Region), such: Things To Do (skiing, golfing, camping)and Things To See (antiques, fall foliage, local history, maple sugaring [a WYN Rite of Spring] museums/galleries, wineries/vineyards).
Stull Observatory
Located at Alfred University (about 2 hours south of Buffalo) offers a Thursday night look at the stars.