Welcome to Clairice's Page!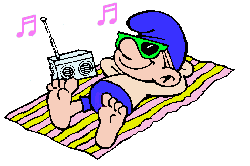 Well, hello there! How are we doing today? I'm doing just great! As you have probably guessed already, my name is Clairice, (although many know me only as Fava, or Fava Bean--I'll answer to either). I am a freshmen at the State University of New York at BUFFALO! So far I have been doing some pretty cool shizznizzle!
Some other cool facts about me...well I was brought up in North Tonawanda, New York (props to my friends from NT!), but now I live here on campus at UB in Governors--yes and it's SOO exciting...umm yeaaaah so anywho...
My birthday is September 9th, 1983, which means that I am now 18! I guess I was excited about that at first, until I realized that I am still not 19 or 21...
For all the adoring boys out there, no I am not taken, yet. I'm not really into the committment thing right now, too much going on and too much to think about, but someday, yes someday I'll settle down...hehehe.
As I said, I do some pretty cool stuff, and one of the most important things to me is my sorrority--yep after many craaaazy weeks I'm now a SISTER of Kappa Phi Epsilon! Look for me wearing my letters! (And props to my sisters...! Redo, Roxx, Makenzi--I love you girls!)
And yes I'm also employed. I'm a waitress at Bob Evans, down on the farm where most people don't know that they're allowed to leave more than $2 for a tip but hey it's all good. I'm also going back to Aeropostale for the holiday season. Come visit me!
And for a list of some of my favorite songs (cuz music is very important to me), click HERE!!!

So that's enough about me...tell me a little something about yourself! Either call my cell 390-8666 (prolly the only way you'll reach me) or you can do the e-mail thing at Tulip481@aol.com or cbakker@buffalo.edu. I love getting mail although it will take me forever to get back to you!


PS: Check out these cool links:

AOL.COM for all those aol im junkies who sit in computer lab chatting instead of doing computer work (...who would EVER do such a thing...???)

Pogo.com because if you do not know how to play EUCHRE, you need to learn RIGHT NOW!



And finally one last thing that I must leave you with: "Life is not a dress rehearsal; do it, say it, or else you'll live to regret it"...a couple words to live by--don't forget them!



---